The North Dakota Geological Survey is organizing a fossil collection with more than 4,000 specimens that were excavated at a dig site near Almont from the 1980s to the early 2000s. 
Paleontologists also are finishing survey work to determine the possibility of a state dinosaur park in the southwest region of the state.
Both projects are testament to the richness of dinosaur fossils in North Dakota, and the state's efforts to preserve the past for future generations.
'Pretty impressive site' 
The paleontology program began inventorying the specimens from the Almont site in Morton County after the collection was returned in September by the University of Wisconsin-Stevens Point Museum of Natural History, which was downsizing its collections. The additions more than doubled the Almont collection the state already had, according to Senior Paleontologist Clint Boyd.
"From the site, there's over 50 different plant species that have been recognized. A lot of which were named at that site, the first place they were known from, which makes it by far the most diverse plant fossil locality anywhere in North America," Boyd said. "So it's a pretty impressive site." 
Researchers in Wisconsin acquired the specimens during excavations that began around 1982. The researchers have since retired, which was part of the reason the specimens were returned to North Dakota. A team in Wisconsin is digitizing data such as field notes for North Dakota paleontologists, Boyd said, adding that other portions of the collection are on loan to researchers in Florida and Arizona.
Those portions on loan for research will come back to the state museum. Boyd added there are a few other museums that have collections from the Almont site, but those fossils will stay at those museums. North Dakota will not be the only place with fossils from the site, but will have "an impressive collection," Boyd said. 
"It's really an important site and being the state fossil collection, we want to have a good representative collection of all of the important fossil sites in North Dakota," he said. "... This is probably either the best collection of fossils in one place from the Almont site or like right up there with the best collection. It's nice to be that central resource then for future research and studies on it, which we should be as a state fossil collection."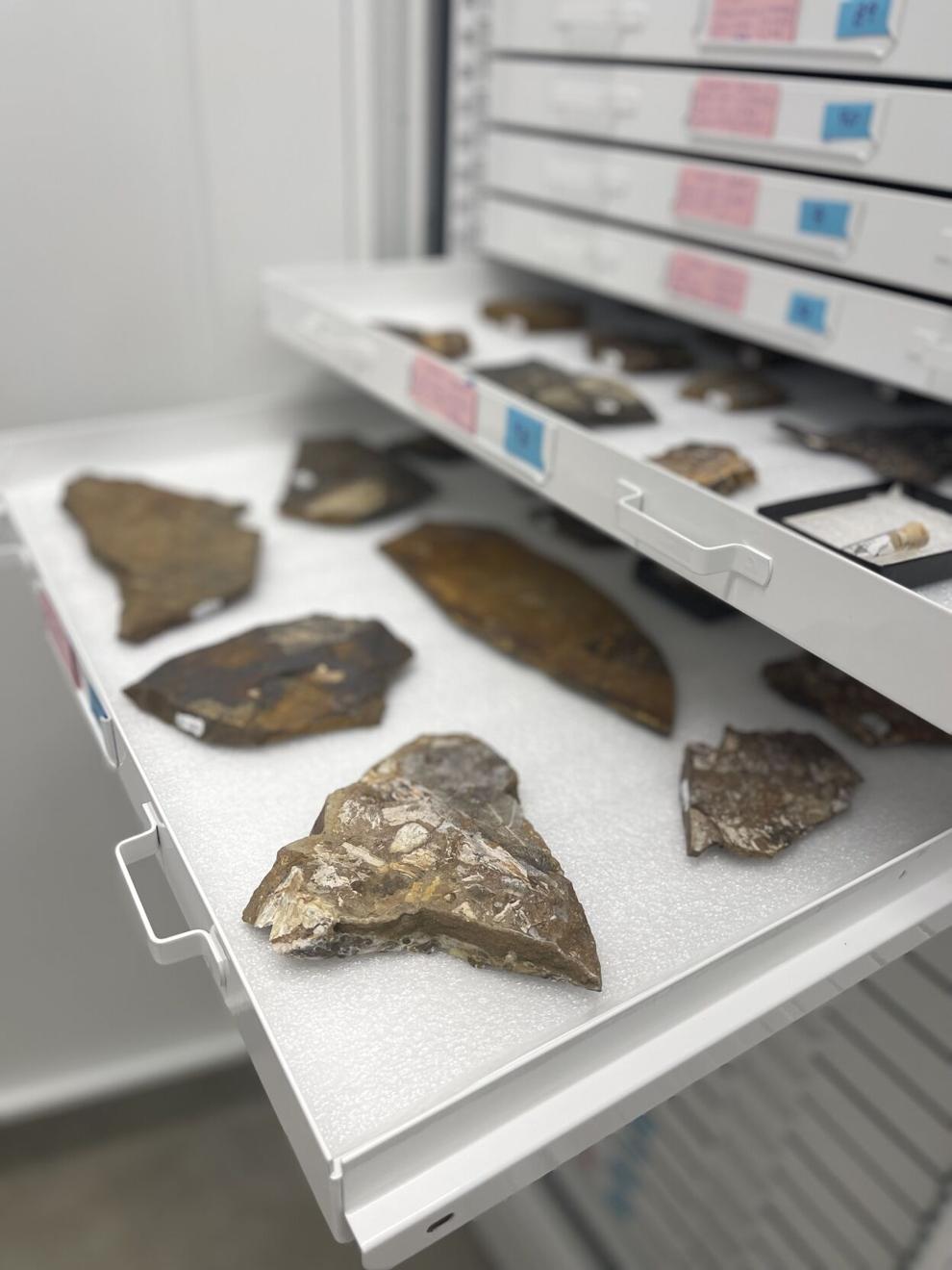 The Almont specimens, which date to the Paleocene Epoch or about 60 million years ago, are "more scrappier pieces" that will mostly be used for research rather than display, according to Boyd. However, he noted there are some "really nice show pieces" that will be displayed either at the state museum in Bismarck or across the state in small local museums or at travel and visitor centers. Whether real fossils or copies go on display will depend on how much security each facility has.
Boyd said the Geological Survey worked with several universities in the state -- from recovering a fossil collection from Minot State University after a professor retired, to helping with inventorying and maintaining a collection at the University of North Dakota in Grand Forks. 
"That's one big thing on university campuses is right now, space is at a premium. And so if it ever gets to the point where they're like, 'We need this space for staff rather than big cabinets of fossils,' it's already set up to where it could come here if it needed to," Boyd said. 
The Geological Survey's partnerships with smaller museums, such as the Pioneer Trails Regional Museum in Bowman, is another service it provides. That also maintains a backup option in case issues arise such as a lack of funding to maintain fossil collections, or if certain exhibits need a temporary holding place, according to Boyd.
"That's one of the reasons why it's good to have a central repository that has the capacity to take this stuff, and so that we don't end up in a situation where a museum closes and they can't find a place to take it and all this stuff ends up in a dumpster or something like that -- which nobody wants," Boyd said. "We've done that with a few collections now. This is, I think, our largest collection so far that we've done that with."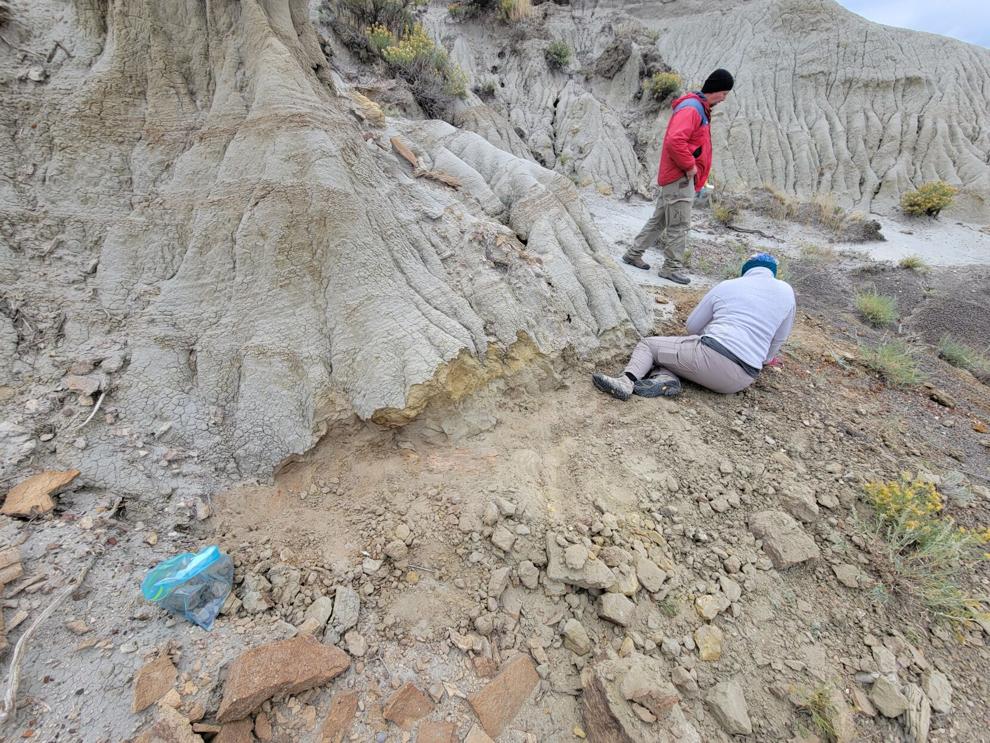 Dinosaur park 
Paleontologists have eight spots left to survey -- out of 21 selected areas -- on state trust lands that contain outcrops of the Hell Creek Formation, known for its Tyrannosaurus rex and triceratops fossils.
The area includes everything in the southwest corner from Bowman and Slope counties all the way to the Missouri River in Grant and Morton counties. Boyd said that through mapping, a team of researchers has identified some areas where a potential dinosaur park could go. The team received permits from the state Land Department to be able to do a walking survey and identify any fossil sites. 
"The thought is that you want people to be able to see fossils in the ground, but we'd also like it to be a place where we could do our public fossil dig program … So there'd be active digs there at the same time, which means that you can't have one or two fossils. You've got to have a nice producing layer of fossils -- that gets really hard to find," Boyd said. 
The findings of those surveys will first be presented in a report to the state Industrial Commission, which will then determine the feasibility of the potential project. Then the proposal will be presented to county commissioners and local House and Senate representatives of those areas. 
"The whole surface of North Dakota can give you fossils anywhere, which is really unique about this state," Boyd said. "And so it would be great to have a place that was set up tourismwise specifically to acknowledge that fossil record we have here in North Dakota."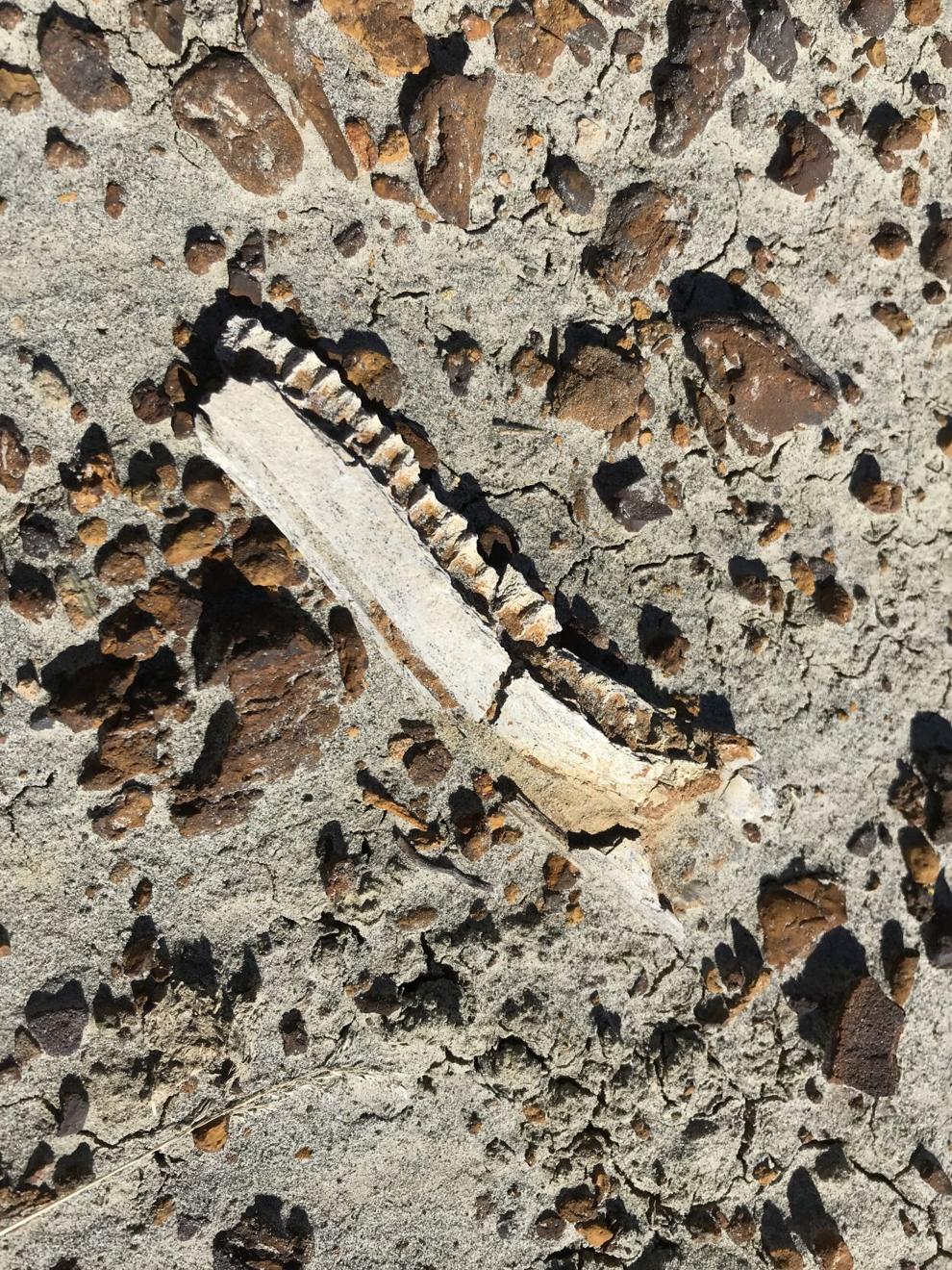 The idea of a state dinosaur park grew out of a meeting with Gov. Doug Burgum, who had mentioned there are surrounding states that have state fossil parks, Boyd said, adding that "there's never been a push to have a state park" in North Dakota. Paleontologists have been surveying the land the past two summers and ranking sites by how far away they are from public roadways and how much additional infrastructure would be needed for public access.  
"It's been a long slow process, but it's been productive," he said. "We've found over a hundred new fossil sites so far. So if nothing else, we've proven that these sites in certain areas are productive, and we've collected a lot of fossils and brought them back to the state fossil collection." 
The team of researchers has requested a permit for three areas to do some digging to evaluate how many fossils are in the ground and how well-preserved they are, Boyd said, adding that it's possible more permit requests will be filed after those final eight areas are surveyed. One of the three areas that has a permit request filed will be revisited this summer for a second round of exploration since it showed good results in 2022.
"If we identify multiple areas that have the potential for a state dinosaur park, then our final report will include all those areas," Boyd said. "If we find only one, then we'll focus on that place. If in the end we determine that none of the areas would be feasible for a state dinosaur park, then that is what we will report. Our goal right now is to explore options and report on the results." 
The Industrial Commission will then decide if the idea moves forward
"All of this is in very early stages, and so if we find a suitable location and if a decision is made to move forward with a state dinosaur park, a funding plan will have to be put together at that time," Boyd said. "It could be state funds, private donations or a combination. Also, if it is decided that the park would be a protected area set aside for research with no on-site facilities, funding may not even need to be addressed."