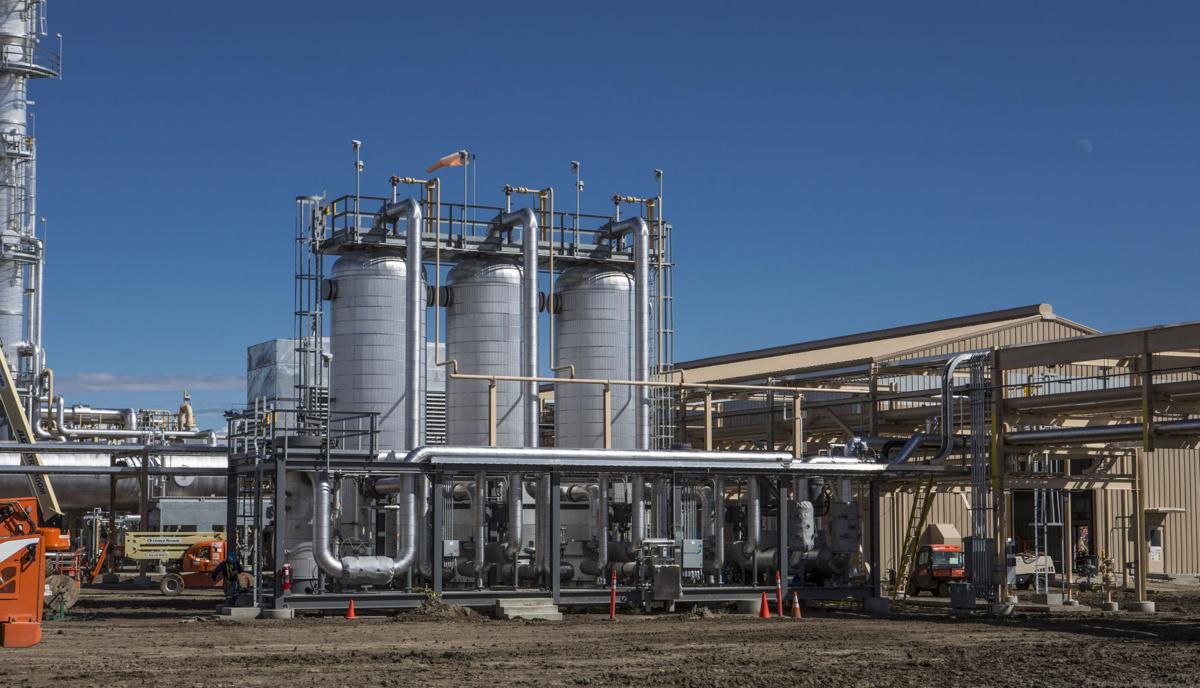 Expansion of the Oneok Bear Creek natural gas processing plant north of Killdeer, a project that aims to reduce natural gas flaring, was approved Wednesday by the North Dakota Public Service Commission.
The Dunn County plant has been operational since fall of 2016, processing 80 million cubic feet per day of natural gas. Now Oneok plans to expand the capacity to 175 million cubic feet per day.
The expansion is one of five natural gas processing plant expansions or construction projects under development in North Dakota. With Wednesday's vote, all five projects have approval from the Public Service Commission, said Chairman Randy Christmann.
"It's a major, major increase in North Dakota's gas processing capabilities, which is going to take trucks off the road, reduce flaring and enhance the value of our gas production," Christmann said.
The expanded plant will process natural gas gathered from local oil and gas wells. Natural gas liquids will be transported via pipeline. Residue gas, primarily methane and ethane, will be transferred to the Northern Border Pipeline, according to Oneok's permit application.
Commissioner Brian Kroshus said increasing natural gas processing plant capacity will help companies meet their gas capture targets. State regulations require oil producers to capture at least 85 percent of Bakken natural gas produced, a target that's set to increase to 88 percent in November.
"We're going to continue to see more of this type of development so producers can hit their flaring percentages," Kroshus aid.
North Dakota produces more than 2 billion cubic feet per day of natural gas, a figure projected to roughly double by 2035.
Producers flared 310 million cubic feet per day of natural gas in January, according to preliminary figures from the Department of of Mineral Resources.
When it was initially constructed, the Bear Creek plant did not require approval of the Public Service Commission because the capacity was less than 100 million cubic feet per day.
The expansion of the Bear Creek plant will be within the previously developed site, which is 5 miles north of Killdeer, Christmann said. The original plant cost about $150 million and the expansion is expected to cost about $100 million, he said.
The project also needs approval from the North Dakota Department of Health.
All five gas plants under development are in McKenzie and Dunn counties, the core of the Bakken where wells tend to produce the most natural gas.
Oneok also plans to build the Demicks Lake natural gas processing plant northeast of Watford City to process 200 million cubic feet per day.
Meanwhile, three other plants are either in planning or construction stages: the Oasis Wild Basin plant in McKenzie County, the Arrow Bear Den plant that will process gas from Fort Berthold and the Little Missouri Four plant in McKenzie County that involves a partnership with Targa Resources Corp. and Hess Midstream Partners.