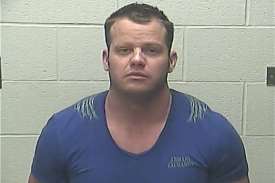 BISMARCK, N.D. -- A Watford City man could face the death penalty or life in prison if he is convicted on one of two federal murder-for-hire charges filed Wednesday in Washington state.
James Henrikson, 35, is charged with two counts of murder for hire, four counts of conspiracy to commit murder for hire, four counts of solicitation to commit murder for hire and one count of conspiracy to distribute heroin.
Henrikson is accused of soliciting and planning the murder of his former business partner Doug Carlile, who was killed in December 2013.
He also is accused arranging the murder of Kristopher Clarke, an employee of Henrikson's who disappeared in 2012, and of conspiring to murder Jay Wright, Jed McClure and Tim Scott, all colleagues of his.
Clarke, a former employee of the Blackstone trucking company headquartered in Watford City, disappeared in early 2012 from a truck operation in Mandaree and his family has long pointed at Henrikson as the culprit.
Timothy Suckow, already charged with killing Carlile with a gun, now faces a murder-for-hire charge in Clarke's death, based on the indictment.
Todd Bates, Robert Delao, Lazaro Pesina and Robby Wahrer were charged with conspiring in and soliciting the murders for hire, though not for committing them.
Henrikson and his wife, Sarah Creveling, were former business partners of Three Affiliated Tribes Chairman Tex Hall, who says he has cooperated in the federal investigation.
Likely in part because of his association with Henrikson, Hall was effectively voted out of office in the tribes' primary election Tuesday and will serve only six more weeks until the general election.
You have free articles remaining.
Henrikson made his first appearance on the new charges Wednesday at the federal courthouse in Bismarck. He already was in custody on federal weapons charges in North Dakota.
U.S. Magistrate Judge Alice Senechal presided over Henrikson's hearing, where she advised him of his rights.
The indictment comes nine months after Carlile, 63, was shot in the kitchen of his house in an upscale Spokane, Wash., neighborhood after returning from church, and 2½ years after Clarke, 30, was last seen at Henrikson's North Dakota trucking company. Clarke's body has never been found.
Henrikson has told investigators that Carlile owed him nearly $1.9 million for their dealings in Kingdom Dynamics, an oil development firm.
At Wednesday's court hearing, Henrikson, temporarily represented by Bismarck attorney Chad McCabe, waived hearings to determine whether he was the person indicated in the indictment as well as whether to place him in federal custody pending his appearance in federal court, in Spokane.
Because Henrikson was already in custody, McCabe said, "it seems to be a moot point" to hold a detention hearing.
U.S. marshals will transport Henrikson to Spokane.
U.S. Attorney for North Dakota Timothy Purdon said that to facilitate the action by authorities in the eastern Washington case, he will move to have Henrikson's North Dakota-based weapons charges dismissed.
Purdon said that he has been in communication with the U.S. attorney's office in Eastern Washington throughout the investigation of Henrikson.
"We have been and will continue to support their prosecution in any way we can," Purdon wrote in a prepared statement.
(Lauren Donovan and The Associated Press contributed to this story.)