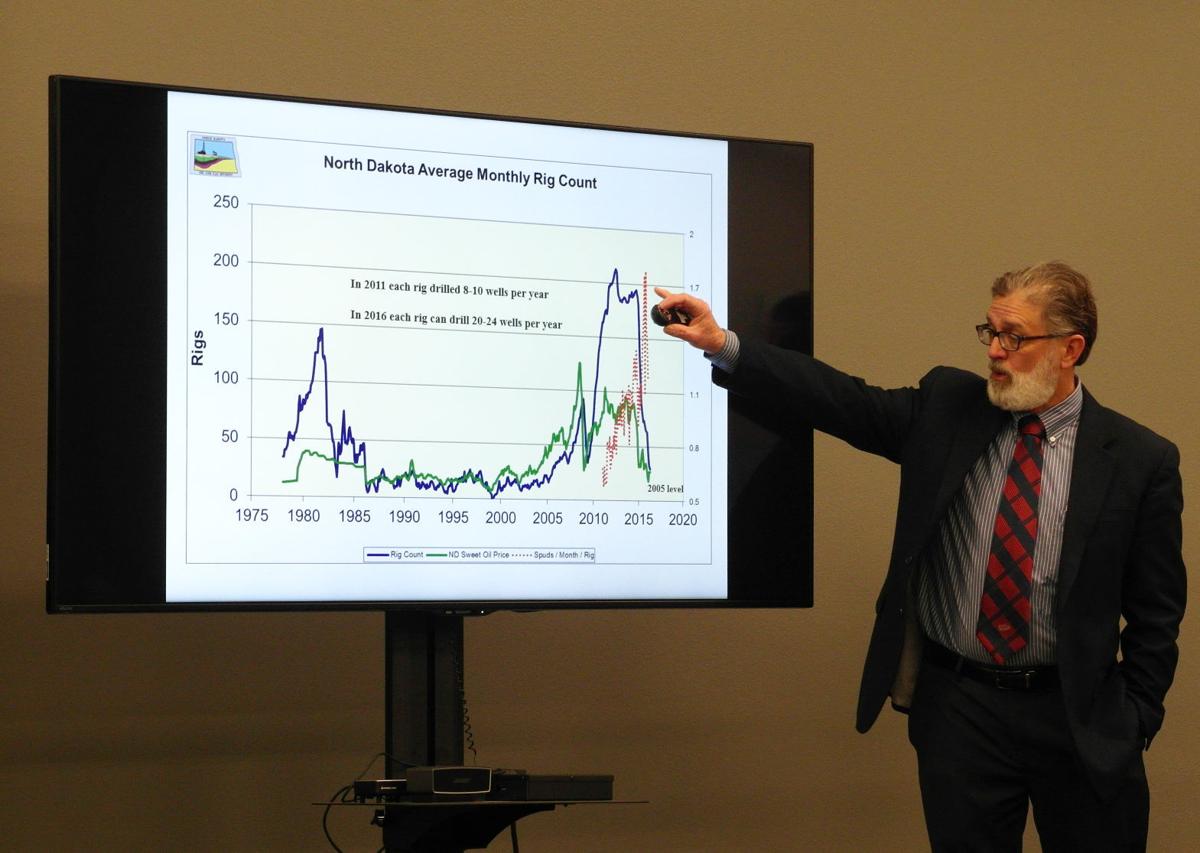 WILLISTON – North Dakota's top oil regulator had a message for Williston leaders this week: Get ready.
When – not if – oil prices increase, drilling crews will be back in the Bakken eager to make up for lost time, said Director of Mineral Resources Lynn Helms.
"This is going to come back pretty hard and pretty rapidly," Helms said told members of Williston's Chamber of Commerce. "And we'll be back running to stay ahead of it."
Helms told city leaders he projects Williston will support 40,000 permanent oil jobs by 2050, which could mean a population of more than 80,000. Williston's current population is estimated to be about 30,000.
"The trouble is, if you're just thinking about how bad things are today, you're going to miss it," Helms said. "You're not going to do the right things to be able to have this kind of a community, a Bismarck- size community in Williston. That's the opportunity that's in front of you."
The industry is preparing for the world's oil supply to come into balance by the end of 2016 or the first half of 2017, Helms said. He anticipates that once that happens, the price could double "virtually overnight."
A factor in North Dakota's favor is the cost to drill a well in the Bakken has decreased substantially. Helms, who met with several oil company CEOs in Houston in February, said industry leaders say the Bakken is the No. 1 place they want to invest when the price of West Texas Intermediate oil is at least $60 a barrel.
"I think we need to have in our minds that we're going to use this slow time to catch up on everything because it's coming back and it's going to come back with a rush," Helms said.
Former Williston Mayor Ward Koeser, among those in the audience, said a population of 80,000 was suggested by some developers several years ago as oil development began to ramp up.
"That number is in a lot of people's minds," Koeser said. "When it happens is anybody's guess."
City commissioners are planning on a future population estimate of 40,000 to 60,000, said City Commissioner Deanette Piesik, though she added that Helms could be "spot on."
Regardless of what the figure turns out to be, community leaders said Williston will have expanded schools, improved roads, more housing, additional emergency response staff and other infrastructure to support the growth.
"If it happens as fast as he's saying, I think we'll be ready for it and it'll be a great ride," Koeser said.
What could temper the growth, however, is the availability of workers, Helms said.
"The economy has recovered in all the places people came from for this last spike," Helms said. "Will they come back?"
Chamber President Scott Meske said Williston and other communities in the region are preparing for the next spike.
"But I'm not so sure it's going to be another boom," Meske said. "I think it's going to be a growth pattern."
Ken Callahan, president of the Williston Basin chapter of the American Petroleum Institute, said the community won't be playing catch-up when activity ramps up again.
"The good thing is we've already seen it, we've already learned from it," Callahan said.