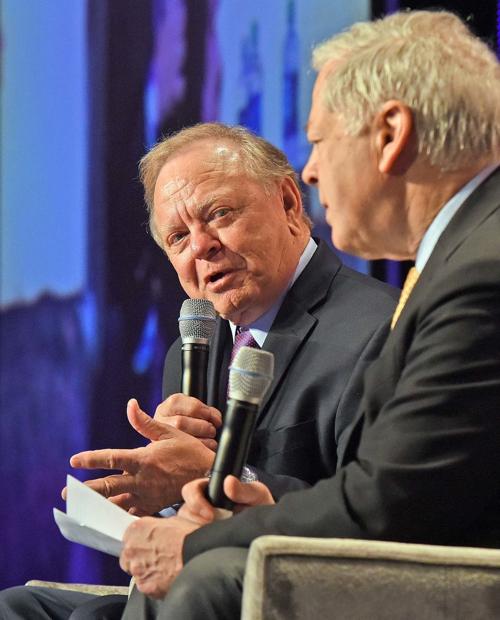 Harold Hamm has placed a $78.1 million bet on the company he founded 53 years ago. The oil tycoon purchased 4.74 million shares of Continental Resources common stock between June 22 and June 25, paying on average, $16.62 for each share.
"I firmly believe Continental's current share price reflects an uncommon value as the global pandemic has negatively impacted worldwide crude oil demand," Hamm said in a media release about the purchase. "Recent purchases underscore my confidence in the Company's continued operational excellence and strong financial performance. Continental is poised to deliver significant shareholder value for many years to come, and I believe there is no management team more aligned with shareholders than Continental."
Hamm was CEO of Continental Resources until the end of 2019, when he stepped into the role of its executive director instead. William Berry took over as the company's CEO in January.
This is not the first time that Hamm has purchased Continental shares. Last year in June, he paid $1.5 million for 38,000 shares of the company, at an average price of $38.76.
Hamm so far owns 289.7 million shares of Continental, which gives him 80% ownership of the company.
Last year, long before the coronavirus pandemic, Hamm had said that oil markets were broken, and announced that Continental would buy up to $1 billion of its own shares.
The buyback wasn't an attempt to take the company private, he said in earnings calls at the time. Markets were simply undervaluing the company. Continental had been worth between $26 to $27 billion in October of 2018, but dropped by more than half to $12.7 billion last year — even though its fundamentals had not dramatically changed.
In light of the COVID-19 pandemic, the company suspended that buy-back earlier this year, as well as the dividend it had announced alongside the buyback in November of last year.
Continental also curtailed 70% of its oil production for May and June. In its latest guidance, the company said it expects to resume 50% of its production in July.
"Continental elected to defer production in order to preserve shareholder value over volumes, and maximize the economics of the barrels we produce," Berry said. "As oil prices have stabilized and begun to recover, we have partially resumed production. As improved supply and demand fundamentals benefit oil prices, we expect to continue restoring production in subsequent months."
Continental is one of the top 10 independent oil producers in the U.S., and is the Bakken's No. 1 oil producer.
Be the first to know
Get local news delivered to your inbox!