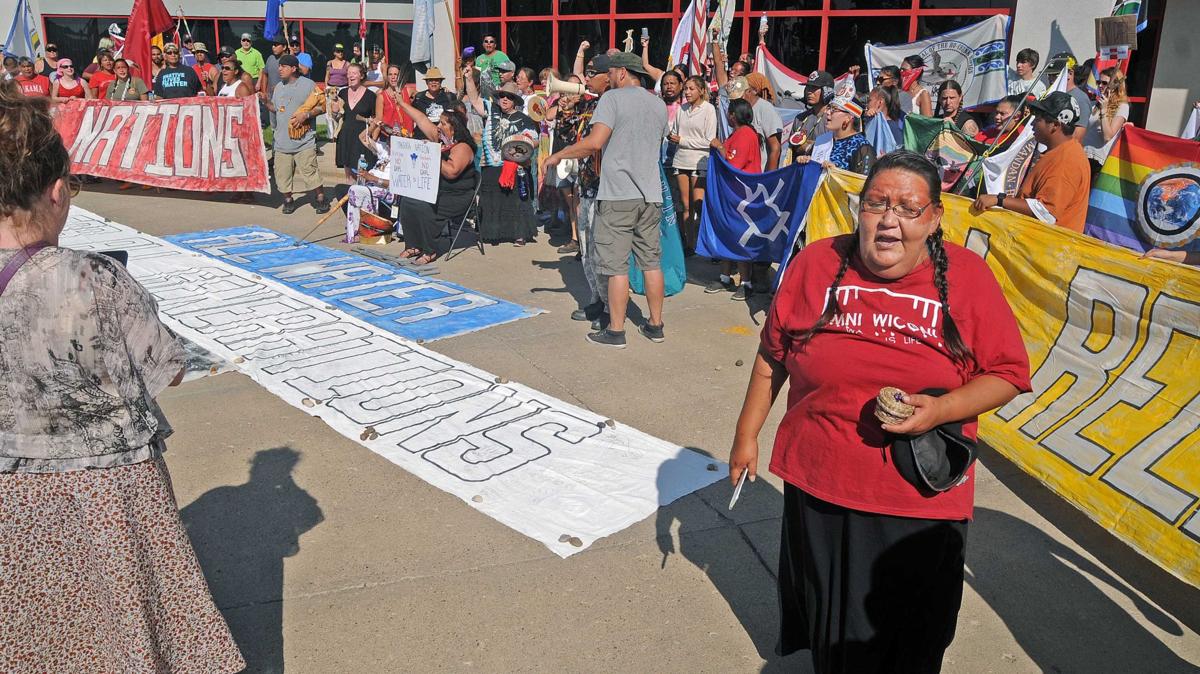 Environmental groups being sued by the developer of the Dakota Access Pipeline, including Greenpeace, are asking a federal judge to dismiss claims of racketeering and other charges, calling the allegations "meritless" and an attempt to chill free speech.
Attorneys for Greenpeace International, Greenpeace Fund and BankTrack filed motions on Tuesday to dismiss a lawsuit filed in August by Energy Transfer Partners in U.S. District Court in North Dakota.
The pipeline developer alleges the environmental groups incited, funded and facilitated crimes and acts of terrorism to fraudulently induce donations, interfere with pipeline construction and damage the pipeline developer's business and financial relationships.
The lawsuit says Energy Transfer Partners lost at least $300 million due to the tactics and is seeking triple damages, which could approach $1 billion.
Tom Wetterer, general counsel for Greenpeace USA, said in a statement the lawsuit is an effort to silence critics of the Dakota Access Pipeline.
"Greenpeace stands in solidarity with the Indigenous Water Protectors and their peaceful opposition to this pipeline, but we deny all the allegations of wrongdoing made in this lawsuit," Wetterer said.
You have free articles remaining.
Greenpeace attorneys called the case a Strategic Lawsuit Against Public Participation, or SLAPP case, and compared it to a similar lawsuit brought against Greenpeace by Resolute Forest Products of Canada, which has been dismissed.
Energy Transfer Partners is represented by the same New York law firm, Kasowitz, Benson & Torres, that represented Resolute Forest Products and also represents President Donald Trump.
"The Resolute lawsuit made similar baseless claims in a transparent attempt to silence free speech and mislabel legal advocacy as criminal conduct through the use of U.S. racketeering laws," Wetterer said.
Greenpeace is seeking to transfer the case from North Dakota to the District of Columbia, arguing in its motion that most of the allegations in the lawsuit did not occur in North Dakota and it would be more convenient for the parties to travel to Washington, D.C., for hearings.
Energy Transfer Partners also is suing BankTrack, a Dutch nonprofit organization that sent letters to banks urging them to halt support for the Dakota Access Pipeline.
An attorney for BankTrack argues in a motion to dismiss that the lawsuit's claims are frivolous and an attack on the First Amendment rights of citizens and organizations engaged in public advocacy work.
In August, Texas-based Energy Transfer Partners said in a news release the company believes it has an obligation to shareholders, partners, stakeholders and those affected by the protests to file the lawsuit.
The 1,172-mile Dakota Access Pipeline has been operational since June from North Dakota to Patoka, Ill. A court challenge from Native American tribes is ongoing in federal court in Washington.