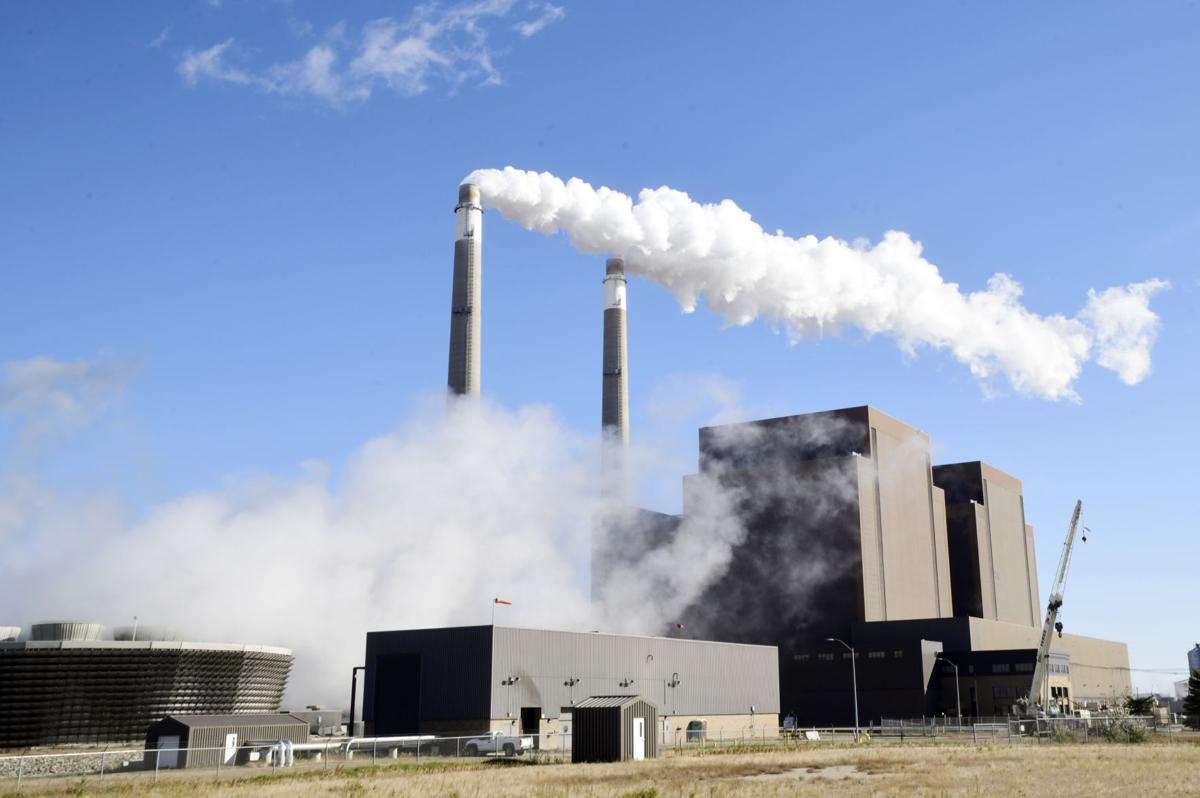 Coal Creek Station could soon have a second chance at life under a new owner.
Great River Energy has entered into exclusive negotiations with a potential buyer for North Dakota's largest coal-fired power plant, which is otherwise slated to shut down next year.
The Minnesota-based power cooperative is not disclosing who the potential buyer is, nor are state officials involved in discussions about the future of the plant. But the announcement could offer reassurance to hundreds of plant workers and coal miners at the adjacent Falkirk Mine that they might not be out of a job next year.
"It just gives you a sense of how close (a deal) is," said Lt. Gov. Brent Sanford, who has been involved in the talks. "It's like it's on the 1-yard line. It's not done yet, but it's close."
The potential buyer is considering purchasing both the plant and the transmission line attached to it that carries power to Minnesota. The buyer would operate Coal Creek using plant workers that it hires, whereas the co-op would continue operating the power line using its existing workers under a contract with the new owner, GRE said in a statement.
The plant employs about 240 workers, and another 450 work nearby at Falkirk. Blue Flint Ethanol also is located next to Coal Creek, and it sources water and steam for its operations from the coal plant.
"All of those companies have put a great deal of effort into hiring the best and training them well and giving them a good work environment," said John Weeda, director of the North Dakota Transmission Authority, who spent much of his career at Coal Creek and ran the plant for a number of years. "They're a very deserving group of people in that area that really will benefit from this opportunity. The new owner -- they're going to be wanting to hire those very same people."
GRE anticipates the deal could be finalized later this year.
The co-op announced last May that it planned to close Coal Creek in 2022. The facility has a capacity of 1,100 megawatts and began operating more than 40 years ago. It is in McLean County between Underwood and Washburn, just west of U.S. Highway 83.
Coal Creek has run at a financial loss for several years. Numerous coal plants across the U.S. have shut down over the past decade as they face competition from natural gas and renewable energy.
Co-op CEO David Saggau said last year that GRE sought to give the plant away "for a dollar."
The Legislature, meanwhile, is taking steps to help out North Dakota's lignite coal industry -- something state officials touted in announcing the Coal Creek news Thursday.
House Bill 1412, for example, would offer a five-year exemption from a portion of the coal conversion tax power plants pay to the state.
"That has this plant and the others in mind," Sanford said.
Other bills could help out coal by prompting a study of the industry's rising insurance costs, as well as directing $40 million toward low-emission technologies, including carbon capture systems at coal plants.
Carbon capture
Coal Creek's potential buyer plans to pursue a carbon capture and storage system at the facility, which was "an important factor in our decision to negotiate exclusively with them," GRE said.
The technology involves separating carbon dioxide from a plant's exhaust gas and then injecting it deep underground for permanent storage. Carbon dioxide is a greenhouse gas that contributes to climate change.
Utilities, including GRE, and states such as Minnesota are increasingly prioritizing cleaner energy. Carbon capture's supporters in North Dakota see the technology as a way to keep the state's coal industry viable.
The technology is in its infancy and is expensive, though a federal tax credit is helping push projects forward.
GRE began to study the potential for a carbon capture system at Coal Creek in 2020 with the University of North Dakota's Energy & Environmental Research Center. The research center has completed initial work, including testing solvent technology that would isolate carbon dioxide from the plant's emissions. More research will take place this summer before a report on the preliminary work is issued in the fall, said Nikki Massmann, spokeswoman for the center.
Several similar efforts are underway at various coal and ethanol plants in North Dakota. Blue Flint Ethanol next door has already drilled a test well to examine rock formations where its emissions could be stored.
Weeda said operating such a system at Coal Creek would eat up about 30% of the plant's own power output.
That would free up space on the power line that carries the plant's electricity to Minnesota and open the door for other power sources, such as wind farms, to be built in the area and connect to the transmission system.
"It's just a fact of life the users on the other end of the transmission line are wanting low-carbon solutions," Weeda said. "Renewables are one low-carbon solution, but carbon capture on the coal plant achieves that result as well. I think it will make the energy from the plant more marketable when you look at the needs of the other end."
It's possible they might lift those moratoriums as plans to save Coal Creek come to fruition.
McLean County State's Attorney Ladd Erickson led the push in his county to place zoning restrictions on wind farms and their associated power lines last year. He said Thursday that he plans to encourage his county commissioners to revisit their zoning ordinances once the Legislature adjourns next month.
The potential Coal Creek buyer's plans likely will prompt more wind turbines to go up in the area, he said.
"We have given them assurances we will not interfere," he said.
He said he's hopeful a federal tax credit for wind power would help support economic development in the region.
Erickson added that he's beyond "giddy" knowing Coal Creek might keep running.
"I am so happy for my coal miners and plant workers that have been on pins and needles about this," he said. "This is just going to be such a relief for so many people."