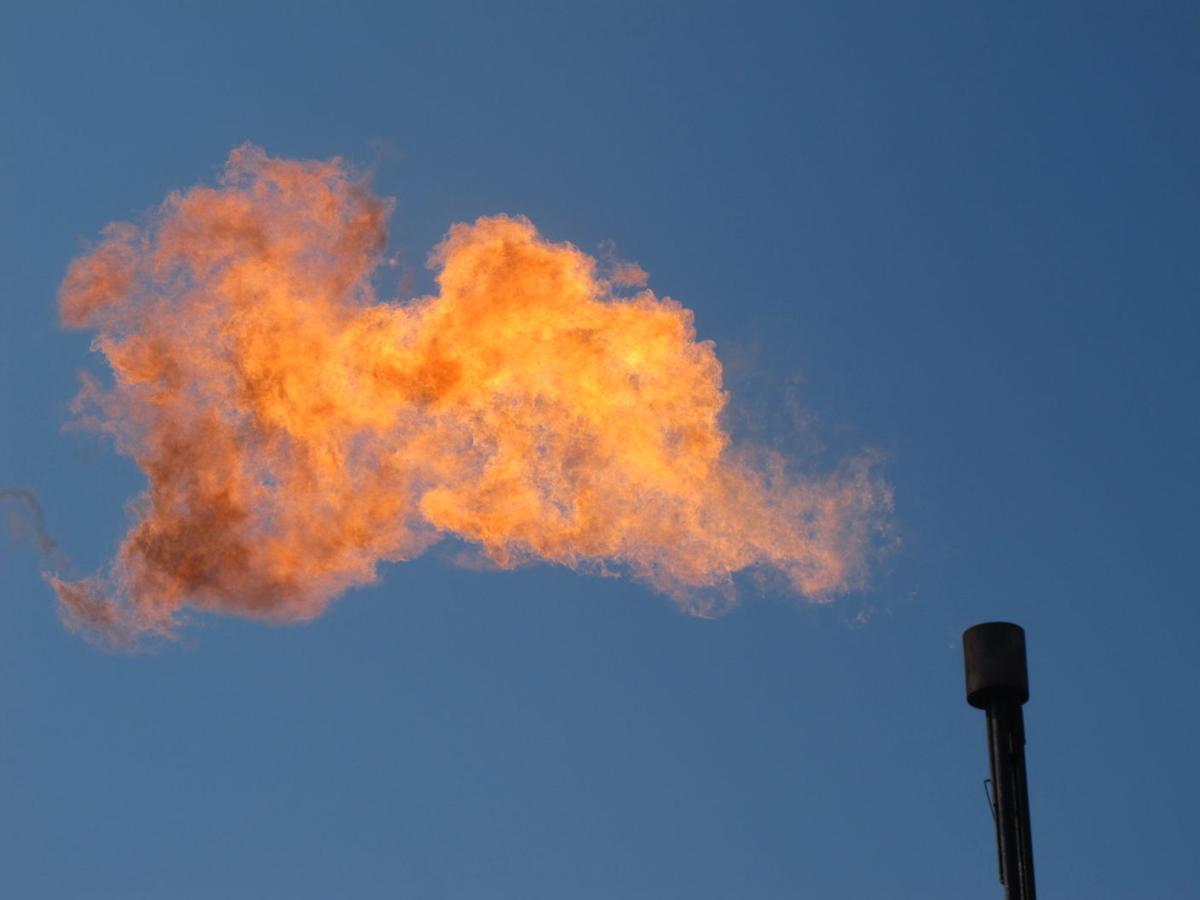 The coronavirus pandemic has put several natural gas processing projects on hold, prompting concerns about the oil and gas industry's ability to meet North Dakota's flaring target set to become more stringent in November.
Gov. Doug Burgum raised the matter at a meeting of the state's Industrial Commission Wednesday after hearing that $1 billion worth of investment to build gas processing facilities in North Dakota has been delayed as the pandemic sent oil demand and prices plummeting this past spring.
North Dakota's flaring targets, first set in 2014, require that oil producers capture a greater percentage of gas over time. The goals aim to reduce flaring, a process that involves burning off excess gas at well sites and in effect releases carbon dioxide and various pollutants into the atmosphere.
The next target is set to take effect Nov. 1, and it requires the capture of at least 91% of gas produced. North Dakota produced 1.9 billion cubic feet per day of gas in May, the most recent month for which data is available.
"Wouldn't we be prudent to be thinking about moving some of our goals back to match more in line with the reality of capital?" Burgum asked during the meeting of the commission, a three-member panel that he chairs. "These goals were created at a time before we knew COVID was coming and there was going to be complete demand destruction."
He also asked whether the industry would need to idle even more wells than it has already amid the oil downturn just to comply with November's goal.
State Mineral Resources Director Lynn Helms indicated that more well shut-ins are unlikely, at least at first, and said the state is on track to meet the 91% target thanks in large part to the downturn.
Producers have idled thousands of oil wells that are not economic to operate at low oil prices. Those wells are producing neither oil nor gas. As a result, there is space available at processing plants to handle more gas, Helms said.
"Everyone is taking a lot of comfort in the fact that we're only running at about 70% of current capacity," he said. "It would appear that there's time to bring the investment in and make the necessary expansions before drilling really picks up again."
Helms anticipates the state should be able to meet the 91% goal initially but could face challenges around the second or third quarter of 2021, assuming oil production slowly ticks back up to where it sat around 1.4 million barrels per day before the pandemic.
Several processing plant projects are experiencing delays due to the pandemic, including the Hess Tioga Gas Plant expansion and Oneok's expansion at its Bear Creek facility near Killdeer. Oneok has also announced that it's suspending the planned expansion of its Demicks Lake processing plant near Watford City.
Helms said he expects the projects to be delayed by at least six months.
He said the Oil and Gas Division, an arm of the Industrial Commission, plans to make recommendations on any changes to the state's gas capture policies at a future commission meeting, likely in September.
The oil and gas industry as a whole only just came into compliance with the state's existing flaring target, which aims to capture 88% of all gas produced. State data for April and May shows that the industry is meeting the goal after falling out of compliance for two years. Non-compliance could prompt oil companies to have to idle wells to reduce flaring, and some did this voluntarily to avoid restrictions.
Companies have invested billions of dollars in recent years building up pipeline and processing infrastructure to address the state's flaring problem. The drop in oil production amid the downturn this year has also helped the industry come into compliance.
Another potential challenge looms for at least some of the state's gas industry: a cap on the heat content of gas shipped through the Northern Border Pipeline, which carries a significant amount of Bakken gas to markets in other states.
The pipeline is seeking approval from federal regulators to impose a limit of 1,100 British thermal units as more Bakken gas is shipped through the line, which runs from Canada to Indiana. Bakken gas is rich in natural gas liquids such as ethane, propane and butane, which have a higher heat content than pure methane, the main component of natural gas used in applications such as home heating and electricity generation.
Northern Border connects to other pipelines, some of which have a cap of 1,100 Btu, North Dakota Pipeline Authority Director Justin Kringstad told the Tribune in an interview.
Processing plants separate out the various components of natural gas, but not all in North Dakota have the ability to process out enough of the so-called liquids to reach 1,100 Btu, he said.
Regulators have already taken some steps toward authorizing the cap, Kringstad said. If it becomes official, some processing plants in North Dakota that cannot meet the 1,100-Btu limit might need to reach agreements with other plants and pay them to offset the heat content of their gas, he said.
Helms brought up the proposed cap for Northern Border to the Industrial Commission on Wednesday. He said he's hoping any limit would be phased in over time to ensure the state can meet the 91% flaring goal.
Get Government & Politics updates in your inbox!
Stay up-to-date on the latest in local and national government and political topics with our newsletter.