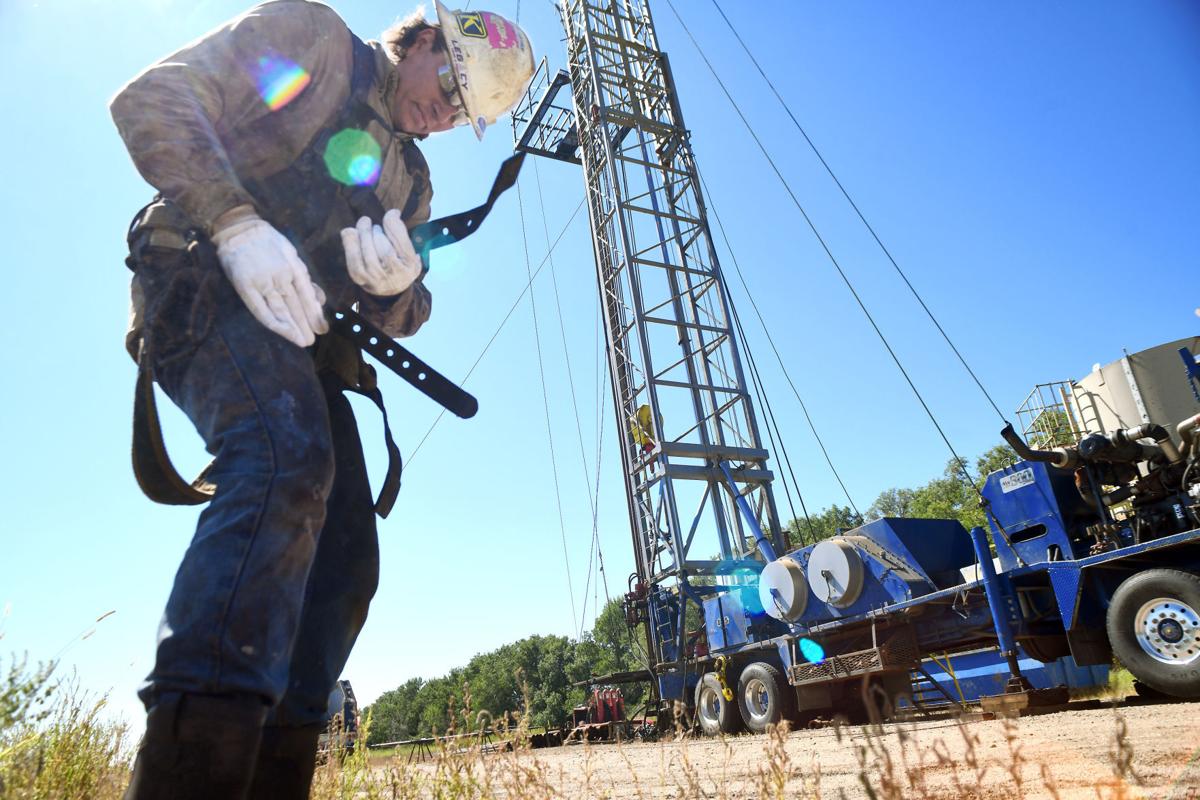 State officials say there isn't enough time left to clean up every abandoned oil field well site they had intended to this year using federal coronavirus aid, so they want to repurpose $16 million and put it toward grants for fracking.
Regulators present the proposal as a way to create jobs and help stabilize state revenue, while some in the environmental community view it as a bailout for the oil industry.
Under the proposal that the North Dakota Emergency Commission will consider Friday, oil companies would be eligible for a $200,000 reimbursement per well they complete. The money would go toward acquiring and disposing of water used in the hydraulic fracturing process, in which water, sand and chemicals are injected deep underground to crack rock and release oil.
The proposal evolved through discussions between state officials and oil industry representatives. State Mineral Resources Director Lynn Helms said he recently spoke to oil companies who have been hit hard by the price drop brought on during the pandemic, which has curtailed global travel and oil demand. 
"They had been talking about how slow work was and how bad it was going to get during the coming winter months," he said. "They were really excited by this. That's what this really is, to generate these jobs for the next couple months."
A representative with the Sierra Club, however, called it "totally inappropriate" to put some of the $1.25 billion the state received through the federal Coronavirus Relief Fund toward fracking.
"A direct subsidy payment to oil companies to drill for oil is outrageous," said Wayde Schafer, spokesman for the organization in North Dakota.
State leaders have doled out the money from the fund, which was established by the CARES Act, throughout the course of 2020. It must be used by the end of the year. When the six-member Emergency Commission meets Friday, members will consider proposals from a host of state agencies to spend another $221 million in fund dollars. If approved by the all-Republican commission, which consists of the governor, secretary of state and legislative leaders, the proposals then go to the larger legislative Budget Section for a final vote.
Mineral owners who are members of the Dakota Resource Council told the head of the environmental group this week that they felt that if the money could not be spent on abandoned wells as it was originally intended, the funds ought to be returned.
"To take this money and use it to frack new wells is completely against the intention of what this money is supposed to be used for, which is to clean up a problem predating the Bakken," executive director Scott Skokos said. "If they are going to do this, it represents essentially a large bailout to the oil industry that we as an organization would oppose."
Abandoned wells
The state's abandoned well plugging program primarily targets wells that have sat idle for at least a year, and they tend to be decades old. Abandoned wells can be a nuisance as they can leak underground or emissions can escape, and they remain on land that could otherwise be farmed.
Helms expects the state to finish plugging all 380 wells with cement this year but only complete cleanup work at about half the sites. The cleanup process, known as reclamation, involves removing equipment from the well pads and restoring the area for agricultural use. Some sites, where there is contamination from an oil or brine spill, will require more extensive cleanup.
The state hit delays rolling out the program this summer as it negotiated with oil companies on which wells to include.
The reclamation work can still proceed even in the snowy weather North Dakota has experienced this week, as one of the steps needed to reseed and recontour the land involves hauling in water to wet the soil and make it workable, Helms said. But crews' efforts will soon have to stop.
"When you get one foot or more of frost in the ground, then it kind of all comes to a halt," he said.
Helms anticipates that reclamation will resume in the spring, if it's dry, or next fall. The Oil and Gas Division, which is overseeing the program, will look to pay for the work using dollars from a state fund designated for abandoned wells or from bonds seized from oil producers with wells in the program.
Skokos said it's a "positive" sign that the state still intends to finish the reclamation work.
Fracking grants
If state leaders agree to repurpose $16 million and put it toward grants for fracking, Helms expects the money will keep 500 to 1,000 people employed in the oil industry through the end of the year.
"There's nothing inappropriate about using CARES Act money to create jobs in the oil service industry," he said.
Job creation was one of the main drivers behind the abandoned well plugging program, as a way to keep oil workers in North Dakota to ride out the downturn.
Helms, speaking to reporters during his monthly press briefing last week, said the oil industry is not bringing enough new wells online to sustain production, which came in at 1.16 million barrels per day in August, the most recent month for which data is available. Over time, the output from a single well drops, so the oil industry must continue drilling new wells if overall production is to be maintained or grow.
On average, about 70 wells need to start operating per month to keep up the state's production, but producers completed just 19 wells in August, Helms said.
A significant number of wells in the state, 846, have been drilled but not yet fracked. Wells often sit idle in that status when oil prices are low while their producers wait for the economics to improve.
The state wants to target those wells through its grant proposal. The Bakken Restart Task Force, which is a group of state officials and oil industry representatives that first convened earlier in the pandemic, recently gauged interest to see if offering a $200,000 grant to offset the cost of water used in fracking would be enough to entice producers to complete their wells. Several companies indicated that if the money is approved, they would commit to bringing on dozens of wells through the program, Helms said.
The grant money would be available for up to 80 wells. Helms said the task force is still working out the application process, but it's looking to require that producers have a plan to capture the natural gas produced at each oil well so that it is not flared.
Helms and industry leaders say that with more wells coming online, the state would collect more in revenue from oil production and extraction taxes.
A single well also generates about $150,000 in sales tax revenue from the sale of material such as sand and pipe used in the fracking process, said Ron Ness, president of the North Dakota Petroleum Council, a trade group for the state's oil industry.
"It's a pretty good return on investment, I think, when you look at the broad economics," he said.
The state's written proposal to the Emergency Commission estimates that a company spends about $5 million to frack a well, and that a $200,000 grant would cover about 40% of the cost of water acquisition and disposal.
"It's not a huge direct subsidy," Ness said. "It's going to cost them millions of dollars to drill this well, and they're only going to get a little incentive on the water."
A single crew brought in for the fracking process would include "a wide array of people" doing jobs from engineering to turning valves to putting in cement liners, he said. It takes 100 workers three to five days to complete work at a single site.
At one point this summer, the number of frack crews operating in the state dropped to just one, down from 25 before the start of the pandemic. Ness estimates four are working in the state today, and he expects there are workers still living in western North Dakota that could help staff another five to 10 crews. School enrollments in the oil patch have held steady this year, a sign that there hasn't been a complete exodus of workers leaving the region.
"We think there's a big, readily available workforce ready to go back to work," he said.