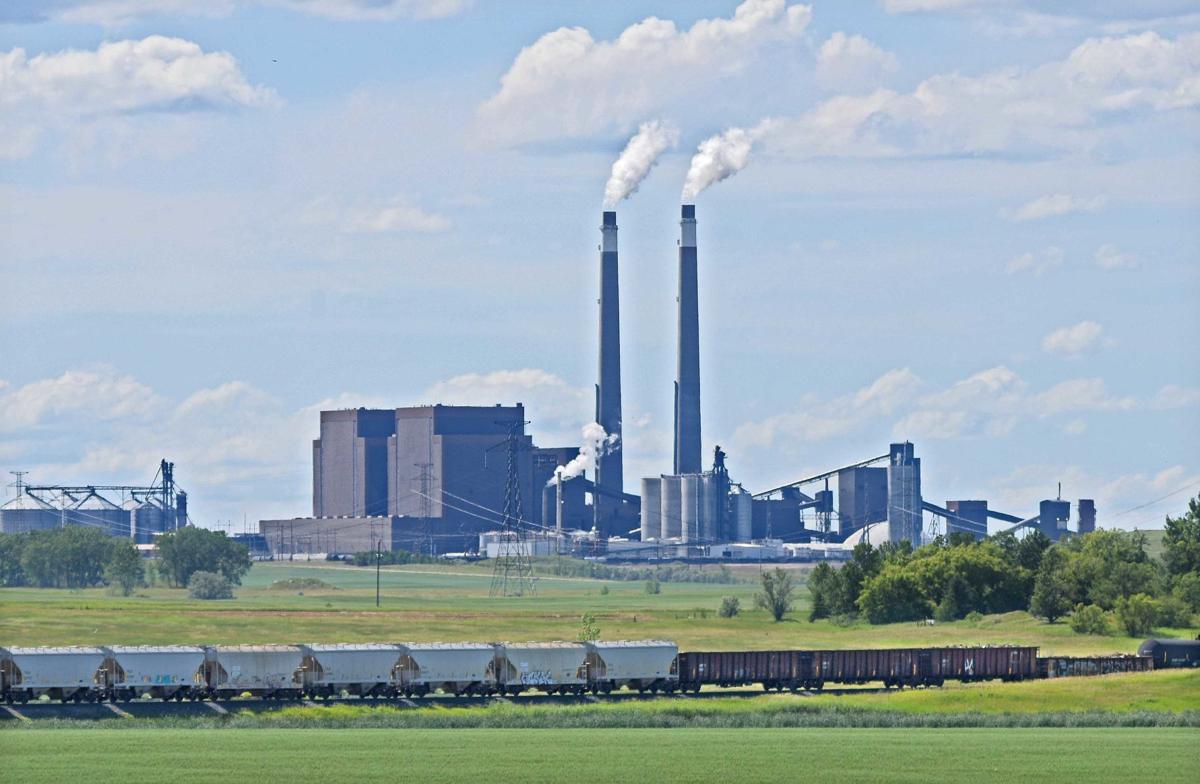 Several companies are considering acquiring Coal Creek Station and the transmission line that runs from the McLean County power plant to Minnesota, a state official told lawmakers Tuesday.
Two companies are "very serious" about purchasing both the plant and the line, North Dakota Transmission Authority Director John Weeda said to the interim Energy Development and Transmission Committee. Plans involve potentially building a system to capture the carbon emissions from Coal Creek, as well as constructing energy storage infrastructure and wind farms in the area.
Such an investment could total $2 billion, he said.
"It's not just business as usual," Weeda said. "It's business as usual, plus enhancements."
He said he's hopeful a new plant owner would retain most workers at the plant and adjacent Falkirk Mine, which feeds the facility with lignite coal. Great River Energy announced earlier this year that it intends to close the plant in 2022 unless it can find a new owner, an effort state officials are helping facilitate.
Coal Creek has faced financial woes for several years as it's struggled to compete in a market saturated with cheap natural gas and renewable power.
Weeda said at least four companies are entertaining purchasing the high-voltage direct current power line alone, without Coal Creek. Such a prospect would involve new wind development that connects to the line, and Coal Creek would shut down, he said.
A new power line owner could potentially build a terminal along the line midway across the state, Weeda said. If that were to happen, it would allow wind farms east of North Dakota's coal country in the west central part of the state to connect to it.
Securing transmission space on the power grid is a problem that plagues the region's wind developers, who seek an outlet for the electricity generated by new wind farms. Congestion on the wires has stalled some proposed wind projects.
"You can pretty much count on the fact that when we get some transmission, wind developers will be back," Weeda said.
One other possible fate for GRE's transmission line, which underwent a $130 million upgrade several years ago, is that the state could become its owner. Weeda recently requested an attorney general's opinion on the matter, and Attorney General Wayne Stenehjem wrote back confirming that the state transmission authority has that ability.
Weeda told the Tribune on Tuesday that his office, however, "is standing by to let commercial interests have that opportunity."
The head of GRE said last week that the Minnesota-based power cooperative has not received any offers for its Coal Creek assets but that discussions are underway with companies that could potentially acquire them. President and CEO David Saggau said GRE essentially is looking to give Coal Creek away "for a dollar."
With a capacity of 1,100 megawatts, Coal Creek is North Dakota's largest coal-fired power plant.
Lawmakers on Tuesday also heard an update from McLean County State's Attorney Ladd Erickson, who has led efforts in the region to enact moratoriums on renewable energy development in wake of the announcement about Coal Creek's impending closure. He spoke of a rush by wind and solar companies to lease land in the region, an effort to make use of GRE's transmission line if Coal Creek closes.
He offered several suggestions for lawmakers to consider in the 2021 legislative session, including giving greater authority to the state Public Service Commission to address issues surrounding wind and coal, such as getting to the bottom of utilities' motives for closing coal facilities. He also recommended lawmakers consider offering landowners greater protection should a piece of farming equipment damage a power line, so that farmers are not liable for a massive bill.
Coal Creek also came up Tuesday in a discussion about a new initiative of the EmPower Commission, a group established by the Legislature in 2007 and tasked with developing energy policy recommendations for the state.
Commission members have been working to develop a "think tank" or "energy innovation center" driven by the energy industry in partnership with the state and academic institutions, said James Leiman, economic development and finance director for the state Department of Commerce, which is involved with the commission.
The center would identify energy industry needs and find institutions to address them, whether it's the Energy and Environmental Research Center at the University of North Dakota or other places throughout the world. The needs could have to do with research, policy solutions or economic development, Leiman told the Tribune.
Topics could include carbon capture, rare earth minerals, petrochemicals, renewables and energy transmission, among others, he said.
"We would really go big and bold in developing solutions to challenges," Leiman said.
The EmPower Commission plans to seek $65 million from the Legislature in its initial effort to fund the initiative over a period of five years. Funding also could come from private industry sources, Leiman said.
The 2021 legislative session begins in January.