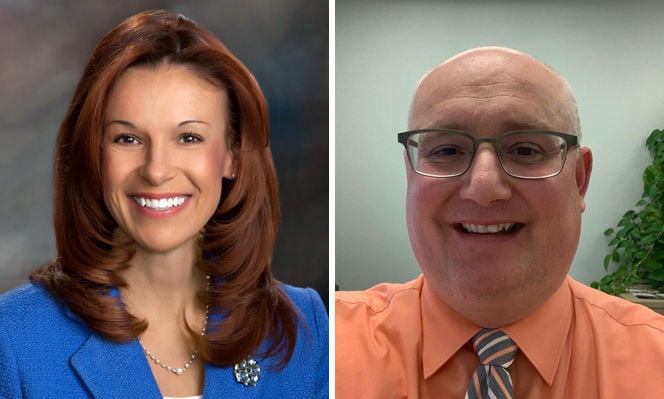 The two candidates vying to oversee K-12 education in North Dakota for the next four years met for a debate Friday night that focused significantly on schools' response to the coronavirus pandemic.
State Superintendent Kirsten Baesler, who is seeking a third term in office, defended her decision-making as schools switched to distance learning this past spring and her office provided re-opening guidance to school districts.
Challenger Brandt Dick, the superintendent for the Underwood School District, said he wished the state would have given school districts more flexibility in the spring during the early days of the pandemic.
"At that point, there were a few counties in the state without any cases," he said.
Students in his district are now back in face-to-face instruction full time.
"We understand our districts," he said. "In Underwood, we certainly would have had that discussion much earlier if we'd had that opportunity."
Baesler said her Department of Public Instruction acted quickly in prompting school districts to start distance learning in the spring, requiring that districts turn around plans for state approval by the start of April. Gov. Doug Burgum ordered schools to close on March 16.
The department also worked quickly to provide fall re-opening guidance so that districts could plan for the 2020-21 school year, Baesler said.
"We had that out long before many other states in this nation, on July 15," she said.
She said decisions on returning to face-to-face learning "must be made locally" in collaboration with local officials and public health workers.
While some students and teachers "thrive" with distance learning, Baesler acknowledged that not all do, and that some students are likely falling behind. Her department required that students' learning be assessed within the first few weeks of the current school year. She said the agency has also made supplemental online resources available in math, reading and writing to help students who are struggling.
Dick said he has two daughters attending Legacy High School in Bismarck, which has adopted a hybrid learning model for secondary schools in which students attend school some days in-person and other days remotely.
"I have those concerns," he said. "Are they learning what they need to learn?"
He added that he believes "we need to find a way to get the students back face-to-face."
Baesler suggested districts that determine they cannot return to face-to-face learning full time could collaborate with local officials or organizations to try to find space within a community where a cohort of young students can go on the days when they are not present at school.
"We cannot do this alone as a K-12 system," she said. "We have to be a village and do this together."
Dick said such a prospect can be tough in rural areas that don't have a YMCA or parks and recreation facilities.
"That's why we're going face-to-face every day in light of some of those challenges," he said.
Prairie Public Broadcasting hosted Friday's debate, which was also sponsored by AARP North Dakota. News Director Dave Thompson moderated the event.
The most contentious moments of the debate occurred when each candidate took jabs at the way the other has gone about managing their department or district.
"I do find it troubling that my opponent has increased his budget for his school of 200 by almost $1 million," Baesler said.
Dick responded that some of the increase stemmed from a $2 million school remodel that was put in the works before he became superintendent. The rest of the increase has to do with attracting and retaining teachers, he said.
"To try to keep in step with the Bismarcks, Minots, Mandans and so forth, I'm very proud that we have been able to offer an increase in salaries every year," he said.
He then questioned whether Baesler "had cut too much" within the Department of Public Instruction, to the point where it couldn't provide all the services expected of it.
Baesler said her department has gone through several rounds of budget cuts prompted by recent legislative sessions. State agencies had to make cuts following a downturn in the oil industry in 2015.
Baesler said the department has gone from 101 employees to 82 who are "absolutely fabulous, committed people that are a team that works like no other." She added that she has cut more than $1 million between salaries and the agency's operating budget.
"We won't be cutting any salaries and people," she said of anticipated budget cuts next year amid the coronavirus pandemic. "We are as lean as we could possibly be."
She said she will continue to look for efficiencies within the agency and will work to maintain strong state funding for schools.
Dick also challenged what he characterized as high turnover within the Department of Public Instruction under Baesler's watch, saying that it can be difficult for school district leaders who "develop those relationships … and all the sudden, things change."
Baesler indicated that turnover within her department has been nothing out of the ordinary, and that some people retire or move on to different careers. One factor, she said, could be that the department competes with school districts for the same employees.
"It's hard to stay working at the state when they can make so much more in a public school district," she said.
Toward the end of the debate, the candidates addressed what each sees as the biggest issue facing education today.
Baesler answered that it's preparing students "to be agile and to be able to learn about anything." They need to be ready for 21st century jobs that "don't even exist yet," she said.
Dick said he believes high stress among teachers and students is the most pressing issue, something he's experienced this year as he's taught a dual-credit college algebra course. Students sometimes don't appear via video for class because of the pandemic, if they're in quarantine.
"I never know for sure if I'm going to have everyone," he said.
Although the superintendent's office is nonpartisan, political parties can issue letters of support for candidates, and Baesler and Dick both sought the Republican Party's backing. The party's State Committee voted in July to support Baesler after delaying its decision in part because she was arrested for drunken driving on Feb. 26. 
Baesler pleaded guilty to misdemeanor DUI in March under a plea agreement that included almost a year of unsupervised probation, a $500 fine and $250 in court fees. She has since sought treatment.
In the June primary's three-way race for superintendent, Baesler secured 54% of the vote and Dick 26%. Both candidates advanced to November's general election, edging out Minot resident Charles Tuttle, who received 20% of the vote.
Get Election 2020 & Politics updates in your inbox!
Keep up on the latest in national and local politics as Election 2020 comes into focus.