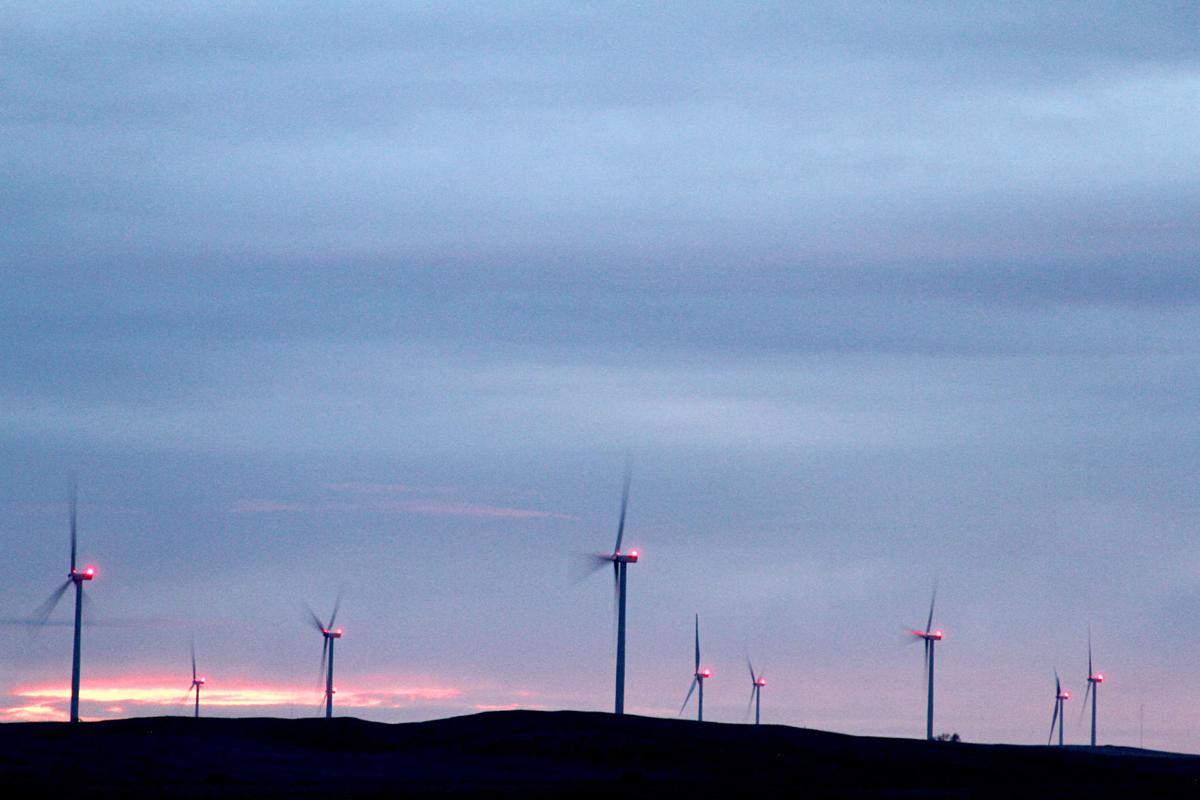 The developers of the proposed Ruso Wind project in northern McLean County will appear before state regulators to make the case for an exemption from a new law requiring light-mitigating technology atop wind turbines.
Wind farms permitted after June 2016 must have new lighting systems to alert aircraft of their presence without blinking all night long. One of the complaints from neighbors of wind farms has to do with the blinking red lights ruining the night sky.
A common solution in North Dakota is to install a radar-based system that turns on tower lights only when an aircraft is detected in the area. But Public Service Commissioner Randy Christmann said Ruso Wind is under pressure because that option is not compatible with military operations.
"The Air Force is not wanting the light mitigation system, at least what's available," Christmann said at a recent PSC meeting.
The Air Force has expressed concern about a potential scenario in which lights blinking only in the presence of an aircraft would alert opposition forces to its location at night. Helicopters fly hundreds of missions each year related to the operations of intercontinental ballistic missiles buried in North Dakota.
An alternative light mitigation technology would dim the lights based on visibility conditions, but such a system has yet to receive approval from the Federal Aviation Administration.
You have free articles remaining.
The PSC has said the law doesn't give the commission any authority to grant waivers.
"Staff counsel has one opinion on what we're able to do under the law, as far as providing an exception for that wind farm," Christmann said.
Ruso Wind, a subsidiary of Southern Power, requested an opportunity earlier this month to speak before the commission. It will have that chance at an informal hearing the PSC has scheduled for Feb. 13.
Christmann said Ruso Wind would like to present its legal theory on why an exemption would be possible.
The wind farm is slated to contain 47 turbines for a total capacity of 205 megawatts.
Commissioners also are weighing a request from a union to require that Ruso Wind report the number of local and nonlocal workers involved in construction of the wind farm. The Laborers District Council of Minnesota and North Dakota, which represents construction workers who build wind farms, intervened in the case before the PSC.
The group has been pushing for more local workers to be hired at wind construction sites in North Dakota and Minnesota due to the prevalence of many out-of-state people who fill those jobs. The union estimates that just 14% of construction jobs on recent wind projects in North Dakota went to local workers.
Bismarck Tribune reporter Amy Sisk contributed to this story.