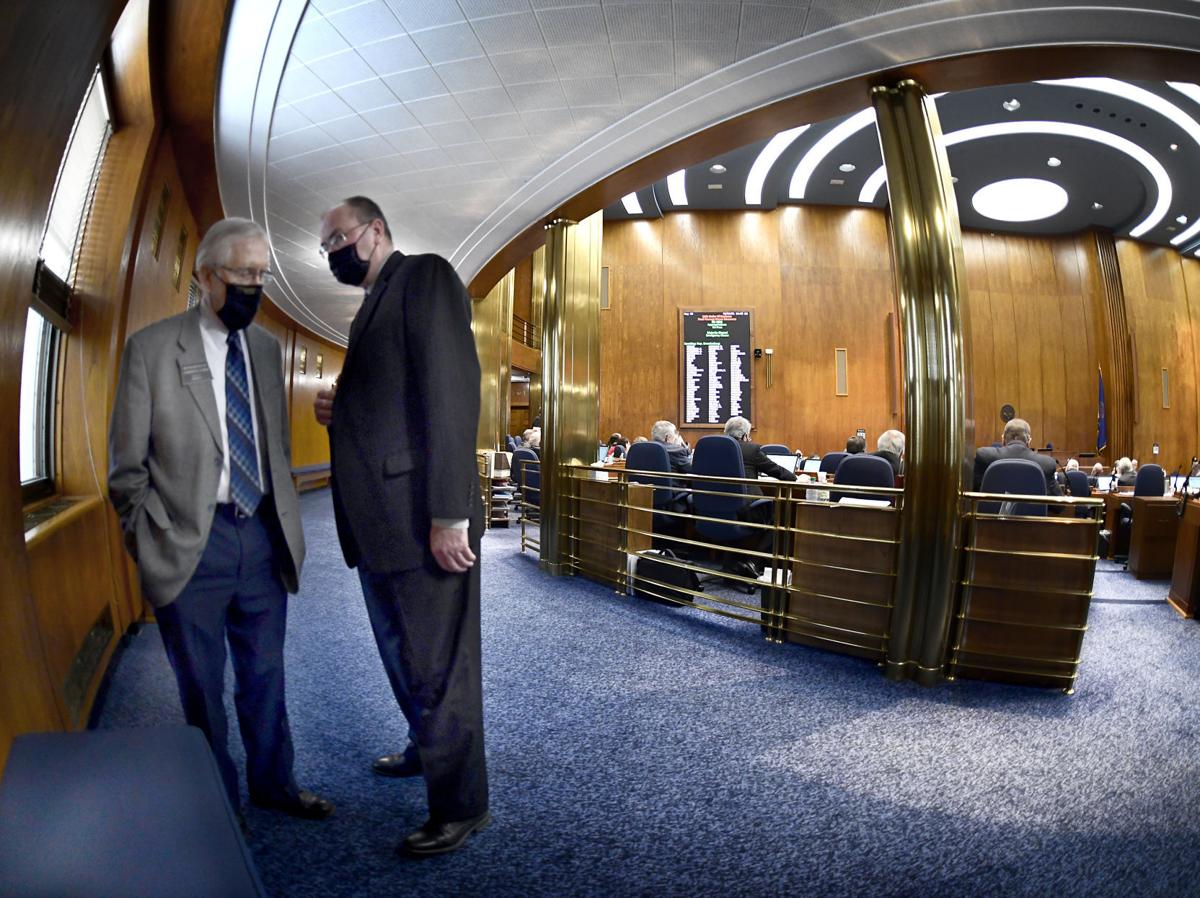 Expanded livestreaming of the Legislature has garnered thousands of views -- a service one watchdog calls a great improvement for the public.
North Dakota legislative leaders last year spent $2.64 million in federal CARES Act coronavirus aid to ramp up livestreaming and remote technology amid the pandemic.
Committee meetings and House and Senate floor sessions are carried live and archived online at video.legis.nd.gov. The public is able to submit and give testimony remotely.
The Legislature reconvenes Wednesday after a midsession break. As of Feb. 25, the livestreams had drawn more than 234,000 live and on-demand views totaling 2.7 million minutes of video. Remote testimony drew 1,585 registrants.
Senate Majority Leader Rich Wardner, R-Dickinson, who chaired the panel that led the upgrades, said the technology has "been a real success."
"I think this is a big step forward in transparency. People can see what goes on in a legislative committee, whereas before they had to travel to Bismarck," Wardner said.
Remote testimony also has allowed for more public input from around the state, he said.
Legislative Council Information Technology Manager Kyle Forster said remote testimony hasn't exceeded capacity. He called the millions of minutes of watched video "just unbelievable."
Wardner expects the technology is "here to stay" for future legislative sessions, and sees a "hybrid system" of face-to-face and videoconference meetings for interim committees, which meet in the two years between sessions.  
North Dakota Newspaper Association attorney Jack McDonald said the technology has been "the greatest thing to happen to the Legislature since sliced bread."
Despite some audio and archiving glitches, "it's enabled people to really participate in the Legislature," he said.
In previous years, only House and Senate floor sessions were carried live.
McDonald points out the technology enables a person to view a number of livestreams at the same time, whereas before a person would be limited to what they could attend in person.
"You can sit at your computer and you can flip over to one hearing and then flip over to the next hearing and go back and catch what you missed in the first one," McDonald said.
As for the future beyond the pandemic, he predicts some "refinement of the rules" in how livestreaming and remote technology are used, noting that lawmakers probably will want to meet in person.
Face mask rule
House and Senate rules committees this month will be discussing whether to continue requiring face masks in the Legislature's rooms and chambers.
Legislative leaders say they know of two cases of COVID-19 connected to the Legislature, including Sen. Terry Wanzek, R-Jamestown, and a legislative employee. 
They attribute the apparently low number of cases to myriad reasons, including masking, physical distancing, hand washing, rapid testing and taking of temperatures. Some older lawmakers also have begun to be vaccinated against the virus.
"I think most people are trying to adhere to (protocols)," said House Majority Leader Chet Pollert, R-Carrington. He and Wardner said the mask rule might be relaxed around March 12, citing the few cases.
House Minority Leader Josh Boschee, D-Fargo, called the apparent low number of COVID-19 cases "phenomenal." 
"It shows that the work we've done, as far as making sure folks are wearing masks as much as possible, is working," Boschee said. He said he "certainly would be disappointed if the mask requirement is lifted in a couple weeks," citing the safe road so far.
Other state legislatures have experienced more cases than has North Dakota's. The Associated Press reported last month that South Dakota state representatives were approved to attend floor sessions remotely after eight lawmakers tested positive for COVID-19 in as many days. The AP also reported three Montana lawmakers tested positive for COVID-19 within a week last month, of five total in the legislative session.
Most North Dakota lawmakers have worn face coverings, such as cloth and surgical masks, and also clear plastic face shields and mouth spit guards.
But some lawmakers pull down their mask, pull up their face shield or wear no covering at all. At times, Speaker Kim Koppelman, R-West Fargo, has reminded the House to comply with the rule.
Wednesday marks the Legislature's 36th official day. The House passed 363 of 549 bills and resolutions; the Senate passed 262 of 349 bills and resolutions. Each chamber now takes up the other's passed legislation.
The Legislature has up to 80 days every two years to write new laws and budgets. The 2019 Legislature used 76 days.