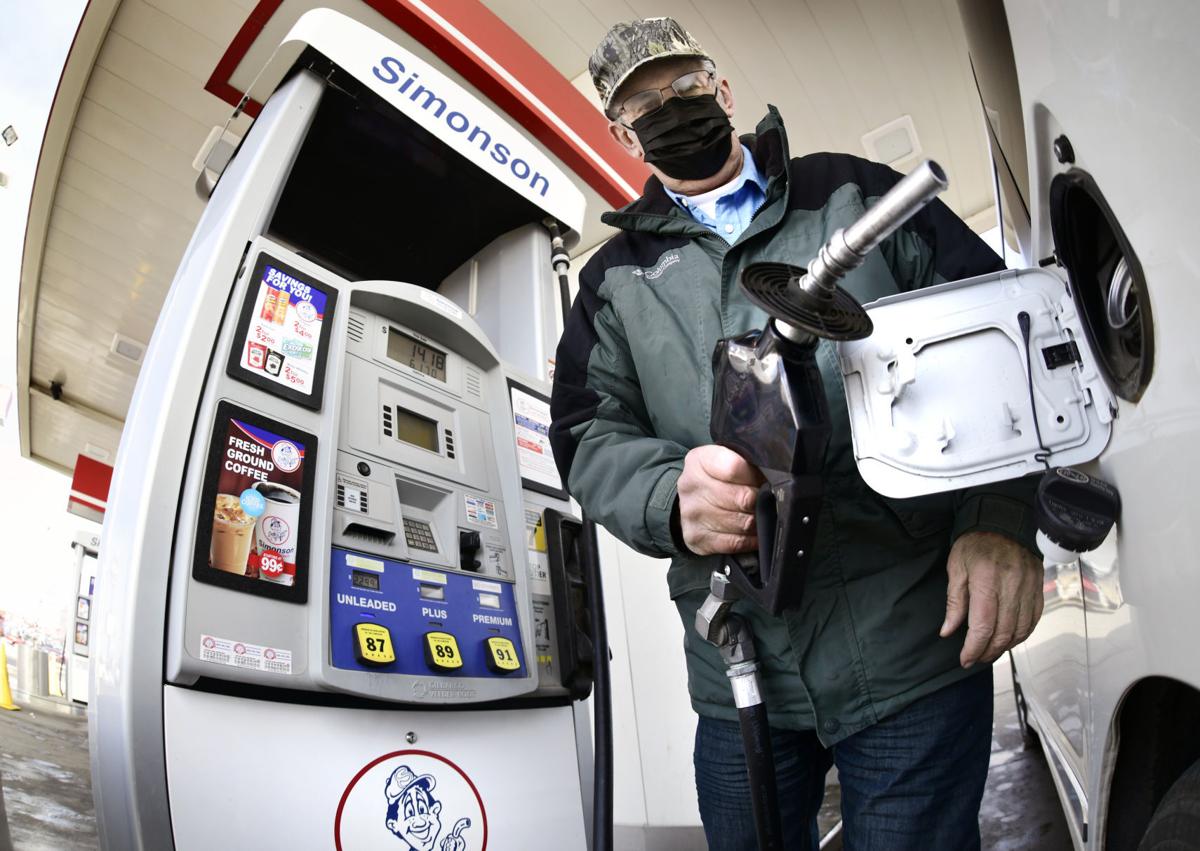 North Dakota lawmakers are considering a fuels tax hike to help pay for improvements to roads and bridges.
The House Finance and Taxation Committee on Monday voted 9-5 to endorse House Bill 1464, which would result in a tax increase of 6 cents per gallon on motor vehicle fuel sold in North Dakota. The panel of lawmakers amended the original proposal, which sought a 4 cent increase.
The amended bill also would require electric and hybrid vehicle drivers to pay a road use fee more than double the existing level. The measure next moves to the full House for consideration.
"I don't think anybody sitting here enjoys the need to raise any tax, but what are we to do?" said Rep. Craig Headland, R-Montpelier, who chairs the committee. "We have roads that are crumbling and we haven't had an increase in 16 years."
The proposal would apply to gasoline and special fuels such as diesel, biodiesel and compressed natural gas used in vehicles. Those fuels are taxed at 23 cents per gallon, a lower rate than in surrounding states. South Dakota's rate is the closest to North Dakota's, at 28 cents per gallon.
Rep. Vicky Steiner, R-Dickinson, pitched the measure to the committee early Monday as a means to complement a proposal from legislative leaders seeking to use earnings from North Dakota's oil tax savings account to help fund infrastructure projects.
"The question isn't if we will fix the bridges and roads over the next 10 years, but who pays for it," she said. "It should be a hybrid plan."
Later in the day as the committee debated the bill, Steiner said she thought raising the proposed tax increase even further could result in opposition from some groups that were on board with a smaller increase. Nevertheless, she said she'd support a 6 cent per gallon jump.
Rep. Jason Dockter, R-Bismarck, pushed for the higher increase, saying it was needed to account for inflation and higher construction prices.
"Every year you let this go by, the costs continue to rise and you can get less and less with materials," he said. "If you don't do it now and keep kicking it down and spreading it out, we're going to lose that much more purchasing power in the next few years."
Rep. Ben Koppelman, R-West Fargo, opposed the bill, calling it a "Band-Aid" that "doesn't give us any reform of the system" because the proposed increase is a static number. He suggested changes in the tax going forward be based off the price of fuel.
Though he did not support the bill, Koppelman suggested higher road user fees for electric and hybrid vehicle drivers. Existing fees on those vehicles are far lower than what those drivers would have spent in fuel taxes had they driven other cars, he said. He called the issue a matter of "parity."
The 2019 Legislature enacted road user fees to capture revenue from electric and hybrid vehicles given that they contribute to the wear and tear on roads but pay either no or very little in fuels tax.
Under the amended proposal, the electric vehicle road use fee would jump from $120 to $250 annually. The hybrid fee would increase from $50 to $150, and the fee for electric motorcycles would increase from $20 to $100.
A higher fuels tax is expected to bring in tens of millions of dollars more annually, with the bulk going to a state highway fund. Counties, cities and townships would receive a smaller share.
At the committee hearing Monday morning, advocates for cities and counties spoke in favor of the original plan for a 4 cent increase.
"Every little bit helps," said Blake Crosby, executive director of the North Dakota League of Cities.
A recent study from the Upper Great Plains Transportation Institute at North Dakota State University shows that the state's county and township roads and bridges will need $9 billion in repairs over the next 20 years.
"A lot of deficient bridges are in the east because a lot of bridges are in the east. We have counties with 200, 300 bridges," said Terry Traynor, executive director of the North Dakota Association of Counties.
Western North Dakota has needs as well, including expanding U.S. Highway 85 from Belfield to Watford City to four lanes, said Geoff Simon, executive director of the Western Dakota Energy Association, which represents oil- and coal-producing counties, cities and school districts.
"The safety needs out there are significant," he said. "Some of the improvements are long overdue."
No one spoke against the bill at the hearing, although several groups submitted written comments in opposition.
The North Dakota Motor Carriers Association said the bill would "heavily impact the 3,170 trucking companies located in North Dakota, which are primarily small locally owned businesses."
The National Federation of Independent Business said a gas tax increase "can create a serious economic disadvantage for small businesses, especially those that depend on fleet vehicle operations."
North Dakota's fuels tax has remained at 23 cents per gallon since 2005.