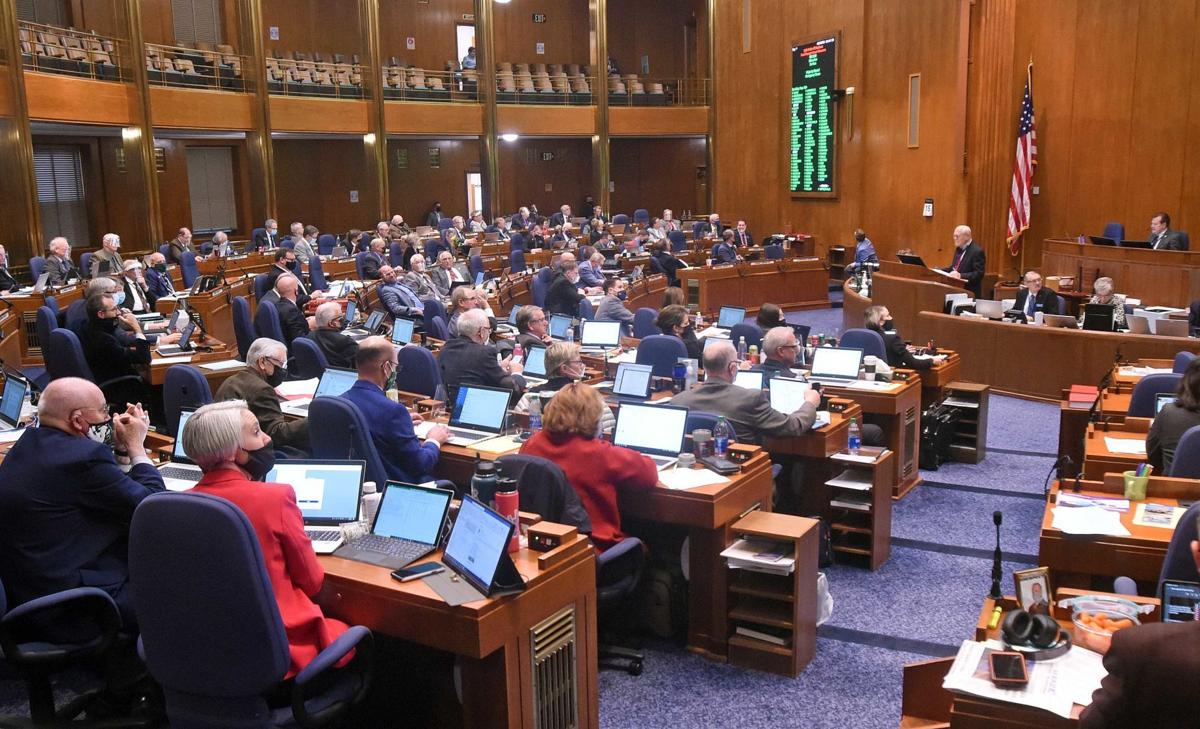 North Dakota's House of Representatives has given the green light to recreational marijuana.
The Republican-controlled House on Tuesday passed House Bill 1420 to legalize and restrict recreational marijuana on a 56-38 vote.
Representatives also passed House Bill 1501 to implement a related tax policy on a 73-21 vote. The joint bills now go to the Senate.
Reps. Jason Dockter, R-Bismarck, and Craig Headland, R-Montpelier, who said they are personally opposed to recreational marijuana, respectively brought the bills to head off citizen-initiated efforts to legalize marijuana through the constitution, after South Dakota voters did just that last year.
North Dakota voters defeated a measure to legalize marijuana in 2018. Two measure efforts in 2020 fell short of signatures for ballot placement. But backers already are gearing up for a 2022 measure to plant marijuana legalization in the state constitution.
Dockter's bill to legalize and restrict recreational marijuana mirrors much of the state's medical marijuana program, which the 2017 Legislature implemented after voters approved it in 2016.
The bill would restrict recreational marijuana to people 21 and older, limit possession to 1 ounce, limit and track purchase amounts, limit use to private property and ban home growing.
"You can't be walking down the street smoking a joint," said Rep. Robin Weisz, R-Hurdsfield, who chairs the House Human Services Committee, which handled the bill.
The bill also would limit the number of growers to seven and dispensaries to 18, all registered with the state.
Opponents said marijuana isn't safe, would set a poor example for children and would result in negative, long-term effects on behavior.
"To me, to surrender is not to win. It's to give in to the wishes of the other party or the other people that you're disagreeing with," said Rep. Chuck Damschen, R-Hampden.
Rep. Bill Tveit, R-Hazen, said "Our youth only mirror what they see in the adults around them," citing North Dakota binge-drinking statistics for adults and teenagers.
Supporters said the bill is a proactive approach to legalizing marijuana before a measure group might succeed.
"Our job is to create laws for safety, for other issues, and most of the time we come here and we're reactive ... I looked at this and tried to be proactive. It's not if it's coming. It is coming and it's already here," Dockter told the House. 
Rep. Pat Heinert, R-Bismarck, gave his support in fewer words.
"Pot. Let's vote green," the former Burleigh County sheriff told the House.
Headland's bill would levy a 10% tax on growers and a 15% tax on dispensary sales, and send 3% of the latter taxes to cities and counties with dispensaries. Manufacturers and retailers would need to be permitted by the state.
Jody Vetter, of Bismarck, who is leading the 2022 measure effort, said she supports the two bills' passage, but her group is still moving forward and hopes to work with the Senate on allowing home growing of marijuana. She said home growing "keeps the prices down" and allows people to grow "strain-specific" plants.
The measure would restrict users to people 21 and older and would limit use to private property.
The House also passed House Bill 1201, brought by Rep. Shannon Roers Jones, R-Fargo, which would decriminalize small quantities of marijuana. The bill passed 58-36.
Roers Jones has said her bill possibly "may not be necessary" if Dockter's bill passes, at which time she would ask the Senate to defeat her legislation.
The 2019 Legislature reduced the criminal penalty for possession of up to one-half ounce of marijuana from a misdemeanor to an infraction, punishable by a maximum $1,000 fine.
The House on Monday defeated House Concurrent Resolution 3031, brought by Rep. Marvin Nelson, D-Rolla, which would ask voters to legalize marijuana through the constitution. The measure fell 85-9.