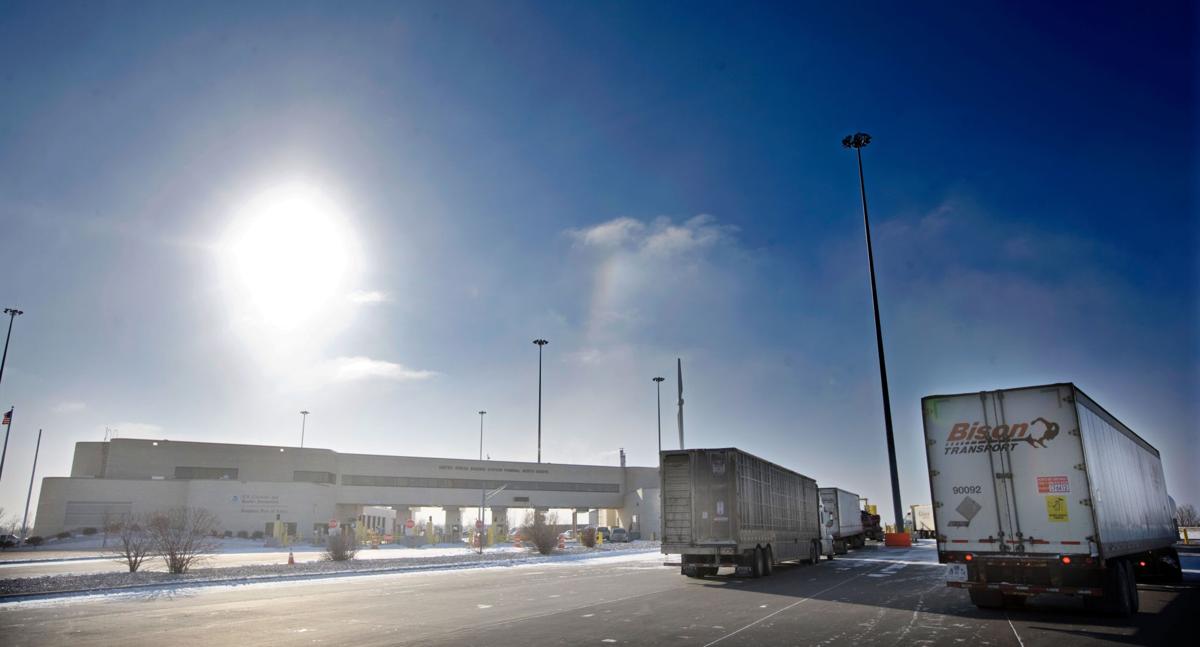 North Dakota lawmakers are considering whether to move toward allowing extra-long trucks to travel Interstate 94 and other roadways, a practice common in the Australian Outback.
Opponents of the so-called "road train" legislation criticize it for not providing a definition of the term, but road trains are generally thought to consist of a semitractor pulling multiple trailers and exceeding existing state and federal length and weight limits.
Supporters bill road trains as a way to address the growing need to move cargo, especially amid the rise of e-commerce giants such as Amazon and a nationwide shortage of truck drivers.
"The reality is we need to be able to move more freight with less people," said Matt Gardner, a lobbyist with the North Dakota Motor Carriers Association.
He spoke in favor of one measure heard before a panel of lawmakers Thursday, while his group later in the day opposed a different bill related to road trains and suggested the state continue to study the issue.
Critics are concerned larger trucks would cause more traffic fatalities and damage to roads and bridges, and they say the state has limited ability to authorize their use.
Landis Larson, president of the AFL-CIO, a federation of unions, told lawmakers that road trains pose dangers to workers who commute, and place an "unnecessary strain on an already underfunded and crumbling infrastructure."
He frequently commutes from West Fargo to Bismarck on I-94. Along the way, he often passes FedEx trucks hauling three trailers of cargo.
"If there's any wind, I have been forced onto the roadstrips before just to get around these trucks," he said. "The safety part really concerns me."
He and Gardner testified before the House Transportation Committee, which voted 10-4 to endorse House Concurrent Resolution 3001. It will next come up for a vote before the full House of Representatives.
The measure promotes launching a pilot program that would allow larger trucks on North Dakota's major roadways. It urges Congress to amend restrictions on truck length and weight for Interstates 94 and 29 in North Dakota, as well as other highways within the state that make up part of a national trucking network.
The Senate Transportation Committee heard a related bill later in the day. Senate Bill 2026 would give the governor the power to set size limits for road trains as long as they comply with existing axle weight limits. It does not specify upon which roads the vehicles could drive.
The measures stem from an interim legislative study on road trains authorized by lawmakers in 2019.
Existing restrictions on truck size in North Dakota vary by truck configuration and roadway. They generally require that trucks do not exceed a length of 100 to 110 feet and a weight of 80,000 to 129,000 pounds, said Chris Joseph, a Legislative Council attorney who staffs committees.
Companies seeking to move cargo on trucks up to 129,000 pounds must apply for and pay for a permit to travel through North Dakota. Neither measure heard before lawmakers Thursday specifies how much larger in size road trains could be.
The federal government oversees size limits on the interstates and certain highways where some in North Dakota seek to allow road trains. The state has authority over lesser roads.
No other states allow road trains, though the resolution suggests that North Dakota would work with surrounding states to establish the pilot program.
Sen. Oley Larsen, R-Minot, testified in favor of the Senate bill giving the governor authority to set size limits. He said he envisions trucks hauling three 50-foot trailers; not a massive chain of trailers as seen on gravel roads in Australia.
He said the provision on axle weight limits is important because it would ensure that the weight of a heavy load would be dispersed, preventing wear and tear on roads and bridges.
But others expressed concern that the length of a road train could pose problems for entering and exiting interstates, as well as for turning.
"Even if these loads are approved on a state highway, every one of these loads would come off of a local road at some point," Cass County Highway Engineer Jason Benson said. "It's got to get from a local road onto that state road, and that local road is going to bear the cost of infrastructure improvements."
The bill faced opposition from the North Dakota Association of Counties, the North Dakota County Commissioners Association and BNSF Railway, among others.
Nathan Severson, a trial lawyer based in Fargo, said he represents families that have lost loved ones in crashes with commercial trucks.
"My big concern is the human cost," he said, adding that allowing road trains goes against Vision Zero, an initiative of several state agencies to reduce traffic fatalities.
The North Dakota Department of Transportation did not take a formal stance on the bill, but Office of Operations Director Wayde Swenson said there is no system in place for licensing road train drivers, and he expressed concern that the proposal could violate federal law given Congress's oversight of the national trucking network.
The Senate Transportation Committee did not vote on the bill Thursday.