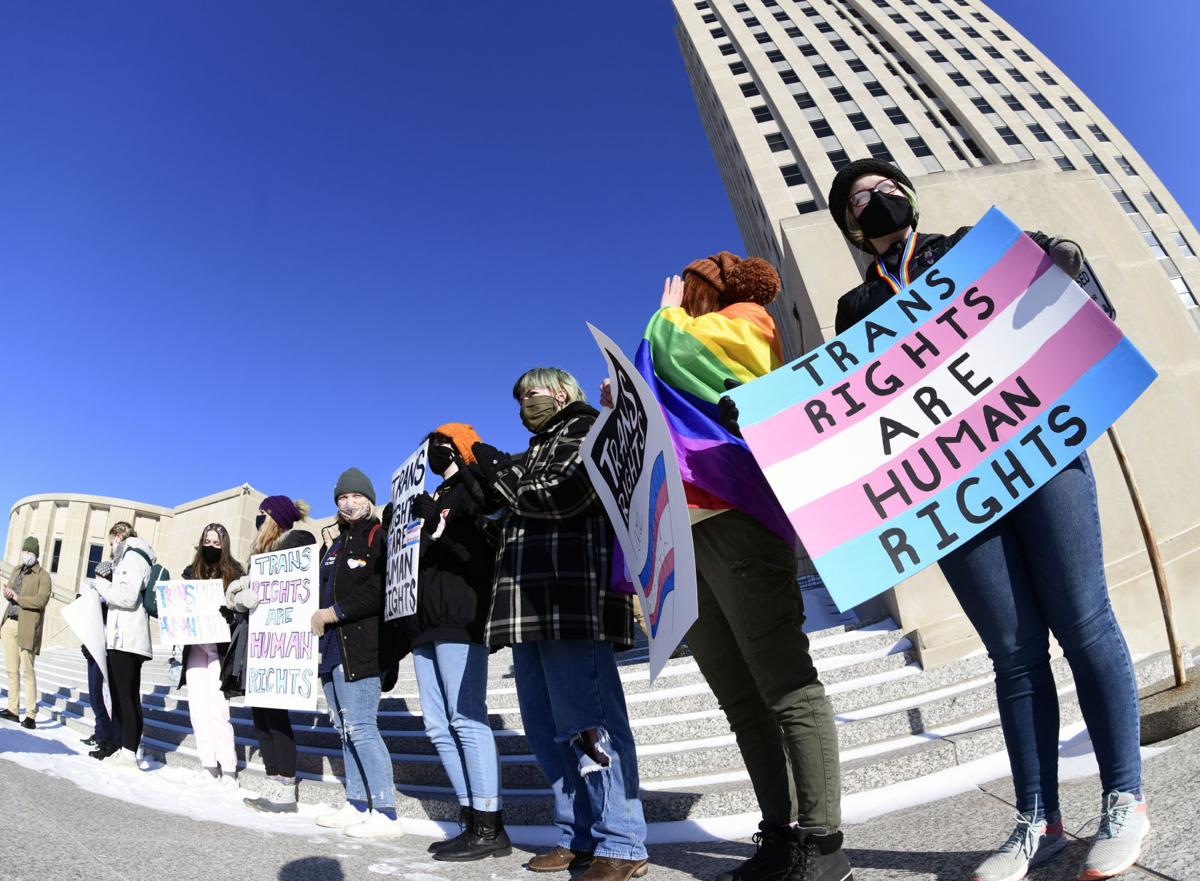 Gov. Doug Burgum on Wednesday vetoed a bill restricting transgender girls in K-12 sports.
The bill had passed the House 69-25 and the Senate 27-20 after conference committee amendments.
House Bill 1298, brought by Rep. Ben Koppelman, R-West Fargo, sought to prohibit public elementary and secondary schools from "knowingly" allowing a student to participate on a school-sponsored athletic team exclusively for their opposite sex. The bill does allow girls to play on boys sports teams.
The bill also included an optional 2021-22 interim study of the impact of the bill on student athletic events. Any findings and recommendations would go to the 2023 Legislature.
Supporters say the bill ensures fairness in girls sports. Opponents say the bill discriminates against transgender youth and risks inviting litigation and repelling sports tourism.
The Concerned Women for America of North Dakota had urged Burgum to sign the bill, saying it would "protect biological girls who train and work hard to excel in their chosen sport."
The North Dakota Human Rights Coalition, Tri-State Transgender, the state Democratic-NPL Party and the American Civil Liberties Union all had urged Burgum to veto the bill, calling it discriminatory and unconstitutional.
Burgum in his veto message to Speaker Kim Koppelman, R-West Fargo, said "North Dakota today has a level playing field and fairness in girls' sports."
"North Dakota has fairness in girls' and boys' sports in large part because of the caring and thoughtful leadership of the North Dakota High School Activities Association (NDHSAA) Board and its members," Burgum said. "We have every confidence they will continue to ensure a level playing field for the more than 27,000 students who participate in North Dakota high school sports."
Burgum also said "to date there has not been a single recorded incident of a transgender girl attempting to play on a North Dakota girls' team. Further, the NDHSAA already has regulations in place for participation in sex-separated interscholastic contests by transgender students."
The North Dakota Human Rights Coalition and Tri-State Transgender issued a statement Wednesday commending Burgum for his veto. The move "sends a loud message to other lawmakers across the country considering similar legislation: Stop the attacks on transgender youth," Tri-State Transgender President Katrina Koesterman said.
ACLU of North Dakota Campaigns Director Libby Skarin in a statement said she was "thrilled" with the veto.
"Nobody wins when politicians try to meddle in people's lives like this," she said. "Nobody wins when we try to codify discrimination like this."
The Concerned Women for America of North Dakota didn't immediately comment.
The House and Senate could override the governor's veto with two-thirds majority votes. The House passed the bill with a veto-proof majority; the Senate did not.
The bill would first be voted on in the House for a veto override. Senate Majority Leader Rich Wardner, R-Dickinson, said the Senate would vote on overriding the veto if the House does so.
Other states have recently passed legislation restricting transgender athletes, including Mississippi, Arkansas and Tennessee. Idaho passed a similar law but a federal judge blocked it last year.
The North Dakota High School Activities Association told the Tribune it opposed the bill. The association's transgender student board regulation states:
Any transgender student who is not taking hormone treatment related to gender transition may participate in a sex-separated interscholastic contest in accordance with the sex assigned to him or her at birth.
A trans male (female to male) student who has undergone treatment with testosterone for gender transition may compete in a contest for boys but is no longer eligible to compete in a contest for girls.
A trans female (male to female) student being treated with testosterone suppression medication for gender transition may continue to compete in a contest for boys but may not compete in a contest for girls until completing one calendar year of documented testosterone-suppression treatment.