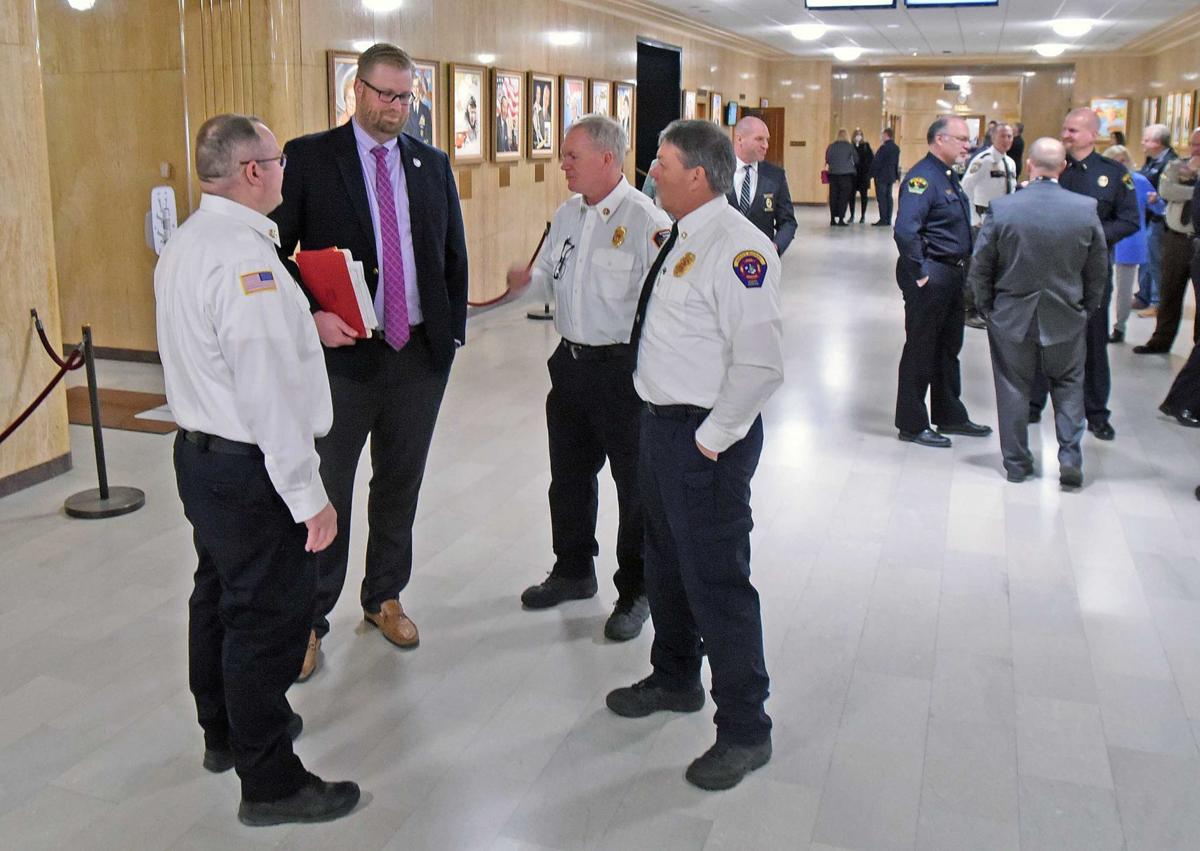 North Dakota fire departments are set to receive more state funding in the next two years, but some key players see more work to do.
Within the state insurance commissioner's budget is $19.6 million for the state's 360 fire districts and $1.14 million for the North Dakota Firefighters Association, the state's training and certification authority. The 2019 Legislature set $18.8 million in total funding.
The House of Representatives on Friday adopted a conference committee report and passed the bill 89-1; the Senate on Monday did the same, unanimously.
Fire departments, most of them volunteer-based, receive state funding from fire insurance premium taxes distributed through a fund administered by the insurance commissioner.
Some budget observers for years have pushed for a continuing appropriation, or a long-term or ongoing funding source, instead of funding set every two years by the Legislature.
Fire departments were funded by a continuing appropriation for about a century until the Legislature changed the funding method amid budget woes of the farm crisis and oil bust decades ago, and never reinstated it.
Supporters of a continuing appropriation say it is fairer and ensures all money collected for fire departments goes to them. Opponents say that mechanism brings concerns over transparency.
Right now, money in excess of funding set by the Legislature goes into the state's general fund, which received more than $13.3 million of excess funding from 2011-18. In the 2019-21 budget cycle, excess money totals nearly $2 million over the funding set by the 2019 Legislature.
Sen. Dave Oehlke, R-Devils Lake, said the new two-year funding amount represents "what is anticipated to come in in the next year plus the actual almost $2 million that was turned back ... into the general fund."
Republican Insurance Commissioner Jon Godfread advocated for a continuing appropriation, citing fairness and the statewide drought making critical wildfire conditions this year.
"They got the money that they collected last biennium for them going forward, and we'll continue to fight on the continuing appropriation going forward," Godfread said.
North Dakota Firefighters Association Training Director Rob Knuth sees progress made this year, but still work to do.
"We're very thankful to the Legislature for giving us 100% and returning the $1.9 million that we did not receive last biennium," he said. "We are disappointed, though, that there's not a continuing appropriation. We understand the reasoning behind them not doing it."
Gov. Doug Burgum has three legislative days to act on the bill upon receipt.