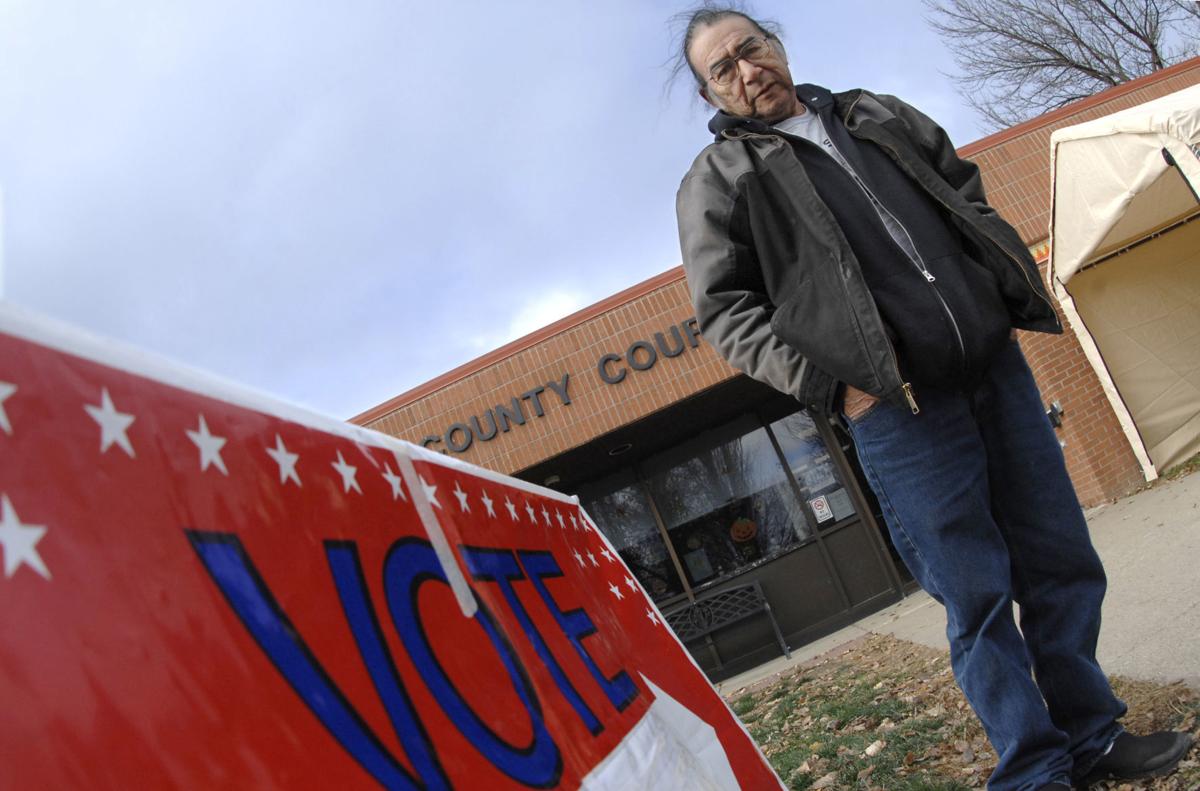 A federal judge has approved an agreement between North Dakota and American Indian tribes settling a dispute over the state's voter identification requirements that at one point reached the U.S. Supreme Court.
The deal that was filed on Friday "is fair, reasonable, and consistent with the law and public interest," U.S. District Judge Dan Hovland wrote in his order signed Monday.
The agreement settles two lawsuits -- one filed by members of the Turtle Mountain Band of Chippewa in 2016 and another filed two years later by the Spirit Lake Nation and later joined by the Standing Rock Sioux.
The crux of the tribal claims is North Dakota's requirement that voters have identification with a provable street address creates a voting barrier for Native Americans who live on reservations where street addresses are hard to come by.
Many streets on reservations have no signs, many family members live together, and some tribal members have no permanent address or are homeless. Many tribal members rely on post office boxes as their permanent address, and many don't have necessary documents such as a birth certificate to get an ID, or they can't afford one.
The secretary of state's office has maintained that the state's voter ID requirements are needed to prevent voting fraud. Some American Indians and advocates believe the Republican-dominated state government wants to subdue the vote of Native Americans, who tend to support Democrats.
U.S. Supreme Court justices ruled in the run-up to the November 2018 general election that the state could continue requiring street addresses, though Justice Ruth Bader Ginsburg in a dissent said there was a "severe" risk of voter confusion.
State and tribal officials in February announced an agreement to settle the lawsuits. The deal filed Friday and approved by Hovland this week includes provisions that aim to ensure Native American voters have valid IDs and can meet the address requirement. It also gives tribes the ability to quickly verify "set-aside" ballots, which are not counted until the voter proves his or her eligibility. That was a key issue on reservations, where many people lack transportation or live far from polling sites, and had difficulty returning to verify their eligibility.
The deal will cost the state money -- perhaps a significant amount. It calls for the state to reimburse each tribe up to $5,000 for the cost of issuing addresses and identification for this year's election cycle, and to seek an ongoing legislative appropriation for costs in future elections.
Plaintiff's attorneys also are seeking more than $1.1 million in attorney fees and expenses. That has yet to be resolved. 
The state also must pay the cost of a mediator the two sides used in February. The amount is about $9,000, according to Secretary of State Al Jaeger.
Jaeger in a statement to the Tribune said he was pleased Hovland approved the agreement. 
"All requirements of state law are still in place as it relates to requirements for a residential address," Jaeger said. "What the agreement does is that it provides the options, methods, and communication required between the state and tribal governments for identifying residential addresses and the acceptable forms of identification, including tribal, for their members for voting purposes." 
He added that the state is working closely with counties and tribes "to make it possible for every eligible voter in North Dakota who chooses to vote to have that opportunity" during the June election, which is being conducted solely by mail-in ballot due to the coronavirus pandemic.
The Campaign Legal Center and the Native American Rights Fund, which represented plaintiffs in the lawsuits, have called the settlement a relief and a "sweeping victory" for Native American voting rights.
"Collectively, the two tribes have over 7,000 residents of voting age that will benefit," the groups said in a statement.