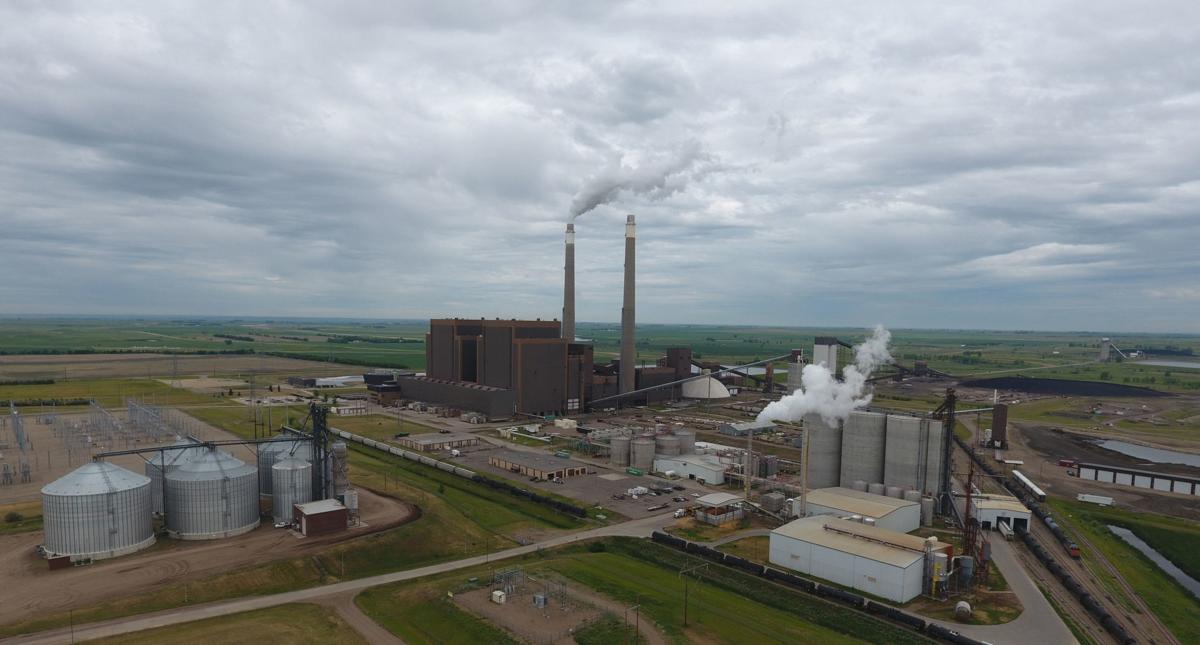 The head of the company that operates the Blue Flint Ethanol plant in McLean County made a plea to a state board Monday to support funding a carbon capture and storage study, saying that the research could help in the search for a new owner for Coal Creek Station and benefit the broader lignite coal industry.
"We need the data because it's nonexistent at this point," Midwest AgEnergy Group CEO Jeff Zueger told the Lignite Research Council. "Others will need the data as they try to advance the research and possible commercialization of technologies that are being contemplated for that area."
Blue Flint is located next to Coal Creek, the largest coal-fired power plant in North Dakota, and uses its steam and water to produce ethanol. Great River Energy announced last month that it plans to close Coal Creek in 2022 after years of financial woes at the facility and an unsuccessful search for a new owner, despite efforts to essentially give the plant away.
Zueger said people involved in efforts to find a new owner say that if the search is to be successful, it "likely has a carbon capture component to it." Such technology involves capturing carbon dioxide emissions from a facility and injecting them underground for permanent storage. A federal tax credit is helping drive the technology, which prevents carbon dioxide, a greenhouse gas, from being released into the atmosphere where it contributes to climate change.
State regulators indicated last month that they want to approve a nearly $3.4-million matching grant to help fund a study that will involve drilling a test well near Blue Flint to learn more about the layers of rock where the facility's carbon emissions could be stored. But questions arose about the funding source, and whether Midwest AgEnergy ought to pay the money back if Coal Creek shuts down and Blue Flint is no longer fueled by coal.
The three members of the Industrial Commission, chaired by Gov. Doug Burgum, kicked back their questions to the Lignite Research Council, which had initially recommended the payback condition if the research leads to a carbon capture and storage system and Blue Flint ultimately is fueled by another type of energy, such as natural gas. The council typically recommends coal-related projects for state research dollars.
Council members on Monday overwhelmingly indicated they would support funding the project even without the payback provision, with 19 people voting in favor. One person remained opposed and one did not vote.
The Blue Flint project seeks state "advanced energy technology funding," which is made up of a combination of oil and gas production tax revenue, coal severance tax and money from the state Strategic Investment and Improvements Fund. The greatest share of the nearly $11 million currently available comes from oil and gas taxes.
Wade Boeshans, a council member and head of BNI Coal, said the idea behind establishing the funding source was to bring technologies from the lab into the field while remaining "energy industry agnostic." The Legislature designated the funding in 2017 and tasked the existing Lignite Research Council with administering it rather than creating a new research arm under the Industrial Commission, he said.
Zueger said the results of the study will help Blue Flint make "a go or no-go decision for this project" and help others considering carbon capture in the area assess their options.
"This is development data at this point. It's not construction," he said, adding that he could see how a payback provision might make more sense if Blue Flint were looking to use the money to build the carbon capture and storage system.
Council member and Public Service Commissioner Randy Christmann first proposed the payback condition and said he still preferred it but would support funding the project without it as well.
"I think this project is so vitally important to the state of North Dakota," he said. "It's something that we can't let slip by us and even without the contingency, we need to do it."
His comments were echoed by Jason Bohrer, who chairs the research council and is president and CEO of the Lignite Energy Council, a trade group for the state's coal industry.
Bohrer said the project doesn't guarantee that Coal Creek will be able to find a new owner, but it increases the possibility. When GRE announced it plans to close Coal Creek, Bohrer told the Tribune that an initial effort by the company to study carbon capture could help make the plant more attractive to potential owners.
"This makes our lignite industry stronger and it increases the odds that you can find a longer-term solution for Coal Creek," Bohrer said Monday.
The Industrial Commission is expected to vote on the grant at its next meeting, June 19.
Get Election 2020 & Politics updates in your inbox!
Keep up on the latest in national and local politics as Election 2020 comes into focus.