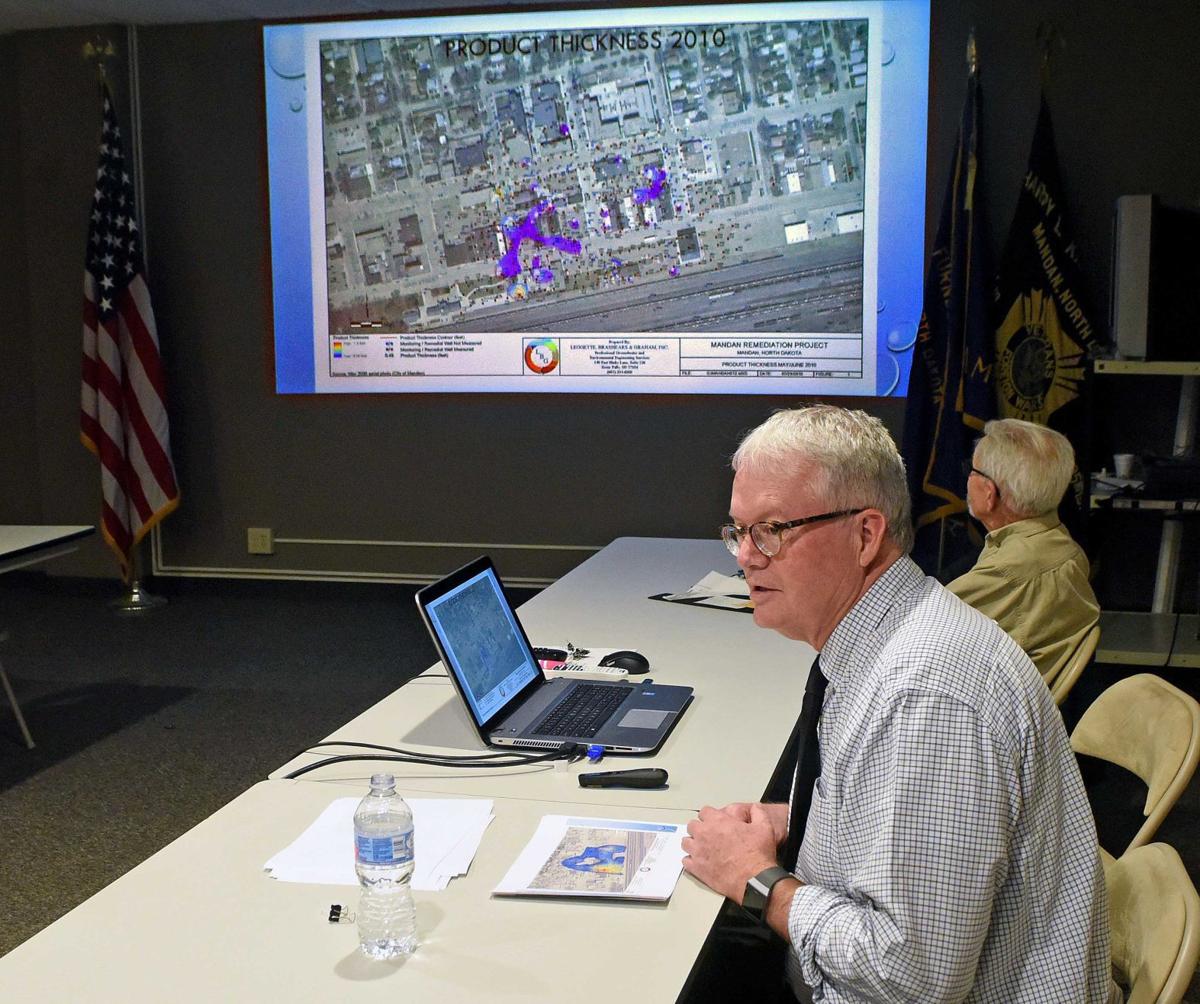 North Dakota's top environmental regulator wants to strengthen a law surrounding contaminated land to ensure that conditions put in place to protect public health stay if the site is transferred to a new owner.
A bill before lawmakers would help the state respond to situations similar to the massive diesel spill under downtown Mandan that prompted a 35-year cleanup effort, said Dave Glatt, director of the North Dakota Department of Environmental Quality.
The state in such circumstances can direct the response by establishing "environmental covenants," agreements with a landowner that address risks associated with contaminated property. The covenants might limit the land's use or require that owners monitor the scope of contamination, Glatt said.
Cleanup of the Mandan spill finished last year. Fueling activities at the BNSF rail yard caused a massive diesel plume under the downtown area decades ago. It was discovered in 1984 and led to a $30 million settlement with BNSF in 2004. State and local officials then took over the response, ultimately recovering 770,000 gallons of fuel.
Banks can be wary about investing in new development slated for risky properties, Glatt said. In the Mandan case, officials placed restrictions on the area affected by the plume. People were not allowed to dig basements or put in wells.
"That has given bankers certainty, and they have seen the downtown area start to thrive again with investment," Glatt said.
Eliminating contamination entirely at some sites might be cost-prohibitive, but they still could be repurposed for another use under certain conditions, he said, offering the example of an abandoned gas station that might be an ideal setting for a storage facility but not for a day care.
"What we want to make sure is that a land use restriction carries forward to subsequent landowners or purchasers so they know what they're getting into and what they need to maintain," he said.
House Bill 1079 would further address situations like that by offering clarity to avoid any conflicts with other parts of state law, Glatt told members of the House Judiciary Committee during a hearing Tuesday. North Dakota has allowed for environmental covenants since 2005, but the existing framework has some gaps, he said.
Twenty-four other states including neighboring Minnesota and South Dakota have passed similar bills. The measure before North Dakota lawmakers is modeled after legislation from the nonpartisan Uniform Law Commission.
The House Judiciary Committee voted 11-2 Tuesday to endorse the bill, which next goes to the full House of Representatives for further consideration.
Several lawmakers who supported the bill highlighted a provision requiring that a record of controls put in place at a site be filed with the city or county and with each person holding an interest in the land.
"I think the notice of having this information recorded against the property is beneficial for anyone who's looking at purchasing the property in the future or lenders who may want to finance on it," said Rep. Shannon Roers Jones, R-Fargo. "Everyone knows upfront what they're getting into with regard to the condition of the property."
The bill also requires Glatt's department to create a database of all environmental covenants in the state.
Rep. Jeffery Magrum, R-Hazelton, opposed the legislation, saying he wanted to protect states' rights. He said he was concerned the bill would lead to an "expansion," in that North Dakota would join forces with other states or the U.S. Environmental Protection Agency, which has a separate program for cleaning up large contaminated sites. He cited concerns about the incoming Biden administration, which is expected to take a far tougher stance on environmental issues than the Trump administration did.
Committee Chairman Rep. Lawrence Klemin, R-Bismarck, pushed back on Magrum's interpretation, saying the bill "has absolutely nothing to do with any other state." The bill addresses how North Dakota responds to contamination within the state and makes no reference to working with other states or the federal government.
Klemin called the legislation a "win-win situation for the landowner, for the public and for the state to identify these areas so they can be made useful again and not simply abandoned and lost for taxes."
Glatt said the bill is related to another measure, Senate Bill 2070, aimed at cleaning up abandoned property.
The Senate bill is meant to prompt companies to clean up contamination they create, and it provides money for the state to do the work when no responsible company can be identified. It also offers liability relief to investors and developers that want to repurpose such sites.