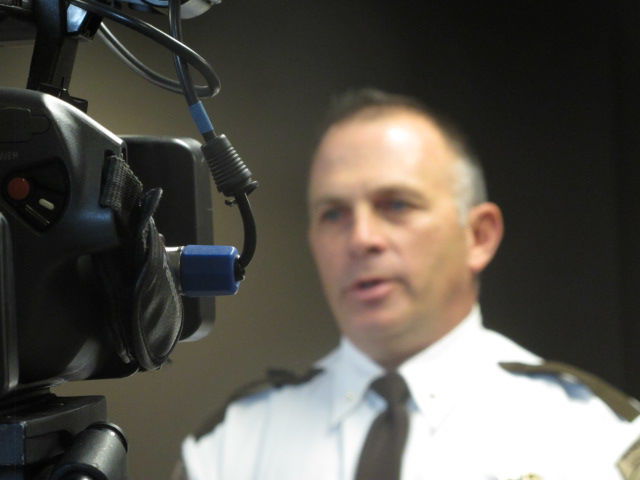 McKenzie County Sheriff Gary Schwartzenberger was placed on interim suspension Wednesday night, pending his removal from office, by Gov. Jack Dalrymple.
The governor ordered the interim suspension based on a recommendation from Attorney General Wayne Stenehjem after McKenzie County requested the sheriff be removed under a process available in state law.
The petition for removal was made by the county's acting State's Attorney Todd Schwarz on Oct. 24, alleging the sheriff is guilty of misconduct, malfeasance, crime in office, neglect of duty or gross incompetency. The county commission had voted in support of the petition for removal.
In a recommendation dated Wednesday, just short of the 30-day window to make his findings on the petition, Stenehjem said the allegations were investigated by the Bureau of Criminal Investigation and he recommended following through on removal.
Stenehjem said an assigned prosecutor will draft a formal complaint and once filed, a special commissioner will conduct a removal hearing within 30 days. He also recommended Schwartzenberger's immediate suspension until the hearing is concluded.
Dalrymple told Schwartzenberger in a letter also dated Wednesday and copied to the county commission that he agreed with Stenehjem's findings and said, "… it is in the best interests of the state that you be suspended from the performance of duty immediately upon receipt of this notice and until a final decision on removal is made."
The county's second-in-command is Capt. Larry Clock.
The suspension was enforced by BCI agents, who tracked down Schwartzenberger late Wednesday while he was working near Cannon Ball on the Dakota Access Pipeline protest enforcement, according to the Williston Herald.
Schwartzenberger told The Herald he's been waiting for this step in the process so that he can depose witnesses and get to the truth.
"This is the time and place for it to come out,"said Schwartzenberger, adding he was never contacted by BCI during its investigation.
The county decided to go through the process of stripping Schwartzenberger of his job and badge after hearing a report from a firm it hired to look into a growing number of complaints about the sheriff from his employees and others in county departments. The Village Business Institute found grounds to remove the sheriff based on harassment and intimidation amid concerns that he fostered a quasi-military environment.
The sheriff tried fighting the county's removal action in court, but South Central District Judge David Reich ruled last week that the county has authority to do so.
Schwartzenberger also is scheduled for trial on charges he illegally used the department credit card for personal expenses.