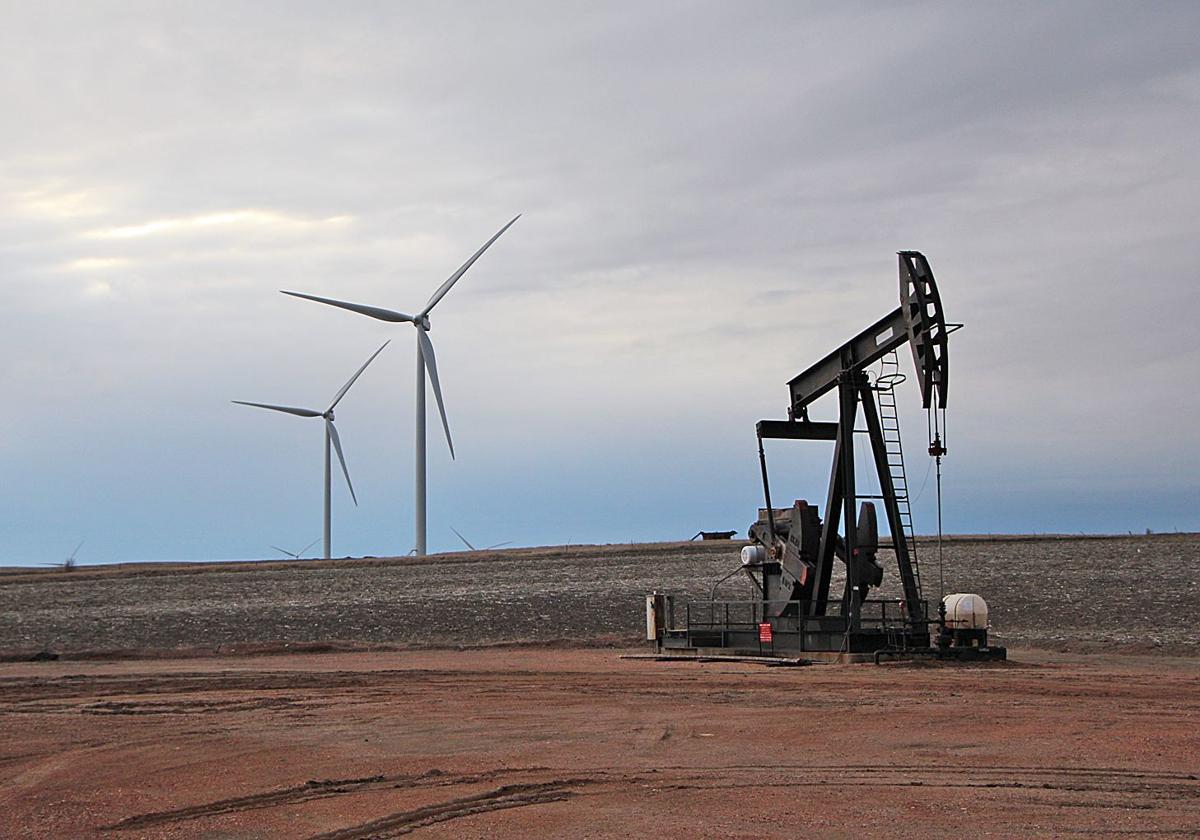 The 2010s brought dramatic changes to North Dakota's energy landscape as "the Bakken" became a household name, wind turbines grew bigger and the coal industry doubled down on research efforts.

The development of the Bakken shale play came just as the recession of 2008 left many Americans unemployed or in debt. The promise of high-wage jobs drew tens of thousands of people to western North Dakota.
The boom also created wealth for their employers and mineral owners, as well as for the state of North Dakota via taxes levied on oil production. But it also caused headaches for local officials tasked with upgrading their communities' roads, sewage systems and schools to accommodate a growing population.
Oil
Oil production soared from 236,000 barrels per day at the start of the decade to 1.5 million barrels per day by the end, thanks to the rise of horizontal drilling and hydraulic fracturing technologies.
As director of mineral resources, Lynn Helms has regulated the state's oil industry since long before the boom took off. He realized the Bakken would be big at the dawn of the decade.
"It was Christmas Eve 2009, and I was standing on my brother-in-law's porch in Williston looking south across the railroad tracks at an enormous flare from the first true multistage fractured Bakken well," he said.
Drillers of earlier Bakken wells "fracked" entire wells in one shot, injecting water, sand and chemicals at a high pressure to crack open the oil-rich rock.
But the operator of that well south of Williston portioned the fracking process out into 20 stages to get more oil out of the rock. The technique has since become the norm, Helms said.
It took a few years for others to realize the Bakken's potential. Helms recalled that he "nearly got laughed out of the room" when he addressed attendees of the Williston Basin Petroleum Conference in 2012.
"I gave my talk and I told people that I believed our production would go over 1 million barrels per day and that the industry would drive North Dakota's population to over 1 million people," he said.
Less than two years later, the state's daily oil production hit the 1-million-barrel mark, though North Dakota has yet to reach 1 million residents.
The first half of the decade saw high oil prices and companies scrambling to drill before leases they signed with landowners expired, Helms said. Amid lower prices during the second half, oil companies focused more on efficiency.
Advances in drilling technology helped them cut the amount of time it takes to drill a single well from five weeks in 2010 to two weeks today.
Helms said companies use better drill bits now, as well as top drives that allow them to turn and push pipe from above. So-called "walking rigs" are often used to drill multiple wells on a single pad.
"This is a 1-million-pound machine that actually can stand up on its little legs," Helms said. "It takes 1-foot-long steps -- roughly 50 steps -- to move to the next well and then it sits down."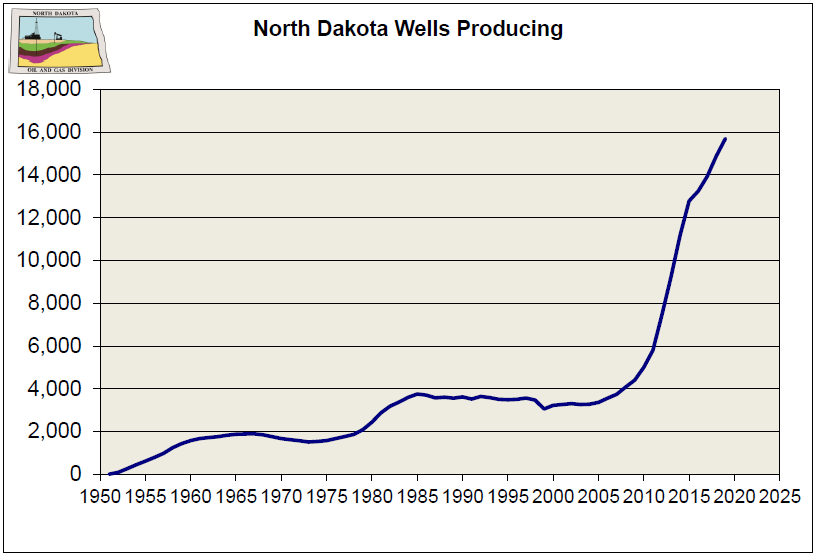 With more oil production came more environmental problems for the state, as well as a high-profile fight over the Dakota Access Pipeline that galvanized national headlines for seven months in 2016 and 2017.
Throughout the decade, oil spilled, as did brine, the salty water that comes up alongside oil at well sites and can render farmland infertile. Bakken wells also produce natural gas, and a lack of pipelines and processing facilities meant operators burned off excess gas via flares.
State regulators have imposed tougher regulations on flaring and pipelines, but North Dakota is still not meeting its flaring targets, and major spills still happen. Helms said it seems the pipelines causing the most problematic spills are ones that went in during the boom's early days, "when everybody was in a hurry all the time."
Wind
The rise of wind energy in North Dakota essentially mirrored that of oil during the 2010s. 
John DiDonato, vice president for development and origination at NextEra Energy Resources, helped develop the state's first major wind farm in 2003 and many others in the years since.
Even he compares wind to oil. Fracking, he said, has allowed drillers to tap into previously inaccessible layers of oil-rich rock.
"Instead of going down and out like fracking, we're going up, and we're getting the same results," he said, describing how wind turbines have grown in size over the course of the decade to tap faster wind speeds at higher altitudes.
As a result of taller towers and longer blades, each turbine NextEra uses today can generate nearly twice as much power as the ones used at the company's first North Dakota wind farm in LaMoure County.
Along with the technological advances, the costs associated with wind development have dropped 70% over the past decade, DiDonato said.
A federal tax credit helped drive new wind farms in the 2010s, he said. Projects that start construction after 2019 will no longer be eligible for the incentive.
"With all the advances that we have made in the product, we are really confident and convinced that we can be a low-cost provider of energy after the Production Tax Credit expires," DiDonato said.
State regulators just authorized NextEra's plan to "repower" one of its wind farms in Barnes County with longer blades and new gearboxes, making it the first in the state to receive such a face-lift. More repowers are expected in the years ahead.
Lately, transmission congestion has plagued wind developers, who face expensive upgrades to the grid each time they want to build a new wind farm in North Dakota and surrounding states.
"It's having enough wires or large enough wires to move energy from where it can be generated very efficiently and cheaply to where it can be used," DiDonato said.
While he said congestion could slow wind development, he pointed to 2002 when NextEra was discouraged from building new projects in the state due to the same problem, yet found ways to work through it. He suggested grid operators and the power industry collaborate and look at the problem holistically this time around.
Coal
North Dakota's coal industry held fairly steady over the course of the 2010s despite being the target of environmental regulations and facing competition from a surge in natural gas and renewable power.
Nationally, while bankruptcies and layoffs hit the coal industry, North Dakota saw just one coal plant shutter, Stanton Station in 2017. Heskett Station is slated to close in coming years.
But North Dakota also gained a coal plant when Spiritwood Station fired up in 2014.
The resiliency of the industry here is thanks in part to the proximity of mines and plants, which are located side by side to save costs because it's uneconomic to transport lignite coal long distances by train.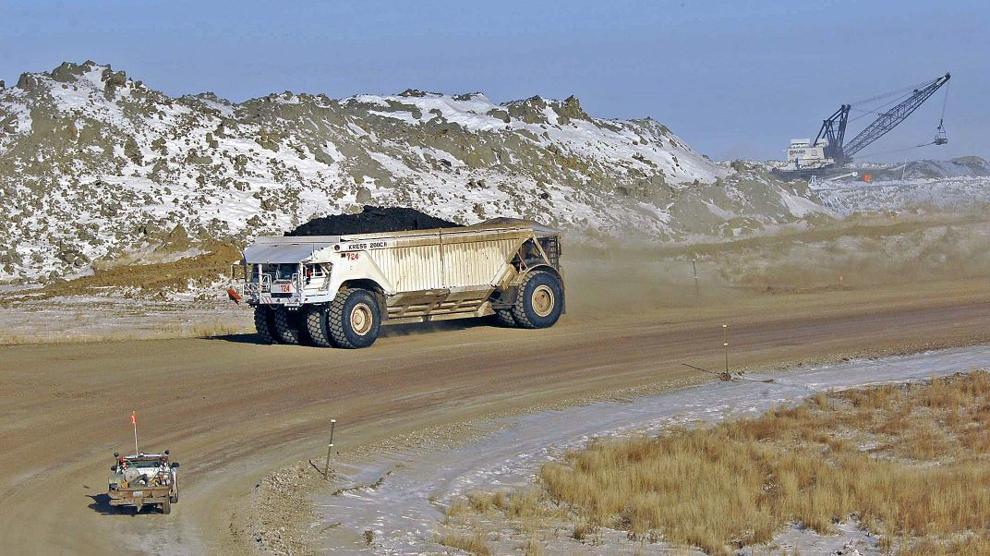 Still, North Dakota coal plants are challenged by the changing power mix.
"As electricity markets have become more regionalized, they are being driven much more on a day-to-day basis on the daily price of electricity in any given location," said Jason Bohrer, president and CEO of the Lignite Energy Council, a trade group representing the state's coal industry. "That is a systemic change that works against a large baseload facility like lignite coal or nuclear, which on average have very low prices, but they're not built to ramp up or ramp down based on the daily price of electricity."
Coal plants run most efficiently when they generate consistent amount of power, whereas newer gas plants can better adjust their outputs to changes in the market, such as on a not-so-blustery day when wind farms idle.
As a result, grid operators are not calling on coal facilities to operate nearly as often as in the past.
Bohrer said the politics of coal "turned a corner" nationally around the start of the decade, and that followed an attempt by Minnesota in 2007 to impose a law targeting coal-fired power that would have caused North Dakota generators to take a hit.
Of note, the Environmental Protection Agency under President Barack Obama imposed the Clean Power Plan in 2015, requiring significant emissions cuts in North Dakota. The Trump administration has since rescinded the plan and replaced it with one less stringent.
The short-lived plan, nevertheless, caused North Dakota's coal industry to take stock.
"It galvanized our industry and the state to ask what we can do different," Bohrer said. "That explains much of the drive to accelerate our research and development program."
By the time the Clean Power Plan came around, Coal Creek Station had already begun a new way of processing lignite that reduces carbon emissions, and Leland Olds Station and the Milton R. Young Station had completed major environmental upgrades.
During the latter half of the decade, research efforts have shifted to capturing carbon emissions and storing that gas underground.
The project closest to fruition is Project Tundra at Minnkota Power Cooperative's Young Station. Great River Energy recently announced that it too would study the feasibility of such a system at Coal Creek.
"If Tundra is successful, it's going to spur a lot of introspection," Bohrer said.
He anticipates more companies asking themselves, "Can we make this work on our power plant?"