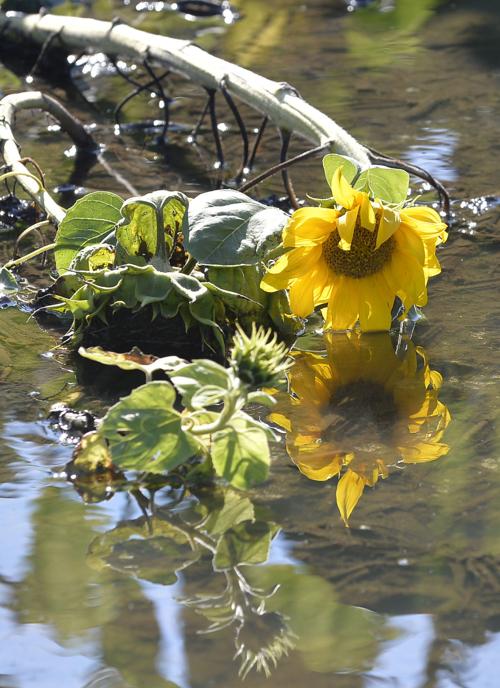 September's weather has forced North Dakotans to pull out their raincoats and umbrellas, and it's causing headaches for some farmers who haven't been able to get into their fields for the past week.
"We did not combine one bushel of dry wheat this year," said Tom Bernhardt, who farms near Linton in Emmons County.
Farther north in Mercer County, Dean Knell had little trouble harvesting his peas and barley near Pick City, but it's been a "fight 'til the end" for canola and wheat late this summer, he said.
He's pleased with his progress, but he sees a lot of wheat still standing in the surrounding areas.
"It's a battle out there," he said.
Sunny skies this weekend should offer relief from heavy rainfall in recent weeks.
Precipitation so far this year is higher than usual across North Dakota, except for in the northeastern corner of the state, according to the National Weather Service.
Nearly 22 inches of rain has fallen on Bismarck this year, which is 7 inches above normal. September storms already have netted 3 inches.
"We've had a big area of high pressure over the eastern half of the United States, which has really allowed the storms to dig south into the Mountain West and ride up through the Northern Plains," said meteorologist Adam Jones with the weather service in Bismarck.
The past 90 days have been particularly storm-heavy as winds bring up moisture from the Gulf of Mexico, he said.
The moisture has delayed harvests for some farmers and led to concerns about the quality of crops.
Robert Ferebee of Halliday in Dunn County said his wheat fields are behind where they ought to be at this point in September.
"We should be done," he said.
About one-quarter of his wheat is still  in the field, and he's concerned the moisture could cause some of it to sprout, which would reduce quality.
You have free articles remaining.
Some of his neighbors managed to finish before this week's rains, but others have a long way to go.
"Generally speaking, we do not have to combine our wheat wet," Ferebee said. "This year's an anomaly."
On the bright side, he and others with livestock say the moisture bodes well for grassy pastures.
The wet weather has prompted some farmers to use grain dryers. Knell in Mercer County said some dryers work by forcing air into a grain bin to slowly dry out the crops. Others send grain through a series of fans, and the propane-fired machines can be costly to run.
Ferebee doesn't want a dryer, but he's considering it.
"I'm getting to the point where I'm thinking maybe we're going to have to," he said.
Bernhardt used his drying system this month on spring wheat for only the second time since he began farming in Emmons County in the 1980s.
"I'm so glad I did," he said. "I pulled two loads out of the bin when it was completed, and it looks absolutely beautiful."
Some farmers have several types of crops not quite ready for harvest. The U.S. Department of Agriculture's National Agricultural Statistics Service reports that the harvest statewide for numerous crops is behind average.
Ed Kessel, who farms near Belfield, said he still has corn out in his fields.
"We do need some heat yet to finish it out," he said.
Bernhardt said there's no frost imminent, which buys time to allow crops like corn and soybeans to mature.
"That's real encouraging," he said.
Jones with the weather service said he expects Saturday's high to hit the 70s and climb into the 80s on Sunday. Monday should be rain-free as well, helping to dry out crops and give farmers at least a few days to get back out in the field.
Jones said another storm could move through the Bismarck area around the end of next week, but models show that precipitation levels could then fall below normal for early autumn.
It's too early to predict what this winter has in store for snowfall, he said.