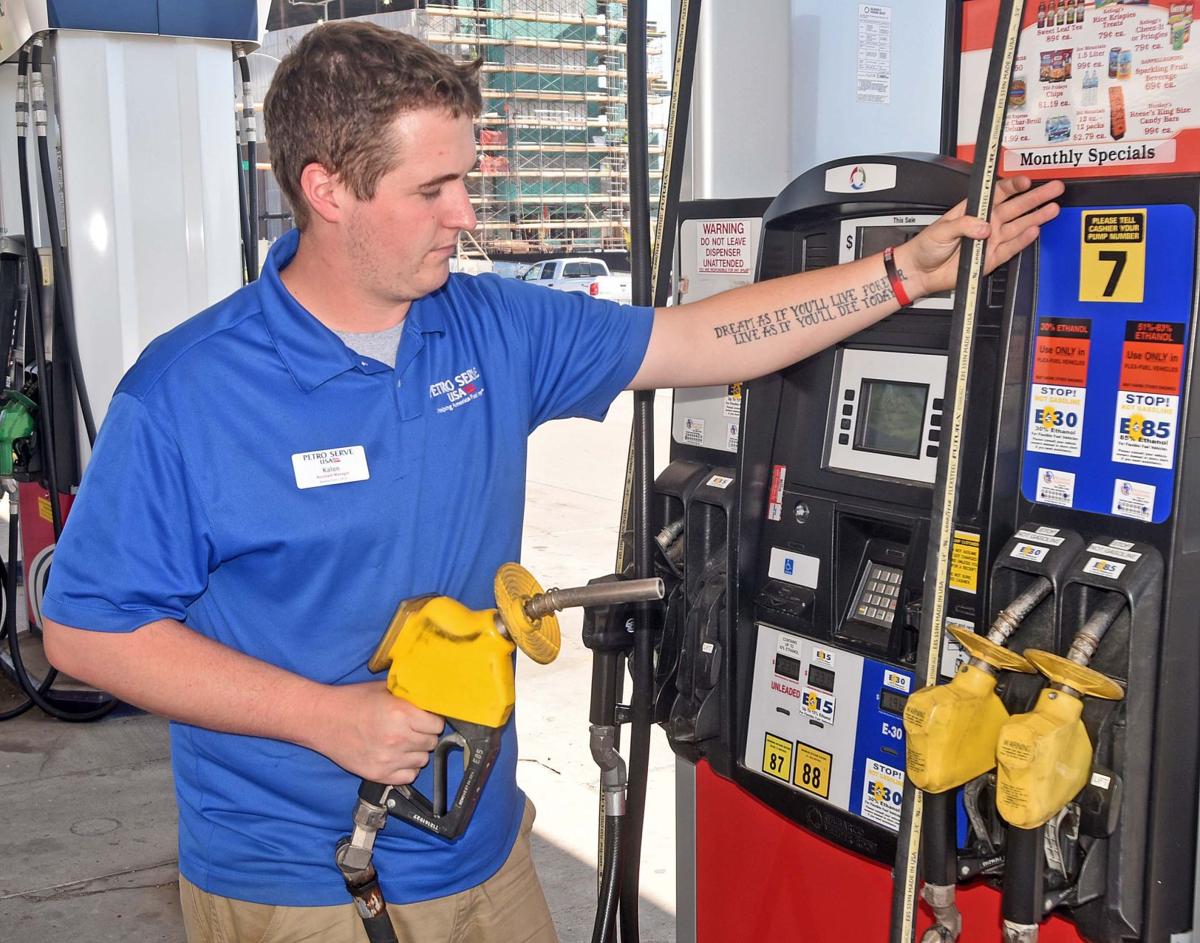 North Dakota Farmers Union is touting the economic and environmental benefits of ethanol, pushing for higher blends, in an effort to bump up demand and prices in the flooded corn market.
"Ethanol drives the demand for corn, and corn sets the price for all other commodities," said North Dakota Farmers Union President Mark Watne. "It's important we reduce regulatory burdens that impede the growth of ethanol in the marketplace. Ethanol production is good for American farmers. It's good for our economy. It's good for our environment."
The organization's recently launched initiative will include approaching legislators and regulators about expanding markets for higher blends of ethanol, such as E30, and advanced biofuels.
"E30 is kind of the sweet spot of the fuel blends," said Wimbledon farmer Mike Clemens, as he watched combines roll around the field harvesting his wheat crop on Wednesday.
He said the blend gives drivers better mileage and air quality gets better because refiners don't have to add as much benzine to their product.
"It's all good," Clemens said. "There are just regulations in the way for making it happen."
Clemens, a member of North Dakota Corn Growers Association, said he would like to see a new registered blend of ethanol. E10 and E85 are the U.S. Environmental Protection Agency's current registered options, with allowances for E15 blends from Sept. 1 through June 1.
E30 is the logical next choice, according to Clemens. And while at an ethanol conference in Omaha recently, Clemens said Nebraska Gov. Pete Ricketts told the crowd the Trump administration has been willing to listen.
Watne said studies have been done proving feasible E30 blend usage in non-flex fuel vehicles but no official federal testing has taken place, halting the blend's adoption.
"We shouldn't limit something if we know it works," he said.
In the meantime, groups are organizing efforts to get consumers to run E30 in their non-flex fuel vehicles and log their mileage to develop a data bank of the fuel's effects, Clemens said.
Right now, there is a large surplus of corn in the country — 2 billion excess bushels — a level Clemens said would be much higher if not for the evolution of ethanol. On his farm, he has gone from 100-bushel averages to more than 150 bushels per acre average and yields are only likely to continue to improve as production rises 2 percent to 5 percent annually.
"We have to find a home for these surpluses," said Watne, adding that only a major weather event, such as droughts in 2011 and 2012, can solve in the current market.
"Farmers are not making money. We don't want farmers going broke," said Watne, whose organization is looking for ways to create demand.
Clemens said one avenue commodity groups are pushing is a federal waiver that would allow E15 to be sold year round. That move could boost ethanol production by 5 billion to 6 billion gallons annually.
At the E15 level, demand for ethanol would go flat as fuel economies improve, according to Watne, who said he expects some push back from the oil industry but is hopeful the two fuel industries can coexist.
Anne Steckel, an energy, environment and agriculture policy specialist, will be leading National Farmers Union's efforts in Washington, D.C.
"Federal-level policies like the Renewable Fuel Standard have reaped tremendous gains for the farming and rural communities that grow and produce renewable, bio-based fuels," she said in a statement. "NFU will continue its avid support of the RFS and pursue innovative policy solutions that expand renewable energy demand, development and infrastructure."