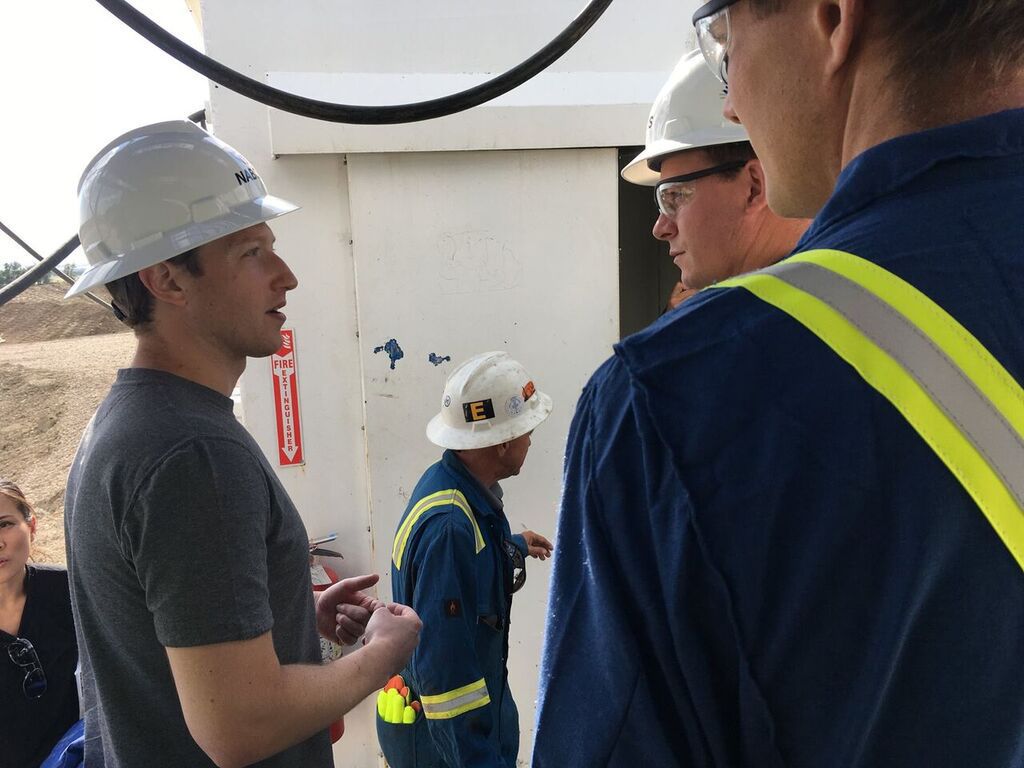 WILLISTON — The founder and CEO of Facebook spent Tuesday, July 11, in North Dakota, visiting Williston to learn more about the oil industry and taking a trip to Theodore Roosevelt National Park.
Mark Zuckerberg wrote a lengthy message on his Facebook page about the visit, encouraging followers to "get out and learn about all perspectives on issues" even while noting that "stopping climate change is one of the most important challenges of our generation."
Zuckerberg shared some of his perspectives and insight from the visit in a Facebook message posted early Wednesday. It had garnered attention worldwide, collecting about 2,300 shares, 61,000 reactions and 3,800 comments after about seven hours.
The visit is part of Zuckerberg's "Year of Travel" challenge for 2017 to visit each state. A Fourth of July post, for instance, shows him gutting a fish near Homer, Alaska. In another post, Zuckerberg says he undertakes a new challenge each year "to learn new things and grow outside of my work."
Zuckerberg visited a drilling rig before participating in a roundtable discussion with people involved in the oil and gas industry, said Shawn Wenko, executive director of the Williston Economic Development office. He said the visit came on very short notice.
"He came across as a very nice guy, very open to conversation," Wenko said. "We were excited that, of all the places in the world he could choose to go, he chose to come here and understand the oil and gas industry."
Ron Ness, president of the North Dakota Petroleum Council, joined Zuckerberg on his tour of the drilling rig Tuesday. He said the Facebook founder was "extremely intrigued" by the technology involved in drilling for oil and the stories of people who came from all over the country to find work in North Dakota.
"He had more questions than we had time," Ness said.
This year's travel challenge has fueled speculation that Zuckerberg plans to run for president in 2020. A May 2017 article in Vanity Fair called the challenge "the most obvious sign of his potential ambitions" … "a vast undertaking that Zuckerberg approached with all the choreography and message discipline of a mature political campaign." An April 2017 Facebook SEC filing contains a clause that The Atlantic called "another clue": "Mr. Zuckerberg's leave of absence or resignation would not constitute a Voluntary Resignation if it were in connection with his serving in a government position or office."
Zuckerberg has made no official announcement that he is running for president.
Gov. Doug Burgum, the Fargo entrepreneur in his first year of office and who grew Great Plains Software as chairman and CEO before selling it to Microsoft in 2001 for $1.1 billion, did not meet with Zuckerberg, according to spokesman Mike Nowatzki.
Near the conclusion of Zuckerberg's post on Tuesday, Zuckerberg said he was "grateful for the opportunity to see a community with such unique social dynamics." Near the conclusion of his personal post about the North Dakota visit, Zuckerberg said he was "grateful for the opportunity to see a community with such unique social dynamics." In a response to a comment on the post by a person who offered to take Zuckerberg to Theodore Roosevelt National Park, Zuckerberg said he had been there during the visit.
In his Facebook post, Zuckerberg said he learned more about fracking, man camps and how the population boom to the area changed the gender ratio while swelling size of the school district.
"They come here because these are good jobs where people with a high school diploma can make $100,000 a year," he wrote. "The women I met said they feel safe, but they had unique stories. Some told me about finding out their boyfriends had families back home. (They thanked me that Facebook has made it harder for these men to live double lives.) Another woman told me she has never paid for a drink her whole life.
"This gender imbalance has led to crime though. It is well-documented across the world that societies with many more men than women have more crime."
Zuckerberg said a pastor "told me about his challenge building community by encouraging people to set down actual roots in the area."
In addition, the Facebook CEO said the energy industry and politics are intertwined.
"When the Dakota Access Pipeline was approved, that removed $6-7 per barrel of cost from producing oil in the region, which brought more investment and jobs here," he wrote. "A number of people told me they had felt their livelihood was blocked by the government, but when (Donald) Trump approved the pipeline they felt a sense of hope again. That word 'hope' came up many times around this. One person told me the night the pipeline was approved, people lit fireworks and rode trucks with American flags down Main Street to celebrate.
"It's interesting to see this perspective when science overwhelmingly suggests fossil fuels contribute to climate change, which is one of the great challenges our generation will have to deal with."
The people Zuckerberg met "feel a sense of pride that their work contributes to serving real needs we all have every day -- keeping our homes warm, getting to work, feeding us, and more. They believe competition from new sources of energy is good, but from their perspective, until renewables can provide most of our energy at scale, they are providing an important service we all rely on, and they wish they'd stop being demonized for it.
"I believe we're closer to powering our society by renewables if we work at it, and doing so is extremely important for our future. For our part, Facebook has committed that every new data center we build will be powered by 100 percent renewable energy."