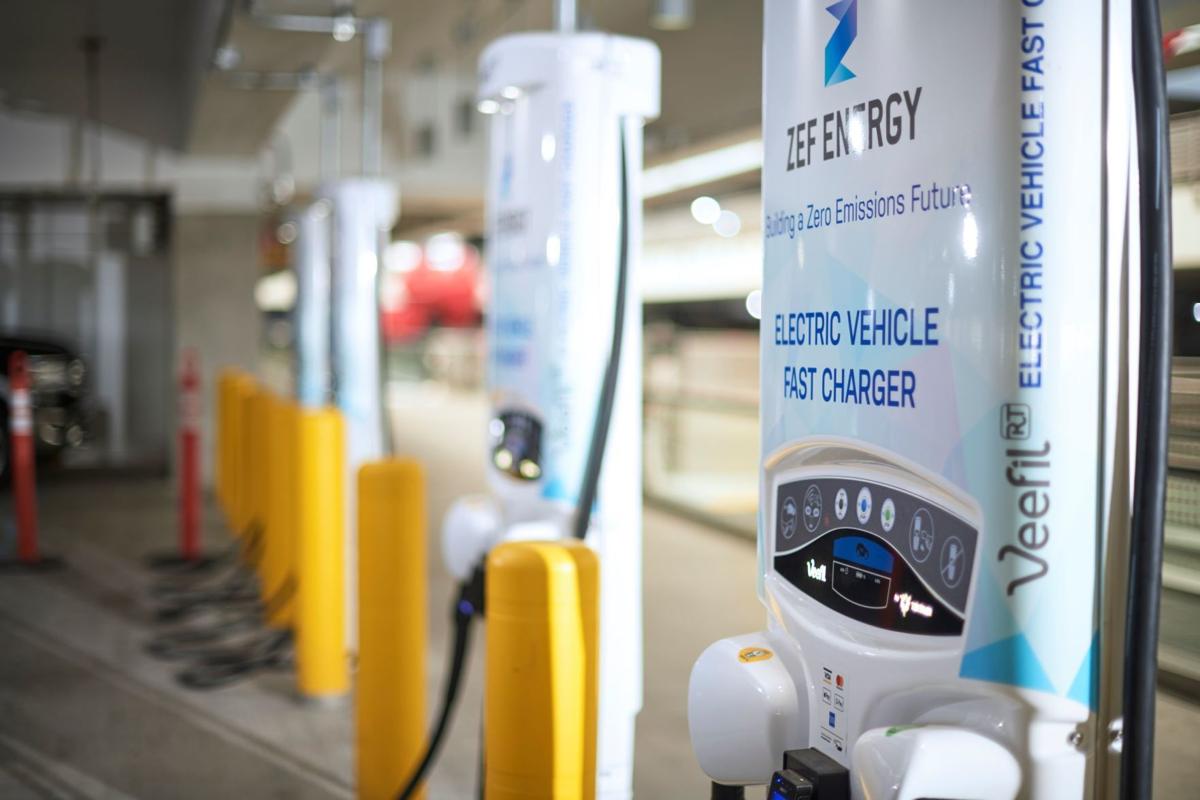 The first fast-charging stations for electric vehicles are up and running in North Dakota, with several more expected to come online in the western half of the state in December and additional ones planned next year.
Four sites have recently come online in Fargo, as well as one in Minot and another in Grand Forks, according to the North Dakota Department of Environmental Quality. Simonson gas stations in Dickinson and Williston are getting chargers this month. Two stations are slated to go up in Bismarck, likely in the first half of 2021.
Until this year, electric vehicle drivers could not quickly charge their cars anywhere in the state. North Dakota ranks near last in the nation for electric vehicle adoption and although the state was not completely devoid of charging stations until 2020, drivers needed to hook up their car for hours on end to obtain a full charge.
"This was like the last horizon," said Mike Calise, president of the Americas at Tritium. "This is a groundbreaking, huge win for the entire industry."
Tritium is working with another company, ZEF Energy, to install the Williston and Dickinson stations. The companies' chargers also are going in at Simonsons in Minot, Grand Forks and Grafton this month, as well as in Wahpeton in the first half of 2021.
The new stations are far more powerful than others in the state put up prior to 2020. They can provide a nearly full charge in 30 minutes to an hour, Calise said. A user can then travel several hundred miles before needing to charge again.
Electric vehicle proponents have long said that the lack of charging infrastructure in North Dakota causes drivers to bypass the state due to "range anxiety," the fear of a car's battery running out of juice before a motorist arrives at a charging station. They say the state loses out on some tourism revenue as a result.
"There's been no good way to travel out of Minnesota if you want to drive west," Calise said.
The stations from Tritium and ZEF will allow drivers to charge up for free through January as part of a holiday promotion in North Dakota, Minnesota and Wisconsin. Otherwise, drivers must pay to use a station. A person could purchase a subscription from ZEF to charge up at its stations without having to swipe a credit card every time.
The new stations were built with money the state secured through a settlement between Volkswagen and the federal government. The 2016 settlement followed an admission by the auto manufacturer that it programmed some of its diesel vehicles to cheat on emissions tests.
State environmental officials are administering North Dakota's $8.1 million share and awarded some of the money earlier this year to rural electric cooperatives, cities and companies to put up 17 charging stations throughout the state. Most are fast-charging, and they work with any electric vehicle.
The city of Bismarck received funding to install stations at the airport and at the Bismarck-Mandan Convention and Visitors Bureau off Burnt Boat Road near the Pinehurst shopping area. City Planner Will Hutchings said the installation work was recently bid out, and the city is placing the order to purchase the chargers. He anticipates the installations will occur in late spring of next year.
Separately, Tesla installed its first fast-charging stations in North Dakota this past summer. The stations are compatible only with Tesla vehicles. They came online along the Interstate 94 corridor in Dickinson, Bismarck, Jamestown and Fargo.