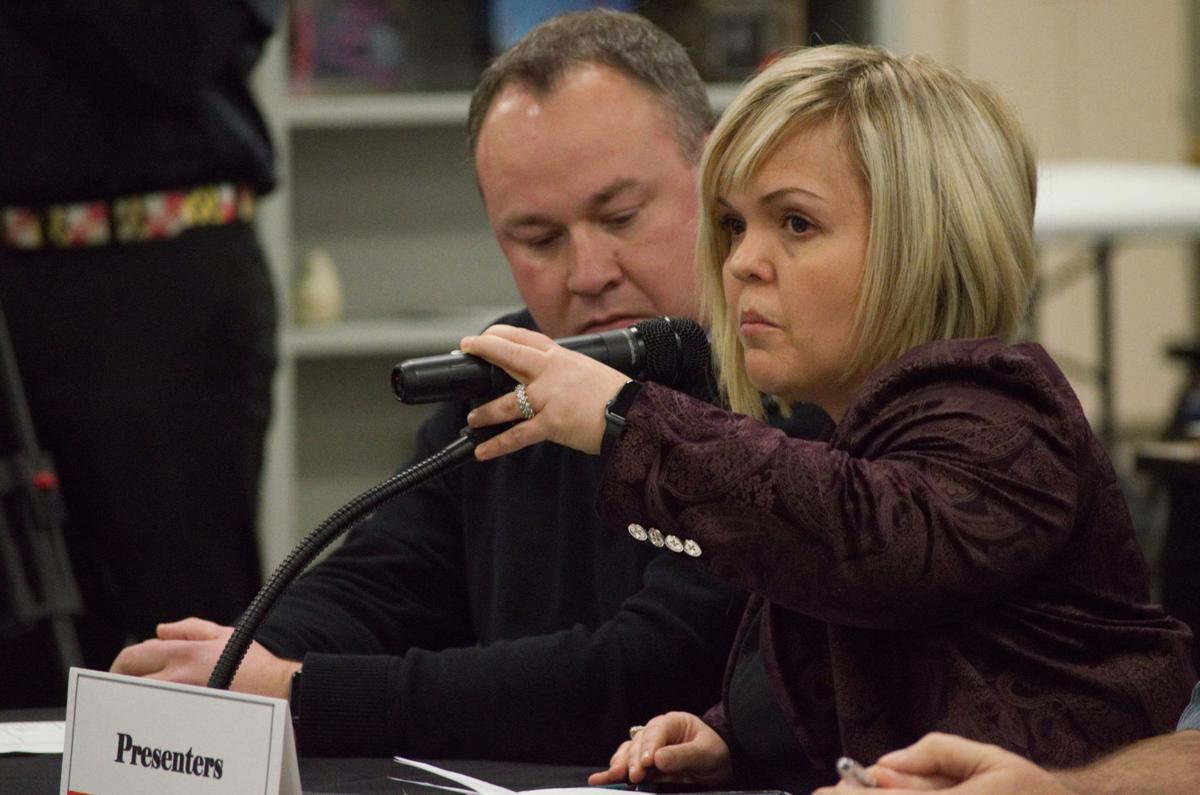 DICKINSON — During Monday night's Dickinson School Board meeting, representatives of Little People of America, a nonprofit organization that provides support, resources and information to people with dwarfism and their families, asked the board to consider dropping what they consider to be an offensive name for the school's mascot, The Midgets.
Samantha Rayburn-Trubyk, a representative with Little People of America, opened their request to the board with a simple message.
"I want to make it clear, we're not here to come and force you to change. We're not trying to force anything upon you. We just really want to give you our perspective and our point of view. You can make the decision on your own," she said.
The first person to speak was a member of the public, Derald Payne, who asked the board to think twice before changing the mascot.
"What is the meaning of the word 'midget'?" he said. "According to the dictionary, it says a small human being or small, and it's not a derogatory word or demeaning. We're all God's children; whether you're big, small, tall — it doesn't matter. To me, it means strength and also be proud of the mascot for what it represents."
Following Payne's comments, Rayburn-Trubyk shared the history of the word. According to her, the word gained heightened attention in the 1800s by P.T. Barnum of circus fame.
"In the freak show era, little people were bought from their parents and put on display in horrible conditions, subjected to terrible, terrible things and put on display to make people money," she said. "It's a word that has a lot of hate. It's a word that is really derogatory, and it's a word that represents a terrible history for us."
Rayburn-Trubyk said she did not believe that the community uses the word in a derogatory way and that their goal is to educate Dickinson about the hurtfulness of the name.
"We truly think that it's just maybe folks that don't know," she said. "They have never had an exposure to someone who is little or may just not know the term itself. Part of us coming here was just to provide that knowledge and education of why it's hurtful," she said. "I think Maya Angelou has a great quote. She said 'When you know better, you do better.' I hope the community knows better now, and I hope we do better now."
Joshua Lehman, a member of the Dickinson community, said that he wanted to see an open conversation on the matter that included input from the LPA.
Lehman added, "Whether that means we keep the mascot or we get rid of the mascot, the community needs to be involved and have a meaningful discussion."
While the board didn't make any decisions, they did instruct the district to get community input on the matter and report back to them with the findings. No timeline was established for the input, nor was any guidance issued on the methodology for the survey.
Be the first to know
Get local news delivered to your inbox!