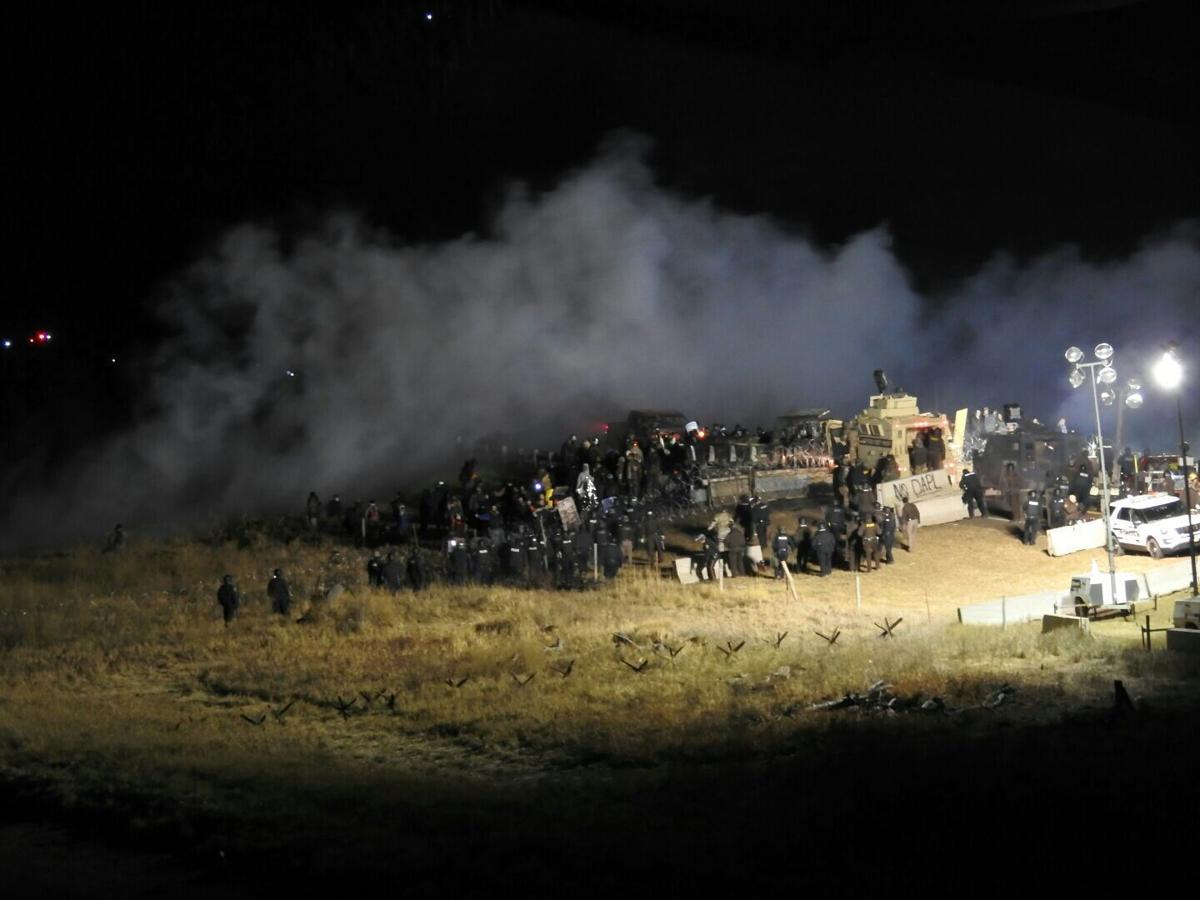 North Dakota's congressional delegation is urging two Trump administration officials to address the state's year-old demand for $38 million to cover the cost of policing large-scale and at times violent protests against the Dakota Access oil pipeline.
The request last Thursday by U.S. Sens. John Hoeven and Kevin Cramer and U.S. Rep. Kelly Armstrong came the same day that a federal appeals court ordered dismissal of a lawsuit by environmentalists and American Indians who seek to stop the Keystone XL oil pipeline. Opponents have vowed similar protests against that project.
President Donald Trump has been a staunch advocate of both pipelines and has actively pushed for their completion.
"This administration has reset the precedent on permitting this type of project," the delegation said in a letter to U.S. Attorney General William Barr and Acting Defense Secretary Patrick Shanahan. "But we urge you to also reset the federal government's precedent in these matters to maintain law and order on federal land and recognize the overwhelming responsibility the state and local authorities in North Dakota employed to maintain public safety."
The all-Republican delegation asks Barr and Shanahan to work with North Dakota "to achieve an equitable settlement" of the state's claim.
You have free articles remaining.
Justice Department spokesman Wyn Hornbuckle declined comment Monday, the day the delegation announced the letter. The Defense Department didn't immediately comment.
Thousands of opponents of the $3.8 billion pipeline that's been moving North Dakota oil to Illinois since June 2017 gathered in southern North Dakota in 2016 and early 2017, camping on federal land and often clashing with police, resulting in 761 arrests over six months.
North Dakota contends the Army Corps of Engineers allowed protesters to illegally camp without a federal permit. The Corps has said protesters weren't evicted due to free speech reasons.
North Dakota Attorney General Wayne Stenehjem in July 2018 filed an administrative claim against the Corps seeking to recoup the policing costs. In February, he said the Corps had not responded and he was planning a lawsuit. It's still in the works, spokeswoman Liz Brocker said Monday.
Trump last year denied a state-requested disaster declaration to cover North Dakota's DAPL-related costs. The Justice Department eventually did give the state a $10 million grant for policing-related expenses, but Stenehjem maintains it's up to the Corps to prove that it deserves an offset for the grant.
Texas-based pipeline developer Energy Transfer Partners has given the state another $15 million, but Stenehjem contends that doesn't impact the federal government's responsibility to reimburse the entire $38 million. He also has said the state would be open to settlement talks.