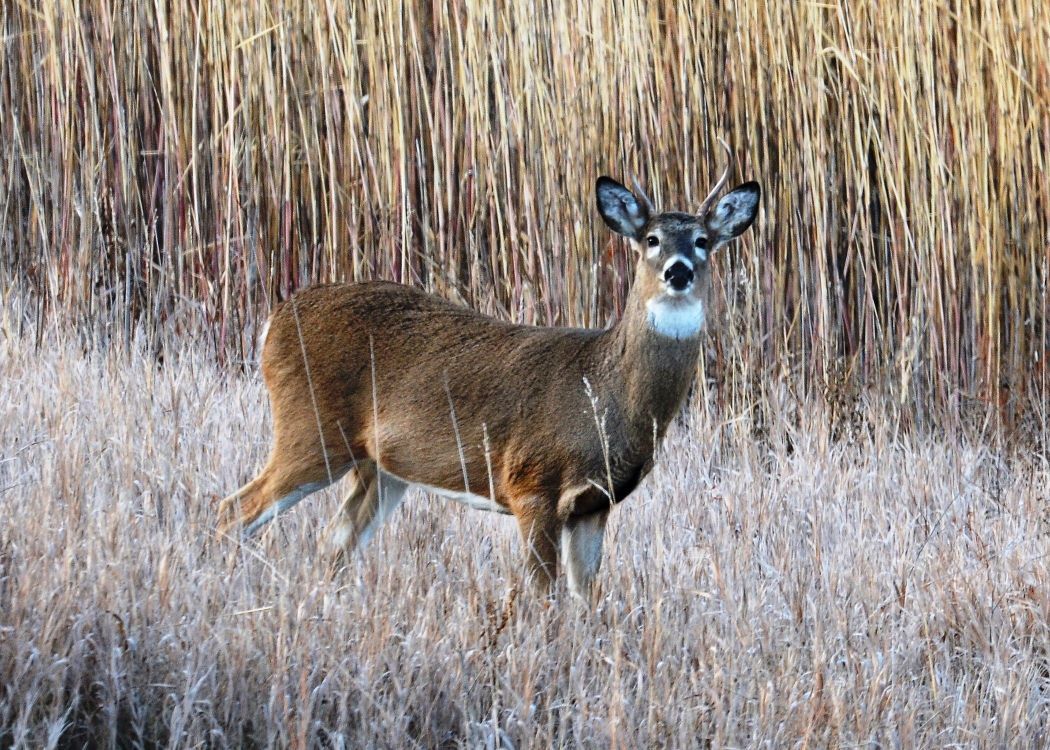 A deadly deer disease that is slowly becoming more prevalent in North Dakota has been documented in the western Badlands for the first time.
Two mule deer killed by hunters in September tested positive for chronic wasting disease, including one shot by a bowhunter in a hunting unit in McKenzie County where the disease had not previously been found.
"This is an iconic place to hunt big game, where people travel to from across the state," said Charlie Bahnson, wildlife veterinarian for the state Game and Fish Department. "By no means does this first detection spell doom for hunting in this area, as long as we are proactive in trying to keep infection rates from climbing. We also need to reduce the chance of CWD spreading to new areas."
The other new case was in a deer killed in Divide County, where the disease was first detected last fall.
Chronic wasting is a fatal disease that strikes the nervous system in deer, elk and moose. Sixteen deer killed by hunters in North Dakota have now tested positive since 2009, 13 of them from Grant and Sioux counties in the south central part of the state. A white-tailed deer found dead and emaciated by a landowner near Williston in February also died from the disease. It was the first natural CWD death documented in the state.
Cases have now been confirmed in four hunting units -- 3F2 in south central North Dakota, 3A1 and 3B1 in the northwestern corner and now 4B in the west central part of the state.
Game and Fish has put measures in place aimed at stopping the disease from spreading. They include a baiting ban in the previously identified infected units and some neighboring units, to prevent deer from congregating and spreading the disease. The movements of certain deer parts from the previously identified CWD units also is restricted.
Such measures are not being implemented this year for Unit 4B, given that the archery season is underway and the gun season begins in less than three weeks.
You have free articles remaining.
"It has the potential to add confusion if we add stuff right now," state Wildlife Chief Jeb Williams said.
Game and Fish is likely to implement the measures in the unit next year, he said.
Bahnson recommends that hunters in 4B this year still avoid transporting high-risk carcass parts such as the brain and spinal column outside of the unit. He also suggests hunters submit their deer for testing. The state has a surveillance program that collects deer heads voluntarily from hunters for testing.
Game and Fish also restricts the movement of certain deer parts from nearly two dozen other states where chronic wasting is present. The list includes the neighboring states of South Dakota, Montana and Minnesota, and the Canadian province of Saskatchewan to the north.
The mule deer population in western North Dakota has been rebounding since three straight harsh winters beginning in 2009. Game and Fish has been slowly lifting restrictions on mule deer doe hunting that were implemented eight years ago. This agency this season is fully lifting the restrictions, allowing hunting of mule deer does in Unit 4A in the Watford City area for the first time since 2011.
The discovery of chronic wasting in the area is not necessarily a blow to the mule deer recovery, according to Williams.
"CWD is not the end of deer and deer hunting," he said. "As long as we can keep that prevalence low, that's going to be our goal … we still feel like deer hunting is alive and well, and will continue to be in North Dakota."
Any proliferation of chronic wasting  in North Dakota could hurt a hunting industry worth tens of millions of dollars to the state. Each resident deer hunter spends about seven days in the field, spending on average about $136 each day. Nonresident hunters average about five days afield and spend $226 daily, according to state Tourism Division data.
No CWD infections have been reported in people, but the federal Centers for Disease Control and Prevention recommends hunters have animals tested if they're from areas where the disease is present and not eat meat from infected animals.