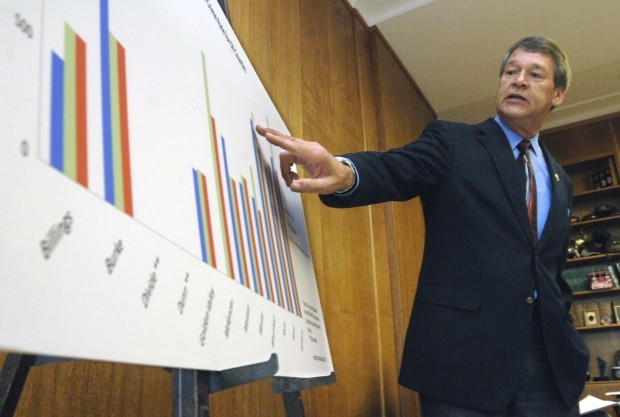 Crime increased in North Dakota in 2011, as compared to 2010, but Attorney General Wayne Stenehjem stresses that the increase was accompanied by an increase in population.
Good and bad things have come into the state on the heels of an oil boom, he said, noting that families, schools and churches are popping up in western North Dakota along with crime problems.
"There are some bad apples you've just got to look out for," Stenehjem said at a Monday afternoon news conference to address the statewide crime statistics.
Stenehjem's office typically releases the crime statistics with little fanfare, but the attorney general decided that he needed to address concerns and rumors that North Dakota's western counties — those seeing massive growth related to oilfield development — were dangerous, crime-riddled places. While crime has increased in those counties, it hasn't done so at a rate any faster than the rest of the state and has gone hand-in-hand with an increase in population, he said.
"I would never suggest that there is no cause for alarm," Stenehjem said. "I didn't want to sugarcoat anything."
And though the crime rate increased since 2010, it remained lower in 2011 than it was in 2002.
"Crime index" offenses, those reported from states to the Federal Bureau of Investigations, were up statewide from 12,427 in 2010 to 13,778 in 2011. Nearly every crime category was up in 2011, with a 6.8 percent decrease in forcible rapes being a notable exception.
Stenehjem's office broke down the statistics from 11 oilfield counties and showed that crime was not disproportionate in those counties. Approximately 27 percent of the aggravated assaults in 2011 occurred in the 11 counties, where approximately 25 percent of the state's population lives. Approximately 16 percent of the state's forcible rapes in 2011 occurred in those counties.
The likelihood of being a victim of a crime in western North Dakota was about the same as any other place in the state, Stenehjem said.
Stenehjem also enlisted the help of Rod Backman of Covenant Consulting Group to help determine how population changes, including the number of temporary residents living in man camps, changed the way the crime statistics looked. Backman said there are 24,000 man camp beds in the counties. Using those numbers, the attorney general's office determined the crime rate had changed little from 2010 to 2011 in the 11 oilfield counties.
More than one person may use each of the 24,000 beds, Backman said. Also, the population estimates used in the analysis did not include other places workers may be living, including trailers and private land where recreational vehicles are parked.
"Our estimates of population are, in my opinion, very conservative," Stenehjem said.
The attorney general spoke favorably of such man camps, saying they police themselves well by prohibiting alcohol and working quickly to deal with other problems, such as fights and assaults.
Stenehjem has heard anecdotally that some oilfield companies are not reporting theft of supplies from work sites. Though he has no way of knowing the extent of such unreported thefts, he encouraged companies to make reports so officials know there is a problem and can try to help.
Stenehjem said crime rates statewide are "relatively stable," despite a 16.1 percent increase in violent crime and a 10.3 percent increase in property crime. He explained that the relatively low numbers for North Dakota crimes can skew the rates from year to year.
Homicides, for example, took a big jump statistically, with a 36.4 percent increase. However, the number of homicides went from 11 to 15, and 15 homicides is not even the highest total for the state in the past 10 years, he said.
Many of the crimes reported in North Dakota, particularly thefts, are preventable crimes, Stenehjem said. He advised people to take precautions to avoid being crime victims, such as locking house and car doors and not leaving valuables inside vehicles.
Stenehjem said he was particularly concerned with the number of aggravated assault reports in recent years. That crime, which encompasses assaults causing serious bodily injury, has increased annually since 2003. In 2003, 289 aggravated assaults were reported. In 2011, 1,040 were reported. The biggest jump came in 2011, as only 847 were reported in 2010.
The attorney general's office has started an analysis of the aggravated assault reports from recent years. Stenehjem said he hopes to determine whether there are any common factors involved in the assaults that the state could help to prevent. Approximately half of the aggravated assaults are domestic assaults, he said.
Stenehjem also noted that the crime reports do not contain traffic reports, which he has heard are up significantly in western North Dakota. Driving under the influence, which is included in the report released Monday, increased statewide 9.1 percent since 2010.