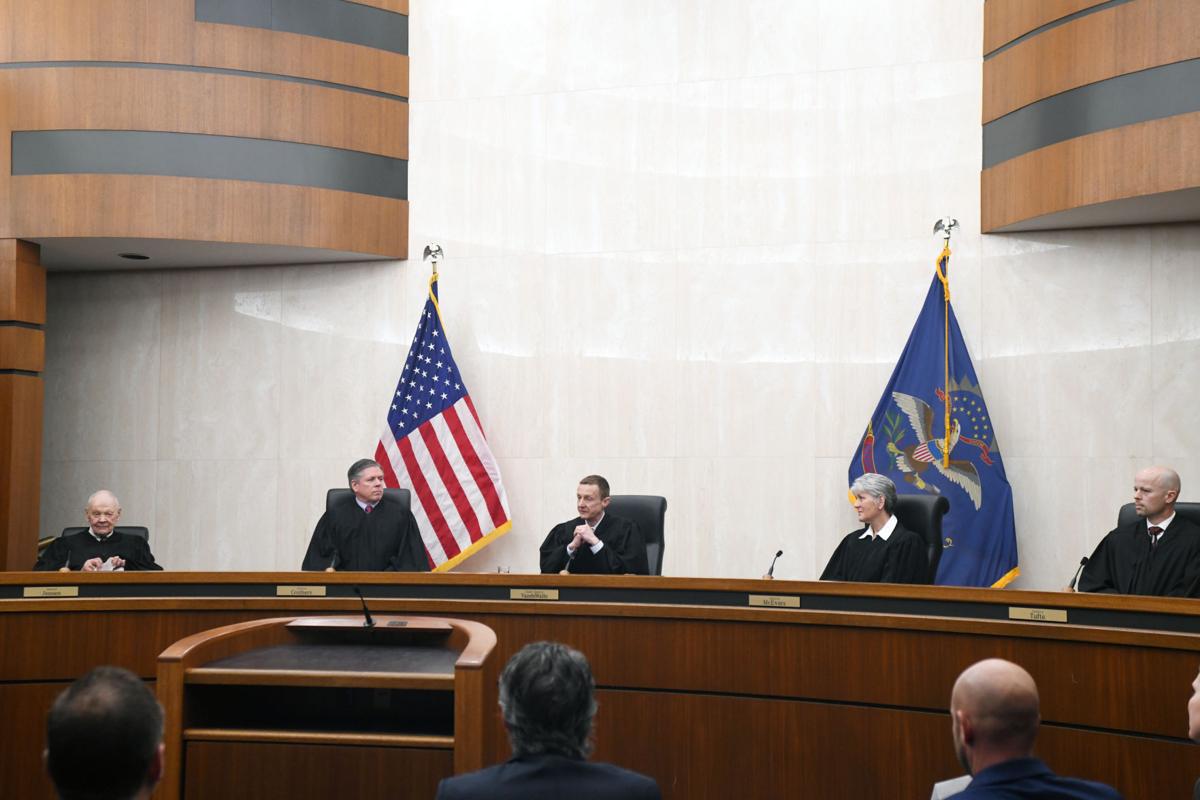 Attorneys dueled Tuesday before the North Dakota Supreme Court over the disputed residency of the Democratic-NPL nominee for state insurance commissioner.
Nominee Travisia Martin, a critical care respiratory specialist in Bismarck, has not denied she voted in Nevada in 2016, citing her unfamiliarity with voting requirements in North Dakota and "a desire to make sure my voice was heard in the electoral process."
North Dakota's Republican Party, which brought the case, maintains she is "ineligible" to hold office, based on a 5-year residency requirement for executive branch officials. The party asked the high court to compel Secretary of State Al Jaeger to remove Martin from the November ballot. Jaeger has said he has no authority to do so unless Martin withdraws or a court orders him to remove her name.
Martin is challenging Republican Insurance Commissioner Jon Godfread, who is seeking a second term. Godfread has said he is "pleased the NDGOP is pursuing legal action to protect the integrity of our state's election process."
Republican Party attorney Courtney Presthus said that Martin's 2016 Nevada vote demonstrated a clear intent of her residence.
"Our position, your honors, is that what louder declaration of intent is there than to cast a vote in a state under penalty of felony?" she said, referring to the threat of perjury under which one lists their residence in registering to vote in Nevada.
She also cited the 1935 case of former Gov. Thomas Moodie, who moved to Minneapolis from Mohall in 1929 and voted in Minnesota's 1930 primary and general elections. North Dakota's Supreme Court found him ineligible to hold office. He served for about a month.
"Our goal here is to ensure that the integrity of the legal process is met, where candidates are meeting the requirements underlined by the statute," Presthus said.
Martin attorney Mac Schneider, the 2018 Democratic-NPL U.S. House nominee, said the residency requirement affects eligibility to hold office but not to seek election. Voting in a certain jurisdiction is "circumstantial evidence of residence," he said.
He also cited North Dakota's constitutional residency requirement as disenfranchising voters who "might want to choose somebody else to vote for," and infringing upon a person's right to seek office.
"Let's have an election," Schneider said. "Let's let the people decide, and only then, depending on the outcome of that election, then the court can have its say."
Justices took the case under advisement.
Martin and her campaign manager did not immediately respond to a request for comment regarding Tuesday's arguments. Martin said last month that she is "not concerned about the outcome of this lawsuit," and "I trust that I will be on the ballot this fall."
Martin received 34,277 votes in the June primary as the sole candidate for the Democratic-NPL nomination. Godfread received 96,112 votes.
Republicans hold all of North Dakota's statewide offices and congressional seats, and control its Legislature.
A Democrat last ran the Insurance Department in 2000. The annual salary is $110,582.