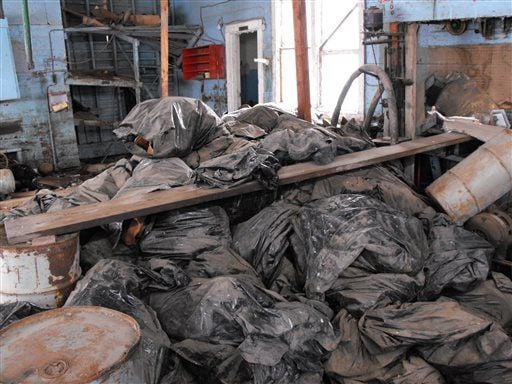 A Belgrade, Mont., man who admitted to dumping radioactive oilfield waste at an abandoned gas station in northwest North Dakota was sentenced Thursday to four months in prison.
James Kenneth Ward, 58, also was ordered to pay a $2,500 fine and $9,977 in restitution.
Ward was charged in 2017 in federal court for the district of Montana in connection with the illegal disposal of waste in the small town of Noonan in Divide County.
Ward, who once was on the U.S. Environmental Protection Agency's list of criminal fugitives, was arrested in Wyoming earlier this year and pleaded guilty in July to a charge of wire fraud, court records show.
Prosecutors said in court documents that from 2011 to 2014, Ward contracted with Zenith Produced Water to dispose of waste known as filter socks, which contain pollutants and radioactive materials that are a byproduct of oil production. Ward was paid $9,977 to properly dispose of the waste, but instead stockpiled hundreds of filter socks at the abandoned gas station. He deposited some of the checks he received at a bank in Deer Lodge, Mont., court records say.
"Mr. Ward's actions not only defrauded a company that had hired him to properly dispose of oil drilling waste but they also put the environment and the public at risk by deliberately abandoning the contaminated materials at an unsecure, defunct gas station property. Those who poison the environment for personal gain will be caught and prosecuted," U.S. Attorney Kurt Alme for the district of Montana said in a statement.
Ward has already served the four months in prison. He also was sentenced to two years of supervised release.
A federal public defender who represented Ward did not immediately respond to a request for comment Thursday.
The case was investigated by the EPA's Criminal Investigation Division.
In 2017, North Dakota Attorney General Wayne Stenehjem said the North Dakota Bureau of Criminal Investigation had assisted the EPA with the investigation. Stenehjem at the time said the EPA took over the case in April 2015 because the witnesses involved were no longer in North Dakota.