The Mandan Fire Department responded to an apartment garage fire late Wednesday afternoon in the 2700 block of Marina Road Southeast.
Mandan Fire Department Capt. Bruce Beehler said there were no injuries and no one was displaced. The cause of the fire remains under investigation.
Mike Hack, 49, who lives in a nearby apartment building, said he was getting home from work when he saw two guys running out of a garage. Hack said he thought the guys appeared to be working on a car and he initially thought they were joking around.
"But then I saw fire underneath the back end of the car," he said.
Hack ran into the apartment building to get a fire extinguisher.
"By the time I got back down the steps, it was just engulfed," Hack said. "It went really fast. If it had been a windy day, that could have been a disaster."
Residents of at least one apartment building were evacuated.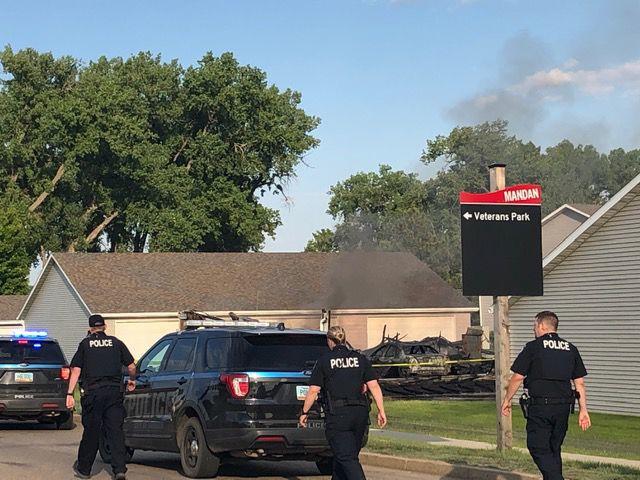 You have free articles remaining.
Alex Huizenga was among residents who had cars destroyed in the fire.
Huizenga, 26, came home from work about 5:45 p.m. The sound of two explosions a few minutes later brought him to his deck, and smoke and fire were visible from the apartment's eight-unit garage. The garages are 30 or 40 feet from the apartments, Huizenga said.
"There were multiple cars in there," Huizenga said.
About 7 p.m. Huizenga said the fire was under control and as many as 75 people were watching as firefighters put out the last of the fire.
Thick smoke from the scene caused traffic to back up in the area.
Dawn Wunderlich said her mother had a vehicle and items belonging to her recently deceased husband in the garage. Wunderlich said she and her mother have been going through the items and had left to get packing supplies when they got a call from a neighbor that the garage was burning down.
"We can get her another car, but there's too many memories we won't be able to replace," Wunderlich said.