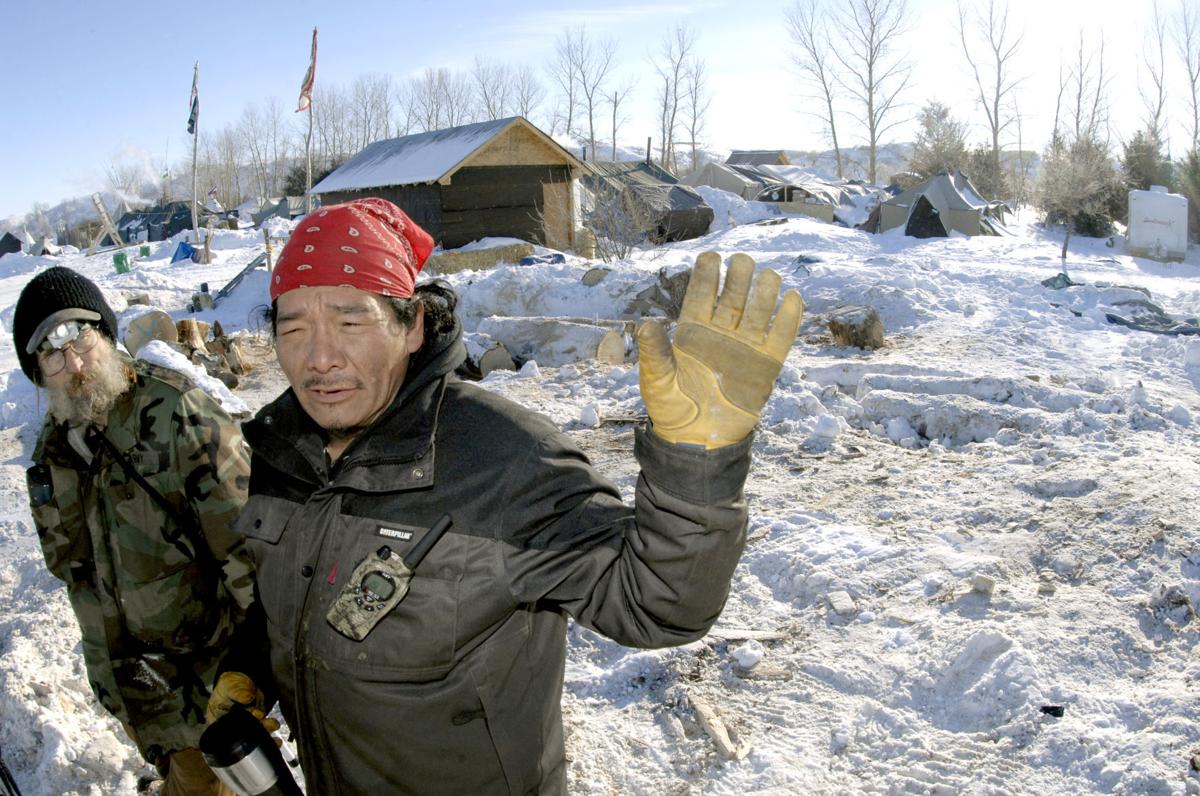 The U.S. Army Corps of Engineers has finished its review of the Dakota Access Pipeline and will issue an easement under the Missouri River/Lake Oahe as early as Wednesday afternoon, but the Standing Rock Sioux Tribe has pledged to challenge the decision in court.
The decision comes two weeks after President Donald Trump asked federal agencies to speed up their review of the crude oil pipeline that tribal and environmental activists have protested for months. 
In a memo called "Compliance with Presidential Memorandum" and dated Tuesday, a senior Army Civil Works official said he reviewed all the corps study of the pipeline and decided the easement was warranted. 
"I have determined that there is no cause for completing any additional environmental analysis," wrote Douglas Lamont, senior official performing the duties of the assistant secretary of the army (Civil Works) in a court filing.
Lamont said his analysis justified reversing an earlier decision made under the Obama administration to explore alternative routes and conduct a full environmental impact statement. A notice terminating the study will be published in the Federal Register, according to filings in the federal court case between the Standing Rock Sioux Tribe and the corps. 
Deputy Assistant Army Secretary Paul Cramer notified Congress Tuesday that the corps would grant the easement and waive its normal policy of waiting two weeks after notifying Congress to do so.
The $3.8 billion crude oil pipeline, meant to carry oil from the Bakken to Illinois, has been at a standstill for months due to protests and court challenges from the Standing Rock Sioux Tribe and its Native American and environmentalist allies. The tribe worries the pipeline puts its drinking water and sacred sites at risk. The company has said it is safe.
On Jan. 18, the corps began collecting public comment for a full environmental impact statement regarding the pipeline easement. Shortly after assuming office, Trump signed a memorandum directing the agency to expedite its review.
Lawyers for the company reportedly said in court Monday that construction would be completed in about 60 days and oil could be flowing in about 83. An spokeswoman for pipeline developer Energy Transfer Partners did not respond to an emailed request for comment on Tuesday.
Following the decision, the Standing Rock said the tribe planned to sue on the grounds the EIS was wrongfully terminated.
"The Obama administration correctly found that the Tribe's treaty rights must be respected and that the easement should not be granted without further review and consideration of alternative crossing locations," Hasselman said. "Trump's reversal of that decision continues a historic pattern of broken promises to Indian tribes and a violation of treaty rights."
Standing Rock Tribal Chairman Dave Archambault II said, "The Trump administration — yet again — is poised to set a precedent that defies the law and the will of Americans and our allies around the world."
The tribe also plans to hold a march in Washington on March 10 and will "seek to shut the pipeline operations down" if it is constructed, according to a release. 
Archambault is again asking supporters to advocate from home and not return to protest in North Dakota, where the state and tribe have been working to clean up the protest camps where several hundred people still live and protest the pipeline.
"Please respect our people and do not come to Standing Rock and instead exercise your First Amendment rights and take this fight to your respective state capitols, to your members of Congress and to Washington, D.C.," he said.
Protest organizers are calling for supporters to protest Wednesday in a "#NoDAPL Last Stand" at their local federal buildings, corps offices and banks financing the pipeline. 
"The granting of an easement, without any environmental review or tribal consultation, is not the end of this fight — it is the new beginning," Tom Goldtooth, executive director of the Indigenous Environmental Network, said in a statement. "Expect mass resistance far beyond what Trump has seen so far."
State leaders quickly applauded the Army's decision, heralding it as a win for energy infrastructure and expressing hope it would bring about the end of months-long protests in southern Morton County. 
"Our nation needs new energy infrastructure, which means we must have a process to build safe, efficient and environmentally sound projects like pipelines and power lines," Sen. John Hoeven, R-N.D., said in a statement.
Hoeven also said he supports a review of the permitting process for future projects to ensure fairness and opportunity to be heard on all sides.
"For the North Dakota families, workers and tribes who have felt the impact of the Dakota Access Pipeline conflict every day — today's announcement by the U.S. Army Corps of Engineers brings this issue one step closer to final resolution — and delivers the certainty and clarity I've been demanding," Sen. Heidi Heitkamp, D-N.D., said in a statement.
Gov. Doug Burgum called the easement a "step toward the completion of this important infrastructure project" but said his top priority remained public safety and cleanup of the protest camps before a potential spring flood.
"We continue to support the Standing Rock Sioux Tribe's request that protesters leave the area and go home. We also continue to ask for additional federal law enforcement to assist local and state authorities in peacekeeping and provide a safe environment for all North Dakotans until construction is completed," Burgum said.