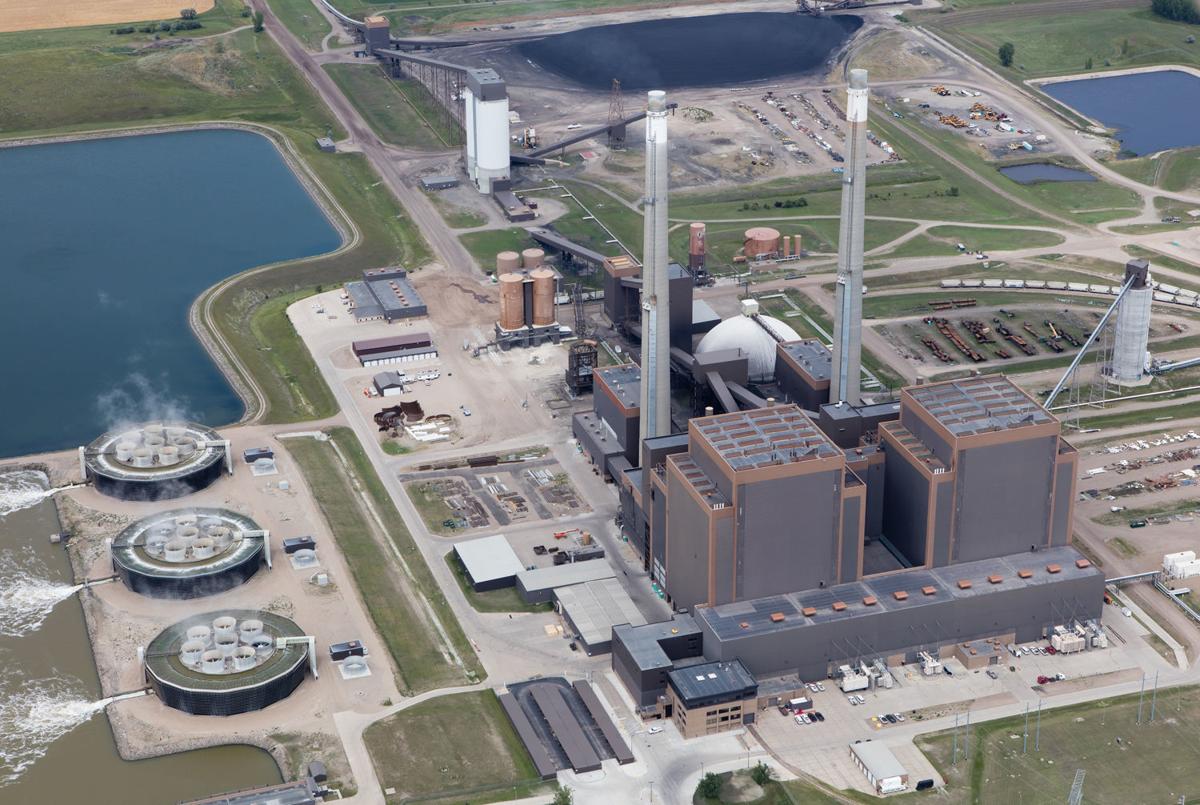 North Dakota's largest coal-fired power plant is slated to close in 2022, its owner announced Thursday.
The head of Minnesota-based Great River Energy said the cooperative is open to finding a new owner for Coal Creek Station in McLean County and has had "numerous discussions" with potential buyers. So far, it's found no takers.
"We are not talking about selling it for a material price," Great River Energy President and CEO David Saggau said on a call with reporters. "All of our discussions have been basically giving the plant to somebody."
The companies it has spoken with "see the exact same economics that we currently see," he said, adding that "we're not holding out a lot of hope that we'll find somebody."
The power plant, in operation for four decades, has run at a loss for several years amid market challenges. Like many other coal plants across the United States that have shuttered over the past decade, it faces competition from natural gas and renewable energy.
Rumors began circulating earlier this year that Coal Creek could close, causing anxiety for many who work in North Dakota's lignite coal industry and live in coal communities in the central-western part of the state. Coal Creek alone employs 260 people, and it supports hundreds more jobs at the adjacent Falkirk Mine, plus other workers in the area.
Search for a new owner
North Dakota officials and the state's lignite coal industry plan to step up the effort to search for a new owner.
Gov. Doug Burgum said in a statement that officials are "more determined than ever to find a path forward for Coal Creek Station."
"We remain committed to bringing stakeholders to the table to evaluate all options and find opportunity in this uncertainty," he said. "We appreciate GRE's 40-year history of positive economic impact on the energy and agriculture industries in North Dakota and look forward to collaborative opportunities in the future."
North American Coal, owner of the Falkirk Mine that supplies the plant with fuel, said it is "actively engaged in the exploration of options to allow for the transfer of the plant to one or more third parties."
"We believe Coal Creek Station is an efficient, economic and attractive generation and capacity asset, and the continued long-term operation of the facility is in the best interest of our employees, the local community, region and state," President and CEO J.C. Butler said in a statement.
Falkirk employs 480 people and has worked with GRE since 1974.
The head of the trade group representing North Dakota's coal industry said he believes saving Coal Creek is feasible if the industry, state officials and congressional delegation work together.
The state, for example, could offer tax or employment incentives to a new buyer as it does at times to attract new businesses to the state, said Jason Bohrer, president and CEO of the Lignite Energy Council.
"I can't guarantee we'll find a buyer, but we'll have a better reception because we will be able to bring a more comprehensive bargaining position to the table," he said. "We do have a greater possibility for success."
He said he sees a better outlook ahead as the coal industry moves past several blows it's taken lately.
"You probably couldn't come up with a worse six-month period of time to try and change ownership of a coal plant," Bohrer said.
Congress extended a federal tax credit for wind power late last year, and lawmakers did not advance a bill that could have helped facilitate new coal projects such as power plants that capture carbon dioxide, a primary contributor to global warming. Plus, the coronavirus pandemic hit, causing coal plants and mines to have to adjust their operations to keep workers safe, Bohrer said.
Not all in North Dakota are keen on the prospect of the state offering financial help to Coal Creek.
Gene Wirtz, a farmer west of Underwood and a member of the Dakota Resource Council environmental group, said there are other coal plants in North Dakota facing similar market woes.
"Are they going to need subsidies too?" he asked. "We can't just subsidize all of these power plants."
Impact on workers
GRE plans to keep workers employed at Coal Creek for now, yet its closure slated for the second half of 2022 will have ramifications for not only them but many others.
"We don't anticipate any reduction in workforce until the actual closure of the facility," Saggau said, adding that some power plant staff will be kept on for decommissioning work when the facility is torn down.
Keith Otto of Mandan has worked for more than 12 years at coal plants, including Coal Creek, located off U.S. Highway 83 between Underwood and Washburn.
"I just can't imagine that huge facility going away," he said. "It blows my mind."
A member of Laborers International Union of North America Local 563, Otto often does cleaning work at the plants, particularly when they shut down for maintenance.
As coal plants start to close permanently in North Dakota -- Montana-Dakota Utilities' Heskett Station north of Mandan is slated to shutter the same year as Coal Creek -- he's starting to rethink the work he does.
"That greatly impacts me and a lot of guys out there," he said.
He's looking to shift into more construction work on pipelines and on water and sewer projects, as well as concrete work. He sees the potential for working in coal more down the road if power plants pursue carbon capture and storage projects.
Otto has worked in wind farm construction in the past, digging holes and pouring concrete for the bases of wind turbines. He said he would be interested in more of those jobs with GRE, if the co-op were to pursue those projects and hire union workers.
GRE wind farms
GRE said Thursday that it is planning to add 1,100 megawatts of wind power to its portfolio by the end of 2023, but it did not announce any new wind farms in North Dakota. It's planning four projects in Minnesota and one in South Dakota, and that work would involve using local labor, the company said.
The added wind power would effectively replace the 1,100-megawatt capacity of Coal Creek.
"After the portfolio changes announced today, Great River Energy's power supply will be more than 95% carbon dioxide-free," Saggau said.
He added that the company considered building wind farms in North Dakota near Coal Creek. The facilities would have made use of the existing transmission line that runs from the coal plant to Minnesota, but McLean County in March made zoning changes that prevent power lines connected to wind farms from coming within a mile of Lake Sakakawea, Lake Audubon and the Missouri River. The new rules threw a wrench in GRE's plans.
Saggau said he felt that McLean County needed more time to figure out how it wants to develop alternative sources of energy in the area.
"That timeline simply didn't fit with our plans," he said. "We needed to act a bit sooner than that."
He said he anticipates Great River Energy will pursue projects in the region in the future to make use of the transmission line, which the co-op spent $130 million upgrading within the past two years.
GRE said Thursday that it plans to give $15 million over five years to the local area to make up for lost coal tax revenue.
"That's a very nice gesture," McLean County State's Attorney Ladd Erickson said. "We appreciate it."
Erickson, who wrote the zoning changes, said he's glad GRE is locating its newly proposed wind farms elsewhere. That decision bodes well for Coal Creek if it finds a new owner, he said.
"That keeps a viable power line available to support the plant and the mine," he said, adding that "it would be a shame" if the plant were to be torn down.
GRE's next steps
Other industrial facilities in North Dakota depend, in part, on Coal Creek's operation.
Steam generated at the site is used by Blue Flint Ethanol next door. GRE said it will negotiate to end its contract with owner Midwest AgEnergy, which could use a termination payment to reinvest in another heat source.
Another ethanol plant, Dakota Spirit in Jamestown, relies on steam from GRE's Spiritwood Station, which is a power plant that runs on natural gas, as well as coal processed at Coal Creek. GRE said it will modify the power plant to be fueled solely with natural gas.
GRE also plans to increase the amount of power it purchases from the Midcontinent Independent System Operator, which runs the power grid in the Midwest. And it will partner with Massachusetts-based Form Energy on a "first-of-its-kind" battery storage demonstration project in Cambridge, Minn.
The co-op has decided against pursuing a carbon capture and storage project at Coal Creek that it began to study late last year. Such a project would have involved separating carbon dioxide from its emissions and sending it down a well deep underground for permanent storage.
GRE was slated to receive a matching $4.2 million state grant for preliminary research, but it ultimately did not accept the funds, a co-op spokeswoman said.
Bohrer with the Lignite Energy Council said it's important, for the future of the facility, that GRE at least got the ball rolling on that effort.
"I'm glad they started that process even if they didn't finish it," he said. "That's the type of investment that makes that plant more valuable to a potential buyer."
Wirtz, the farmer near Underwood, said that if Coal Creek and the adjacent mine were to ultimately close one day, he hopes to see the companies fulfill a longtime promise to clean up the sites. The land could be used for agriculture, potentially for first-time farmers.
"This is a good chance for them to prove that that's what they're going to do," he said. "The good thing about that is that there are a lot of jobs in reclamation."