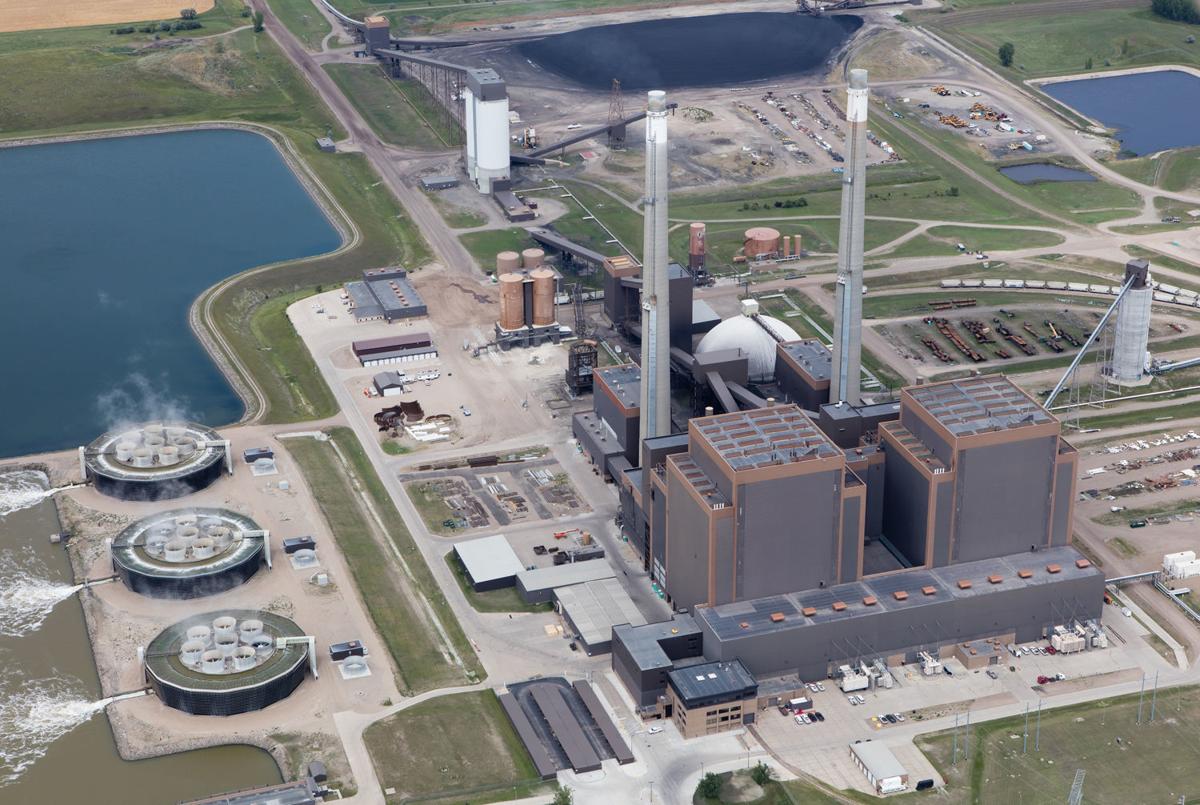 The company that operates the largest coal-fired power plant in North Dakota is looking for solutions to overcome financial challenges facing the facility, but Great River Energy says it has not made a decision to shut down Coal Creek Station.
The Minnesota-based power cooperative holds quarterly meetings with its employees, and at a meeting last week told workers about financial issues facing the plant, spokeswoman Therese LaCanne said. The meetings have prompted rumors to circulate in McLean County, where the plant is located, about a potential closure.
"No decision like that has been made," LaCanne said.
She said Great River Energy is assembling 13 teams to look at solutions for the plant, which has faced financial challenges amid the low cost of electricity in the power market.
"Due to changes in the Midwest energy market over the past decade, the plant has operated at a significant financial loss," she said without elaborating.
The power output at Coal Creek has fluctuated, deliberately, the past few years in a process known as "cycling" to accommodate changes in the region's energy landscape.
Nationally, an abundance of cheap natural gas-fired electricity and renewable energy has made it tougher for coal to compete.
One other Great River Energy coal plant in North Dakota closed in 2017, Stanton Station. It was far smaller than Coal Creek and burned subbituminous coal from Montana.
Like Coal Creek, Heskett's coal units burn lignite coal from North Dakota. The lignite industry is generally seen as more resilient than the coal industry elsewhere in the country due in part to the proximity of mines and plants, as it is uneconomic to transport lignite long distances by train.
The Falkirk Mine near Coal Creek supplies the power plant with coal. The mine is operated by North American Coal Corp., and a spokesman there referred questions to Great River Energy.
LaCanne said the company has a "life-of-the-plant" contract with the mine.
You have free articles remaining.
County commissioners say they are aware of the rumors about the status of Coal Creek.
"Our auditor is doing a bit of an analysis on, if something would happen, how that would impact us," Commissioner Steve Lee said.
Both the power plant and the mine are "very significant players" in the county, he said.
LaCanne said Coal Creek employs 265 workers.
Great River Energy recently has made significant investments at Coal Creek.
The North Dakota Industrial Commission in November awarded it a $4.2 million matching grant to fund a preliminary carbon capture study. Such a project would involve capturing the power plant's carbon dioxide emissions, which contribute to climate change, and injecting them underground for permanent storage. LaCanne said the study is still underway.
Great River Energy last year finished upgrading a transmission line that runs from the plant 436 miles east to Minnesota. The high-voltage, direct-current system is one of the company's "most significant capital investments over the last several years," according to the company's website.
Steve Van Dyke, spokesman for the Lignite Energy Council, said he wasn't aware of the recent discussions Great River Energy had with workers about Coal Creek, but he wasn't surprised to hear that the company has assembled teams to find solutions to its financial challenges.
"That's the way Great River Energy works, it's the innovation of their employees," he said.
The Lignite Energy Council is the trade group for the state's coal industry.
Van Dyke pointed to other efforts to make the facility operate more cleanly and efficiently over the years, from selling byproduct fly ash for use in concrete to developing a "DryFining" process that removes water from lignite to make it burn more efficiently. The plant also provides steam that's used by an ethanol facility next door.
"That's all come from employee teams," Van Dyke said.
Coal Creek's two units have operated for about 40 years. The power plant has a capacity of more than 1,100 megawatts. It is located off U.S. 83 between Washburn and Underwood.
Be the first to know
Get local news delivered to your inbox!