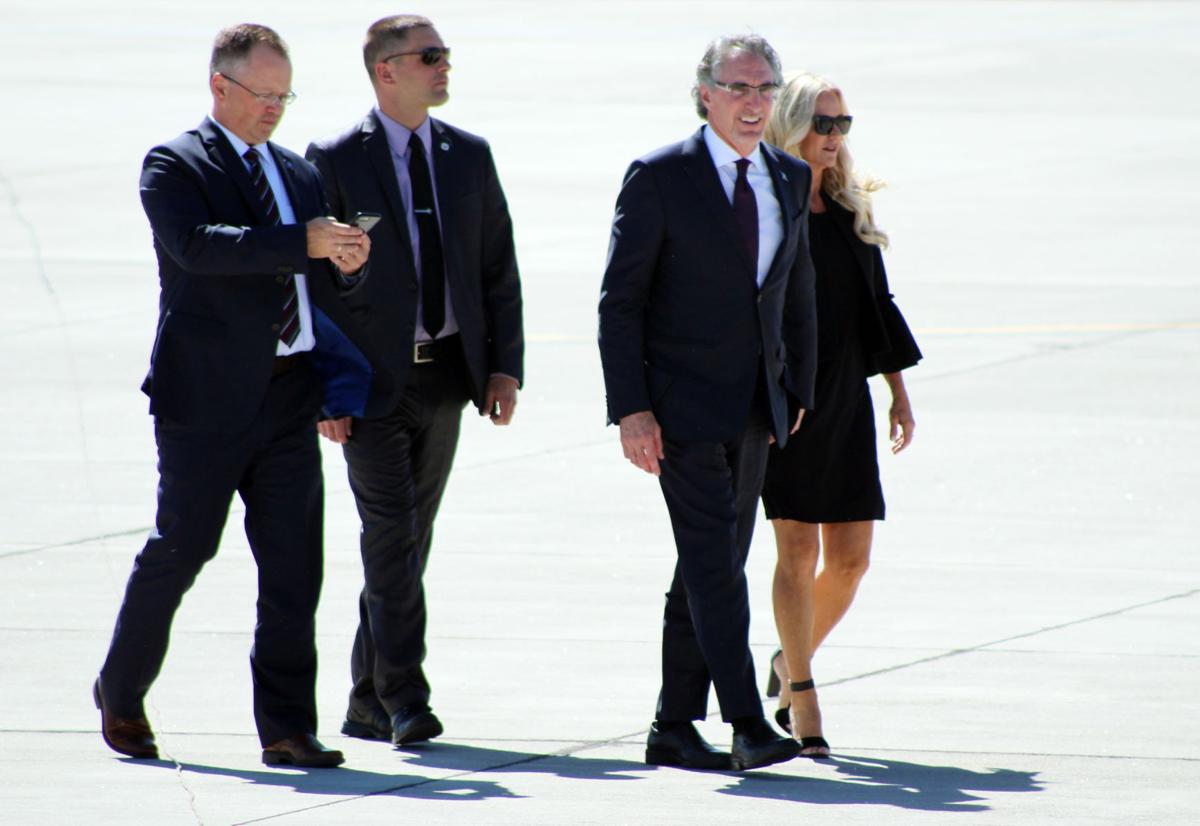 Gov. Doug Burgum emphasized the need for federal drought relief Thursday during a meeting in Washington, D.C., with U.S. Secretary of Agriculture Sonny Perdue.
Burgum, who a month ago requested a presidential major disaster declaration for the severe drought affecting much of North Dakota, said Thursday the state may need to pursue a different avenue for federal funding.
The request for a disaster declaration was sent to President Donald Trump through the Federal Emergency Management Agency, which is now responding to people affected by Hurricane Irma and Hurricane Harvey.
"There's a very high probability that through the current path that we're on with FEMA that there may not be money available," Burgum said.
Burgum said he and Perdue discussed there may be another avenue for drought relief funding through an appropriation from Congress that could be administered by the USDA.
"He's very clear that he wants to continue to help," Burgum said. "With his agriculture background and personal experiences with drought in his home state, he really understands how devastating it can be to farm and ranch operations."
Sen. John Hoeven, R-N.D., who spoke separately with Perdue on Thursday, said getting a presidential disaster declaration for drought has historically been more difficult than for flooding.
Hoeven said he is working through the executive side and the legislative side to seek drought relief.
"We're pursuing both avenues to see what we can do," Hoeven said.
The U.S. Drought Monitor released Thursday shows nearly half of North Dakota is still experiencing severe, extreme or exceptional drought conditions.
"It's one of those things that we can't make a full assessment of the impact at this point because it's still ongoing," Burgum said.
Trump acknowledged the drought while speaking Wednesday in Mandan, mentioning that Perdue is working with Burgum and North Dakota's Congressional delegation to provide relief.
"And we're doing everything we can, but you have a pretty serious drought," Trump said.
Burgum said he also talked to Perdue about the importance of a strong crop insurance program in the next federal farm bill, raising concerns he heard from agriculture producers this summer.
In a separate meeting, Burgum also spoke Thursday with Interior Secretary Ryan Zinke. During the meeting, Burgum advocated for approval of the Red River Valley Water Supply Project intake permit from the Garrison Diversion's McClusky Canal.