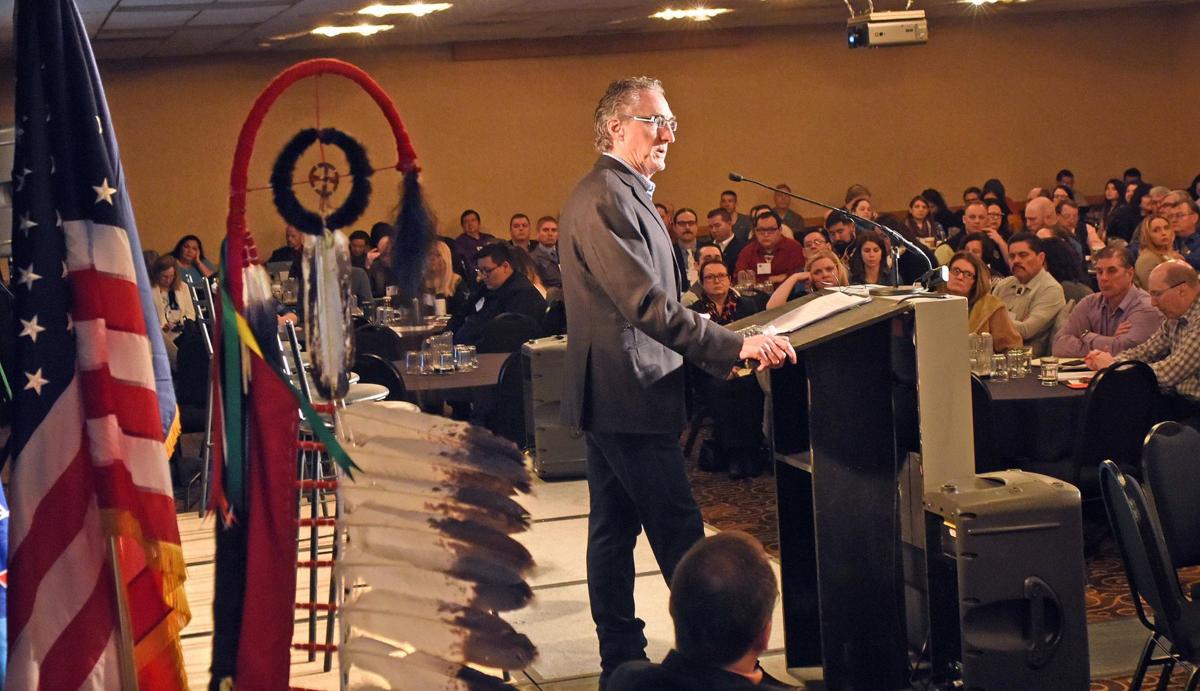 Tribal, state and federal officials convened a two-day conference on improving relations between their governments on Tuesday, nearly a year after the main Dakota Access Pipeline protest camp was cleared.
The conference, dubbed "Strengthening Government to Government Partnerships and Relationships," opened to a packed meeting room at the Ramada hotel in north Bismarck.
Gov. Doug Burgum, who in his first State of the State address pledged a "fresh start" in tribal relations, said state agencies are committed to working together on various issues facing Native American tribes. He recognized a "complex history" that includes broken promises and "horrific interactions with the federal government."
"One thing that I know that none of us have the ability to do is to change history," Burgum said. "But we all have the ability to change our future."
John Fredericks III, legal counsel for the Mandan, Hidatsa and Arikara Nation, said tribal leaders are trying to change what previously was a more adversarial relationship with state government. He's also a member of the Three Affiliated Tribes.
"We're engaged now at the state Capitol," Fredericks said.
Burgum also appeared to allude to the monthslong protests over the Dakota Access oil pipeline, which runs near the Standing Rock Sioux Reservation. The project's crossing at Lake Oahe caused concerns about contaminating drinking water and damaging sacred sites, and the protests prompted a larger discussion on Native American rights.
"It might have been hard to imagine this meeting a year ago," Burgum said.
Standing Rock Chairman Mike Faith, who wasn't chairman during the protests, commended the governor, Lt. Gov. Brent Sanford and Indian Affairs Commission Executive Director Scott Davis for taking a "first step forward." The commission organized this week's conference.
"Communication is key to healing on these kinds of issues," Faith said.
Public Service Commissioner Julie Fedorchak said they've been contacting the Indian Affairs Commission about proposed projects, but also started directly notifying tribes "of every single project, whether it's located near any of the tribes or not" in the past year.
The conference agenda includes presentations on the history and importance of tribal treaties, workforce development, law enforcement and missing and endangered indigenous women. More than 300 people registered for the event, Davis said.
Davis said communication between the state and tribes has improved in recent months. He pointed to the formation of a legislative committee tasked with studying tribal taxation and other tribal-state issues.
"The governor has an open door," Davis said.