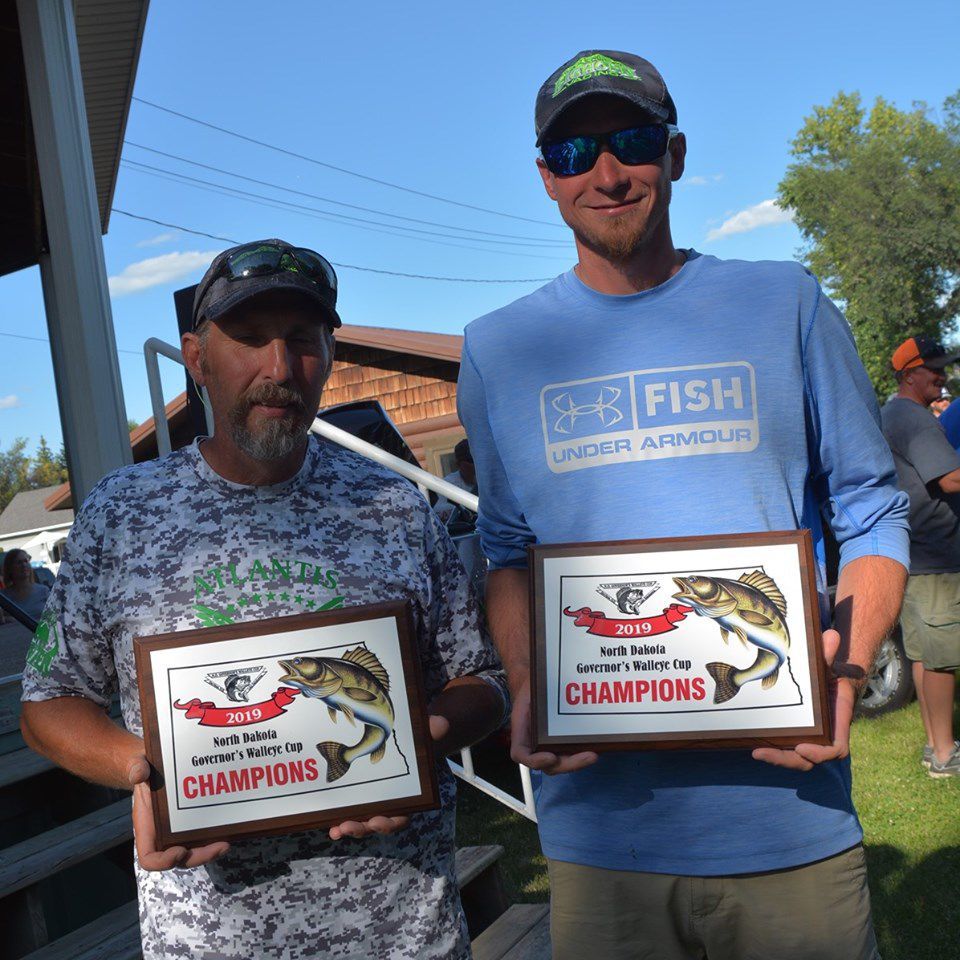 Bismarck anglers dominated the leaderboard at the 44th annual North Dakota Governor's Walleye Cup, with 10 residents of the capital city finishing on Top 10 teams in the weekend event on Lake Sakakawea.
The Bismarck duo of Ricky Schumacher and Kerry Wentz won the two-day tournament, hauling in 10 walleyes with a total weight of 41.85 pounds to take home the $15,000 top prize and what is generally considered the most prestigious fishing trophy in the state.
"It still doesn't really feel real," Schumacher said Monday. "The money is great, but that doesn't really cross your mind at all -- just the fact that you won the Governor's Cup. There are 251 other teams. There are a ton of good fishermen."
Schumacher, 30, and Wentz, 52, had their best luck in deeper water and with artificial baits. They also caught what was likely their biggest fish − 22 ¾ inches − just minutes before they were due in on the second day of fishing.
"You always hear about guys who get a fish that big right at the end, and you always wonder, 'when is that going to happen to me?'" Schumacher said.
He and Wentz had never placed higher than the mid-30s in the tournament. Their total weight this year was nearly 2 pounds more than the second-place team of Lonnie Jacobs and Janinie Landsiedel, of Ruso, who finished with a total weight of 40.09 pounds. Another Bismarck duo, Norbert and Dustin Guthmiller, came in third, with 39.15 pounds.
You have free articles remaining.
Defending champion team Jerrad Huston and Casey Steele, of Garrison, finished 119th, with 23.9 pounds.
The tournament overall went "very well" with good weather, though the bite "kind of varied for people," Chairwoman Joyce Pfliger said.
"Some would get on the fish and have no problems; there were some that said the fish were there but they just couldn't get them in the boat," she said. "We saw a lot of nice fish, though."
The majority of anglers who compete in the annual tournament based out of Garrison and nearby Fort Stevenson State Park are from North Dakota or surrounding states, though about a dozen states are typically represented, according to Pfliger.
Only one out-of-state team, from neighboring Montana, finished in the Top 10 this year. The tournament paid down to 42nd place.
There were nearly 60 teams on a waiting list hoping to get into this year's tournament. Organizers are considering seeking permission from the state Game and Fish Department to increase the number of teams allowed next year. Game and Fish, which is responsible for managing North Dakota's fishing waters, regulates tournaments across the state.
This year's tournament also included the induction of the late Bob Meter of Bismarck into the North Dakota Fishing Hall of Fame in Garrison. Meter is known for inventing the bottom bouncer, a staple piece of fishing tackle for walleye anglers.