MEDORA − Several Billings County residents said Monday a new bridge is needed across the Little Missouri River to improve access for emergency responders, though not all agreed on the best location.
More than 100 people attended a public hearing Monday night on a river crossing proposed north of Medora.
Kyle Shockley, Billings County Fire Chief, said not having a bridge means putting people's lives at risk trying to cross an unpredictable river.
The only bridges that cross the Little Missouri are at Medora on Interstate 94 and south of Watford City on Highway 85, about 70 miles apart.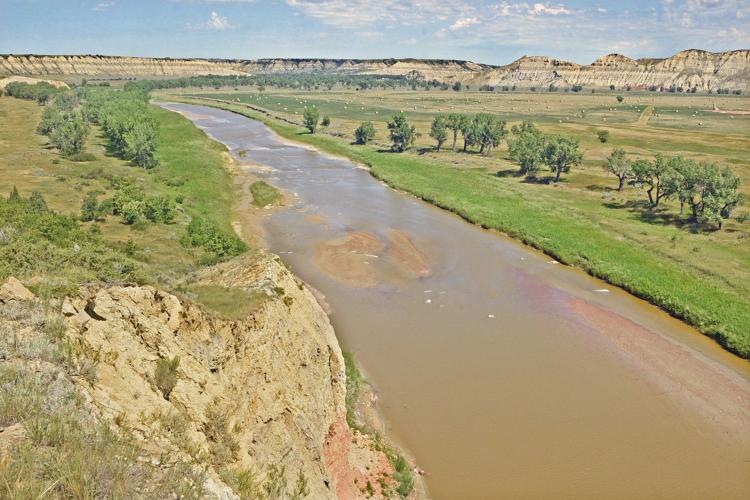 There also are 18 unimproved private fords and one unimproved public ford used by some vehicles to cross the river, according to an environmental study.
"A lot of them aren't really safe to cross," said Billings County Sheriff Pat Rummel.
Emergency crews sometimes must decide whether to drive through the river to respond to a call on the other side, having one person walk through the river to determine if it's safe, Shockley said.
"It's quite obvious there is a need for a bridge," Shockley said.
The county can't always rely on air ambulances because the helicopters only respond when they're available and when weather conditions are favorable, according to Rummel.
When attendees at the meeting asked for the number of emergency calls for the Badlands area, Rummel said his greatest concern is the potential for future incidents. Increased popularity of the Maah Daah Hey Trail, which is on both sides of the river, is leading to more tourists visiting the area, Rummel said.
Though many at the meeting advocated for a bridge, several said they did not favor the preferred route identified by the draft environmental impact statement.
You have free articles remaining.
Pete Wirtzfeld, road superintendent for Golden Valley County, said he thinks a bridge is needed, but he preferred an earlier proposal that was eliminated due to its proximity to the Elkhorn Ranch Unit of Theodore Roosevelt National Park.
"I think we're really missing a big opportunity when both sides could have worked together and found a really good solution," Wirtzfeld said.
The preferred route would connect Belle Lake Road with East River Road north of Medora and would require acquiring up to 62 acres of private property.
Doug Ellison, of Medora, questioned whether eminent domain would be used if landowners decline to negotiate with the county.
"That should be a very rare step for extraordinary circumstances," Ellison said. "I'm not sure this qualifies as an extraordinary circumstance to invoke eminent domain."
After the meeting, Billings County Commission Chairman Jim Arthaud said it's too early to speculate about whether eminent domain would be used.
"You don't even want to go down that avenue until you get a record of decision," Arthaud said.
Dave Short, who manages the Short ranch, said the property would be destroyed by the preferred route. In addition, the county would need to use eminent domain to acquire the family's property, he said last week.
Attorney David Keagle, representing the Short family at the meeting Monday, said the family feels the costs of the project outweigh the benefits.
"It's going to help a handful of people," Keagle said.
The preferred route is estimated to cost $11.2 million. If pipelines and other utilities need to be relocated, that could add millions more to the project cost. A funding source has not been identified.
Project manager Jen Turnbow said the next step will be a final environmental impact statement and record of decision, which she anticipates could occur in November or December. The Federal Highway Administration will sign off on the final decision, she said.