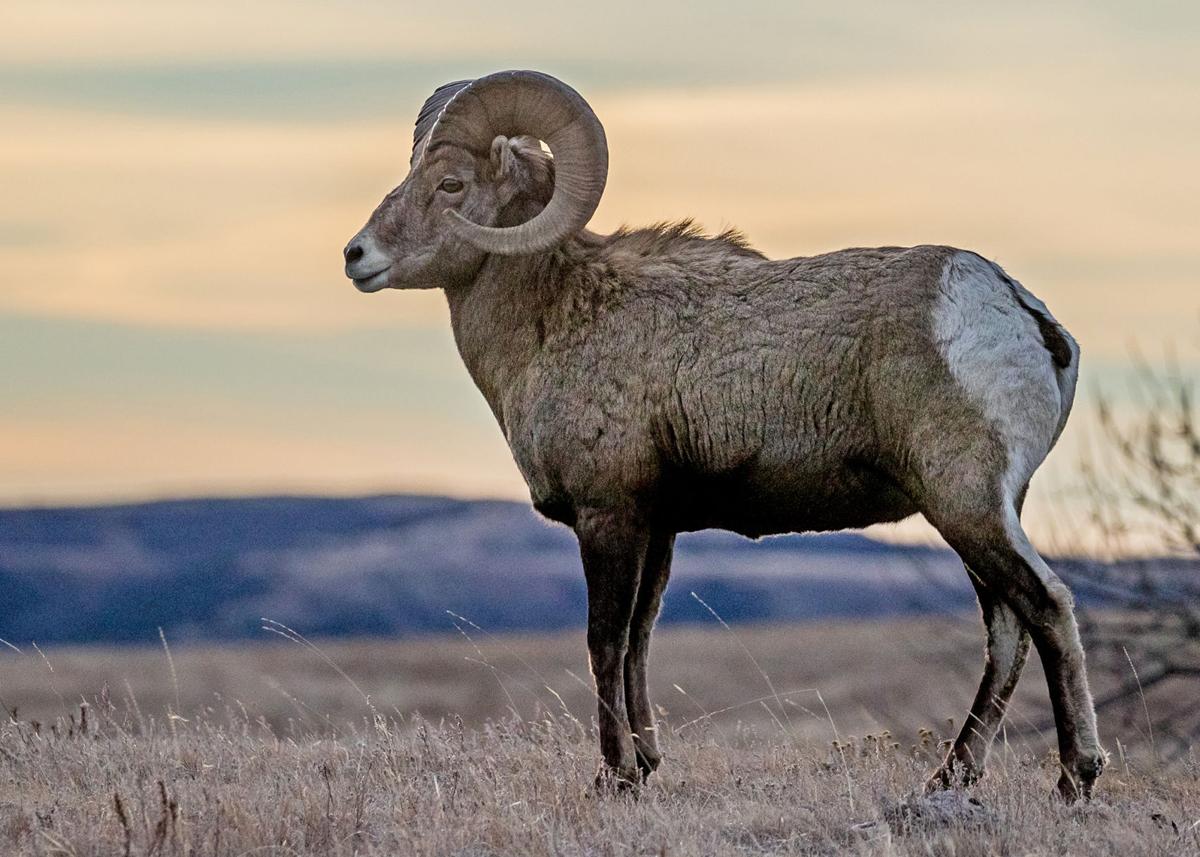 State wildlife officials are slightly increasing bighorn sheep licenses for a second straight year, amid record demand and positive population surveys.
The Game and Fish Department is allocating six bighorn licenses for the upcoming season, up one from last year and double the number issued two years ago.
The number of once-in-a-lifetime licenses allotted to hunters is based on data collected from a summer population survey. This year's survey indicated a 22% increase in rams -- which hunters seek for their trophy horns -- due primarily to high lamb survival last year, according to Brett Wiedmann, big game management biologist for Game and Fish.
The positive news came on the heels of a population survey started last fall and completed in March that found a significant increase in the lamb count and recruitment rate following record lows in 2016 and 2017. Recruitment refers to how many lambs become a permanent part of the bighorn herd. That survey data reflected lessening effects of bacterial pneumonia that was detected in the bighorn population in 2014.
"Our objective this hunting season is to maximize hunter opportunity in the northern Badlands where ram numbers are strong while continuing to reduce the number of rams in the southern Badlands, to lessen the risk of transmitting disease to the northern population," Wiedmann said.
An outbreak of deadly bacterial pneumonia six years ago killed about three dozen sheep, leading Game and Fish to cancel the bighorn hunting season in 2015 for the first time in more than three decades. The agency reinstated hunting the following year with eight licenses but reduced the number to five in 2017 after a summer survey documented a significant drop in the number of rams. Licenses fell to three in 2018 but have risen the past two years.
Three licenses were issued this year in hunting units north of Interstate 94 and two were issued in the unit to the south. One license each year is auctioned by the Midwest Chapter of the Wild Sheep Foundation to raise money to boost bighorn sheep management in North Dakota.
The northern Badlands herd of more than 300 bighorns is showing no signs of pneumonia, but the southern Badlands population has been decimated by disease through the years and now numbers fewer than 20. Game and Fish hopes to eliminate the sheep south of I-94 and start over in that area, transplanting bighorns from the Rocky Boy's Indian Reservation in Montana.
The timeline remains uncertain, according to State Wildlife Chief Jeb Williams.
"When we evaluated the area last year we identified domestic sheep within the area that are too close to the release site," he said. "It would simply be irresponsible for us to bring healthy wild sheep into an area when we know there are domestic sheep nearby. We will continue to evaluate but no timeline is in place." 
Domestic sheep can spread the pneumonia bacteria to wild sheep.
It can take up to 15 years for bacterial pneumonia to work its way out of a herd, according to Williams. Because of the ongoing disease monitoring, hunters apply for a license early in the year without knowing the status of the season, which isn't determined until after the summer survey. The application fee they pay -- $5 for residents and $100 for nonresidents -- is not refundable under state law, even if there is no season.
A record 16,935 hunters still applied this year, including 223 people from out of state. That equates to nearly 3,000 applicants for every available license. Licenses are distributed through a lottery drawing. Successful applicants have been notified.
The bighorn season opens Oct. 30 and runs through the end of the year.
Be the first to know
Get local news delivered to your inbox!