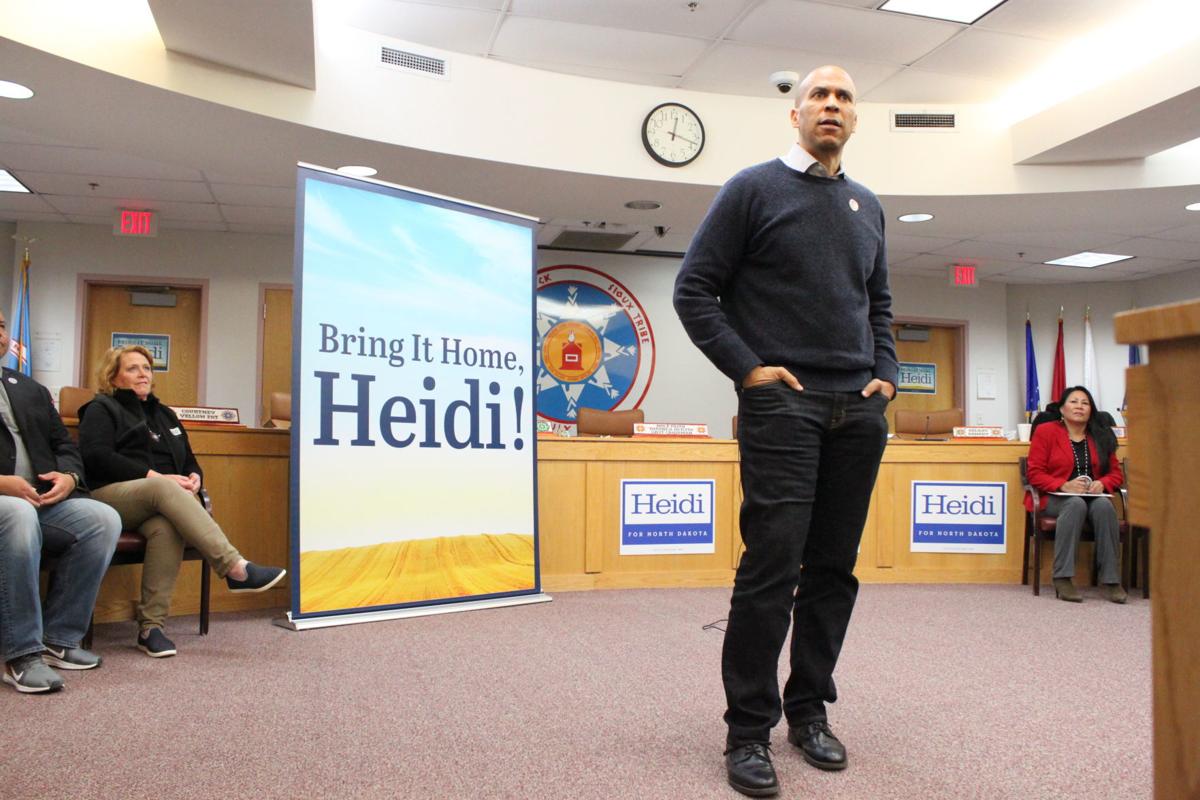 FORT YATES — In a fiery speech on the Standing Rock Sioux Reservation, New Jersey Sen. Cory Booker slammed North Dakota's voter identification law as he campaigned for fellow Democrat Heidi Heitkamp Friday.
But just hours earlier at the state Capitol in Bismarck, the state's tribal liaison expressed confidence voters wouldn't be disenfranchised when they head to the polls Tuesday.
Booker, a potential 2020 presidential candidate, linked the debate over North Dakota's voter ID law to election administration controversies in other states, including claims of voter suppression in the race for governor in Georgia.
"Swear an oath with me. That they can try to take away our voting rights, but we will still vote," he told the crowd gathered at the tribal council chambers.
Booker's visit came a day after former Vice President Joe Biden helped Heitkamp launch a statewide bus tour in the final days of her race against Republican challenger Rep. Kevin Cramer. It also came a few weeks after the U.S. Supreme Court allowed North Dakota election officials to require proof of a residential street address, which tribal officials say is not always known.
A federal judge this week declined to suspend the requirement, despite arguing that the "litany of problems identified in this new lawsuit were clearly predictable." He said granting the request would cause too much confusion before an imminent election.
Ira Taken Alive, the vice chairman of the Standing Rock Sioux Tribal Council, said there are some areas of the reservation with an "undetermined residence address." He said the tribe, like others in the state, has been providing free IDs ahead of the election.
"Our residents have come out in full force to get a new ID that reflects their residence address, or to get updated ID that reflects their residence address," Taken Alive said.
Addressing the crowd before Booker's speech, Taken Alive said "our people are very excited, they're motivated, and no one's going to tell them they cannot vote."
Indian Affairs Commission Executive Director Scott Davis told reporters Friday he expects record Native American turnout this year despite any "glitches" over the past few weeks. He said his office has had "great" communication with tribal leaders.
Davis, a member of the Standing Rock Sioux Tribe and of Gov. Doug Burgum's Cabinet, said he's not worried about the potential for voter disenfranchisement.
"We're working day and night to figure this out," he said. "I'm very positive and confident that every tribal member will go out and vote."
Secretary of State Al Jaeger said Friday that 117,000 ballots had already been cast across the state, easily surpassing the pre-Election Day turnout in 2014.
Jaeger has said that people who don't have a residential street address should contact their county 911 coordinator to have one assigned. An ID that's out of date or lacks required information can be supplemented with documents like a utility bill or bank statement.
Voters who don't have a proper ID can cast a ballot that's set aside until they produce one.
Jaeger, a Republican, is facing a re-election challenge from Fargo Democratic Rep. Joshua Boschee, who has criticized the incumbent's handling of the voter ID law. In the Capitol press conference Friday morning, Jaeger attempted to reassure voters they wouldn't be turned away.
"Every North Dakotan, every voter on Election Day, will be provided a ballot to mark and cast, or be given a set aside ballot to mark, or (be) directed to the correct polling location if they happen to be at the wrong poll," he said.
Heitkamp has suggested state lawmakers passed the voter ID laws in response to her narrow 2012 victory, an argument Republicans behind the law deny.
"If every person on Standing Rock votes, they'll have to listen and you will not be invisible," Heitkamp told the Fort Yates crowd.
Be the first to know
Get local news delivered to your inbox!