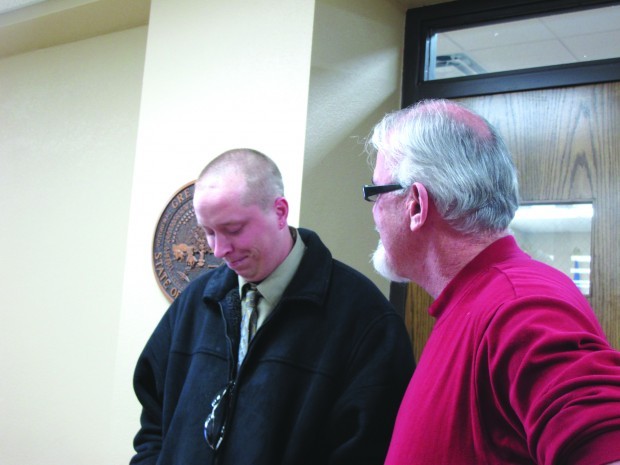 WATFORD CITY — Brock Savelkoul served three tours of duty in Iraq, fighting for his country.
Friday, his country fought back for him.
Savelkoul, 28, who faced criminal charges for an alcohol-fueled September rampage through Watford City with six guns, ammunition and his Purple Heart, walked out of the courtroom in that same town with every possible leniency the prosecutor, the judge and the public defender could legally muster.
It was the first time McKenzie County State's Attorney Dennis Johnson ever agreed to divert a felony charge and he diverted three of them for Savelkoul.
All that remained on the table was a misdemeanor charge for reckless driving, to which Savelkoul pleaded guilty and was sentenced to 30 days, all suspended, by Northwest District Judge Josh Rustad.
In exchange for diverting the felonies for three years, Savelkoul agreed to seven conditions, including the expected prohibitions against firearms, excess alcohol, illegal drugs and one not so expected — that he remain in counseling until a mental health professional says it's no longer needed.
If he fulfills the conditions, the charges will be dropped.
Johnson said the diverted case was not a precedent, but a humane reaction to very special circumstances.
"It is very clear that he is suffering from Post Traumatic Stress Disorder. This act that he performed to hurt himself more than anyone else was clearly due to combat experience while serving this country," Johnson said afterward.
In the courtroom, Johnson told the judge that the combination with alcohol, but mostly the stress disorder caused Savelkoul "consciously, or not, he wanted to die by law enforcement."
That he didn't die, even in an hours-long standoff with police when he begged to be killed and fired his own guns into the ground and into his pickup, was some luck, but more.
Johnson said an interviewer from National Public Radio, who's following the story of Savelkoul and four other Iraq war veterans who all sustained the same bomb blast that left Savelkoul with a traumatic brain jury and a shrapnel wound, commented that, "North Dakota did it right. Anywhere else he would have been shot and killed and it would have been a justifiable shooting."
Savelkoul has been in treatment since October, when Johnson deferred prosecuting the case so that he could get help.
He completed a month-long PTSD treatment program at a veterans center in St. Cloud, Minn., and is now living on his own, with a new puppy, in an apartment in Fargo, where he continues treatment.
After the hearing, sitting quietly in dark pants, shirt and tie in the veterans affairs office in the McKenzie County Courthouse, Savelkoul said he was overwhelmed in a good way by what had been done for him.
"It's nice to know that North Dakota is helping me take care of myself," he said. "I didn't have hope (when it happened), but I have hope now for a future."
He said he expected the conditions to be tough, and they are.
"It's punishment that I deserve. What happened is what happened," Savelkoul said.
He said he still feels guilty about that night in Watford City, for pulling guns (never fired) at people standing in a convenience store, and for the suicide note to his family left at his dad's trailer back in Minot, where he'd been living since his medical discharge in April.
But the guilt he carries isn't just about that night, he said. "It started with the first, and second, and third tour (of duty) and what we had to do and what we saw there. I have to deal with those in order. That night, I haven't processed yet," he said.