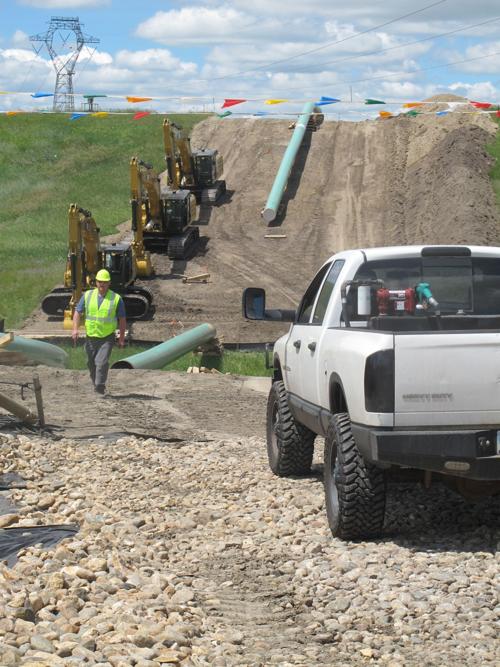 The U.S. Army Corps of Engineers has issued a strongly worded rebuke to Dakota Access Pipeline, asking for the second time in a week for the company to stand down operations for 30 days to de-escalate tensions between pipeline demonstrators and police.
Col. John Henderson, commander of the corps' Omaha District, said Dakota Access refused the first request by the administration for a voluntary shut down on Nov. 4 and he reiterated it again in a statement issued Wednesday night.
"We again ask DAPL to voluntarily cease operations in this area as their absence will help reduce these tensions," Henderson said.
On Tuesday, the company said it is moving drill bore equipment toward the Missouri River/Lake Oahe, near where hundreds of anti-pipeline protesters are encamped on corps land and on the nearby Standing Rock Sioux Reservation. The company does not yet have an easement from the corps to drill the pipeline under the water.
The company said Thursday it has not changed its position in the face of the second request.
Henderson said he's concerned about the Dakota Access position that it will move forward in spite of a commitment from Sioux tribal leaders and key state officials to work toward de-escalation.
The conflict surrounding pipeline construction near Standing Rock has resulted in more than 400 arrests.
Henderson said tribal leaders are committed to the preservation of life and safety by encouraging the demonstrators to move to a winter camp on the reservation for better weather protection and access to emergency services. Standing Rock Sioux Chairman Dave Archambault said the tribe has permission to use land southwest of the Cannon Ball town site for a winter camp, even while the land is being formally partitioned by the Bureau of Indian Affairs.
The water protectors, as they prefer to be called, are occupying corps land just north of the reservation boundary about 1 mile from the pipeline route.