Shane Johnson has always found the Garrison Dam Tailrace to be a "magical" place. One outing there in early January had a fairy tale ending.
The 34-year-old oil field worker from Minot and friend Brandon Gullickson traveled to the open waters below the Garrison Power Plant on Jan. 3 -- what Johnson described as a "downright cold miserable foggy night." He had only one bite the entire night, but it was an enchanted one -- a whopper burbot.
"Once I grabbed the jaw on that thing and lifted it in the air and tried to get the lure out of its mouth, we knew it was a possible state record," Johnson said.
The state Game and Fish Department has now confirmed that the 19-pound, 8-ounce burbot broke a state record that had been in the books for nearly 40 years. The previous record of 18 pounds, 4 ounces was set in 1984 by Orland Kruckenberg, a Hazen angler who was fishing the Knife River.
Burbot are the only freshwater member of the cod family. They look like a cross between a catfish and an eel, with a flattened head and single barbel on the bottom side of the jaw, and a slender eel-like tail. The color ranges from a pale green with brown spots to a darker olive. Its firm white meat is edible and sometimes referred to as "poor man's lobster."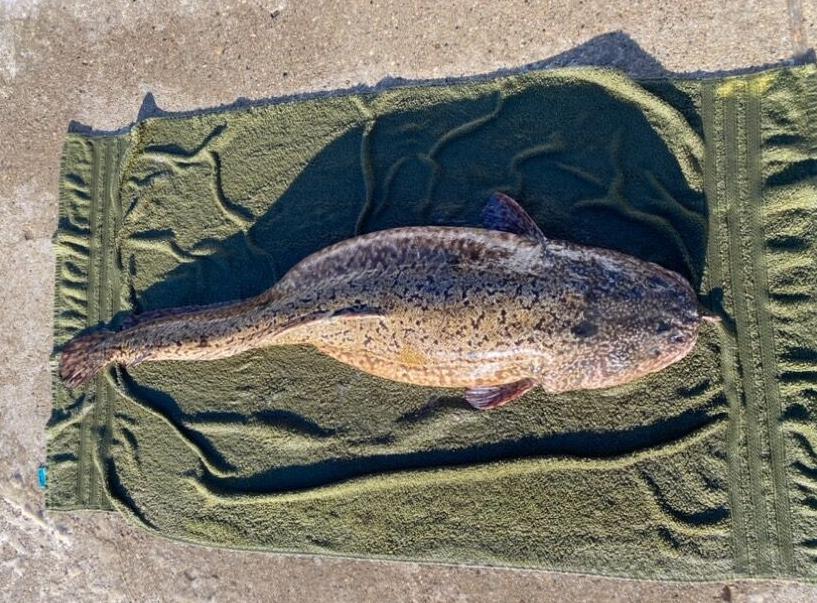 Wing wall whopper
Johnson and Gullickson were fishing on the power plant "wing walls" extending into the Tailrace, 25-30 feet above the water's surface. Johnson had a quarter-ounce jig on his line -- 6-pound-test FireLine -- and was jigging for walleyes when he got a hard hit.
Johnson went from thinking he had a large walleye on the line to envisioning a paddlefish, then based on the fish's reactions either a big northern, trout, salmon or catfish. 
"We didn't know it was a burbot until I got it up to the surface. At that point we were like, 'Holy crap, that's a huge burbot!' he said.
They maneuvered the lunker into a net that was connected to the wall's chain-link fence via a rope, and hauled it up.
"It took probably six to eight minutes dragging the fish back and forth. We had it in the net a few different times, but when we went to lift it up, the net would roll the wrong way," Johnson said. "Definitely plenty of opportunity for the fish to come off, but luckily it stayed hooked."
The 41.5-inch fish weighed 20 pounds, 6 ounces on Johnson's hand-held scale. Meanwhile, Gullickson was looking up the state record.
"He yelled, 'Holy crap. You just got the state record!" Johnson said. "I just thought, we've got to get to a scale now."
It was 11:30 at night, so the fish was out of the water for about 11 hours before Johnson could get a certified weight at Charlie's Country Sausage in Minot, with a state game warden there to witness the weighing. The fish had lost some weight due to dehydration, so the official weight was 19 pounds, 8 ounces, but still bigger than any before caught in North Dakota.
"The only bite I had all night long, and a state record," Johnson said.
He has fished the Tailrace for about 15 years and has caught more than a dozen burbot, typically in the 2-3 pound range. He plans to keep this one.
"I'm going to have it mounted," he said. "Since it's a once-in-a-lifetime state record fish, I'm looking at doing a fully encased coffee table or display case in my living room somewhere."
He also looks forward to many future trips to the Tailrace.
"I love that place ... it's just kind of a magical place. The lights on the dam are lit up, there's fog over the water, ducks and geese chattering, peaceful and beautiful," he said. "And it's right in our backyard."
Falling records
Game and Fish keeps a list of of 30 fish records. Eighteen of them have fallen or been tied since 2000, with a dozen set or tied since 2010. 2023 is the third consecutive year for a record -- Bismarck angler Mitch Estabrook landed a record 60-pound, 8-ounce buffalo fish with a bow at Heart Butte Reservoir in May 2022, and Dickinson angler Jared Shypkoski hauled in a 16-pound, 6-ounce walleye on the Missouri River south of Bismarck in March 2021.
Game and Fish has attributed the windfall of whoppers to several factors, including more anglers, more fishable waters in the state due to recent wet years, stepped-up fish stocking efforts and better angling techniques.
Seven current record fish have been caught at the Tailrace.
North Dakota's longest-standing fish record is a 2-pound, 12-ounce bluegill that Velva angler Budd Hystad caught nearly 60 years ago, in October 1963.