In 10 minutes, Arnegard Police Officer Travis Bateman went from a speeding traffic stop to delivering a baby girl.
At 5:56 p.m. Nov. 19, Bateman received the call for the baby crowning in a car pulled over on McKenzie County Road 30 about 6 miles south of Arnegard.
And at 6:06 p.m., after two minutes on scene, he delivered Samantha Hoover's daughter, Everly, in the front passenger seat of Hoover's sister-in-law's car, with a 911 dispatcher giving instructions by phone.
"I basically should have had a catcher's mitt," Bateman said. "Here she was, and she started crying."
Hoover said she was relaxing at her house when her contractions started quickly. She said she realized her daughter was already coming when she was walking to the car, and her sister-in-law called 911 on the way to the hospital. Then they pulled over.
"I was so scared and in so much pain. But knew I had to start pushing," Hoover said.
When Bateman arrived, Hoover said she asked for help and realized, in shock, she would be giving birth in the car. Outside, it was chilly and dark.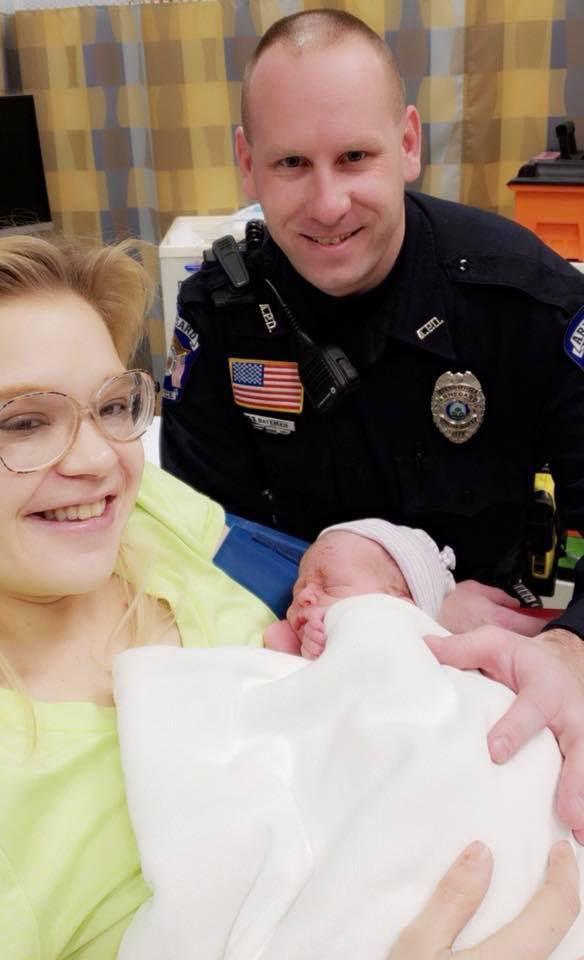 Bateman radioed in the birth. Emergency responders from the Arnegard Rural Fire Department, McKenzie County Ambulance Service and McKenzie County Sheriff's Office arrived two minutes later and reveled at the scene, the baby crying, she and her mother bound for the McKenzie County Hospital in nearby Watford City.
Jim Johnsrud, board president for the McKenzie County Ambulance Service, said the local ambulance has transported 15 women in labor since 2014, with two mothers delivering en route. 
Ambulance volunteers train annually for deliveries, as well as attend advanced classes at conferences for delivery problems, he added.
Arnegard Police Chief Troy White Owl said Bateman's delivery is a first for the two-person police department serving the town of 150 residents just west of Watford City in North Dakota's oil patch.
"We see those articles all the time as far as officers doing that, but do we get the opportunity or expect that ourselves? Most of the time, no," White Owl said. "For something like this to happen, obviously it's a good experience."
Bateman said the successful delivery "trumps everything" he's experienced in 10 years in law enforcement.
"Whether it's fire, EMS or police, we see people, meet people usually in the worst moments of their lives, so to be on the other side of that and meet somebody, to be present for someone entering the world versus leaving the world, it's a profound honor," Bateman said. "It really is."
He also said the delivery is a positive moment amid the holiday season and in the wake of the air ambulance crash that killed all three members of a Bismarck Air Medical team en route to Williston for a neonatal patient. 
For his role in the delivery, Bateman said he signed baby Everly's birth certificate, which was "very cool."
White Owl also said Bateman may receive the Early Bird Award, a one-time commendation offered by the North Dakota Department of Health's Division of Emergency Medical Services & Trauma for pre-hospital deliveries.
Bateman said the delivery was fortunate timing, given recent emergency medical training he received and the birth being Hoover's second child.
"There was a lot of elation and happiness versus usually when you've got a bunch of police cars and an ambulance, it's a different feeling, different mentality," he said.