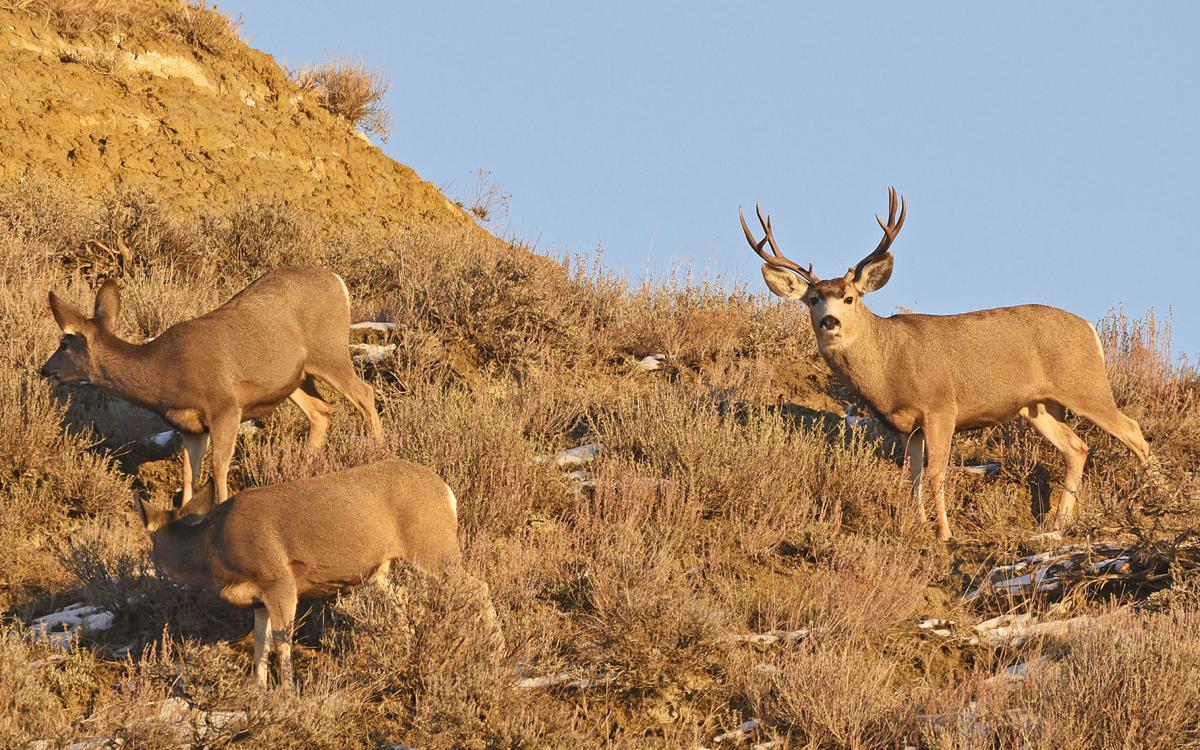 Deer hunter success in North Dakota last fall fell below the state's threshold for a "good" season for the 11th consecutive year, though state wildlife officials say it's a result of changes in the hunting landscape and they're not concerned.
Nearly 58,000 deer hunters killed about 37,250 deer during last fall's gun season in North Dakota, according to a survey conducted by the state Game and Fish Department.
The state made available 65,500 deer gun licenses last year. Success for white-tailed bucks was 64%, and for does 58%. Overall hunter success was 64%. 
State wildlife officials consider 70% overall success to be indicative of a quality season. Last year's overall success rate was unchanged from 2018. The high in recent years was 68% in 2015, with a low of 55% in 2013.
"We have other issues now that perhaps we didn't have a number of years ago which make it a little harder to reach that 70%," State Wildlife Chief Jeb Williams said.
The farming landscape has changed, with more row crops that create access issues and reduce success rates, he said. North Dakota also has experienced a loss of wildlife habitat in recent years due to oil development and reduced grassland areas resulting from changes in farming practices.
Gone are the days when deer were so plentiful that the state issued up to 150,000 licenses. Game and Fish the past four years has been steadily moving toward a new goal of 75,000 annual licenses.
"I think there is more willingness now than in previous years for folks to 'eat their tag' versus shooting a deer just to do so," Williams said. "Many folks take advantage of out-of-state big game opportunities, so they don't necessarily need to harvest a deer in North Dakota to have venison in the freezer."
Hunters last fall spent an average of 4.3 days in the field. Resident hunters spend $136 per day and nonresident hunters $226 daily, according to state Tourism Division data -- meaning deer hunting contributes millions of dollars to the state's economy each year.
More survey results
Hunter success for antlered white-tailed deer was 64%, and for antlerless whitetail 58%. Mule deer buck success was 78%, and for mule deer does it was 79%.
Hunters with any-antlered or any-antlerless licenses generally harvest white-tailed deer, as those licenses are predominantly in units with mostly whitetails. Buck hunters had a success rate of 68%, while doe hunters had a success rate of 65%.
Game and Fish issued 11,981 landowner gratis licenses in 2019, and 9,767 hunters harvested 5,416 deer, for a success rate of 56%.
A total of 1,206 muzzleloader licenses were issued last year, and 1,040 hunters harvested 426 white-tailed deer -- 222 antlered and 204 antlerless -- for a success rate of 41%.
A total of 27,582 archery licenses were issued, with 21,960 bow hunters harvesting 8,978 deer -- 7,988 whitetails and 990 mule deer -- for a 41% success rate.
The department is in the process of determining recommendations for 2020 licenses. Harvest rates are one of many factors in the decision, along with winter population surveys; depredation reports; hunter observations; input at advisory board meetings; and comments from the public, landowners and department field staff.
License numbers typically are announced in early May.
Be the first to know
Get local news delivered to your inbox!