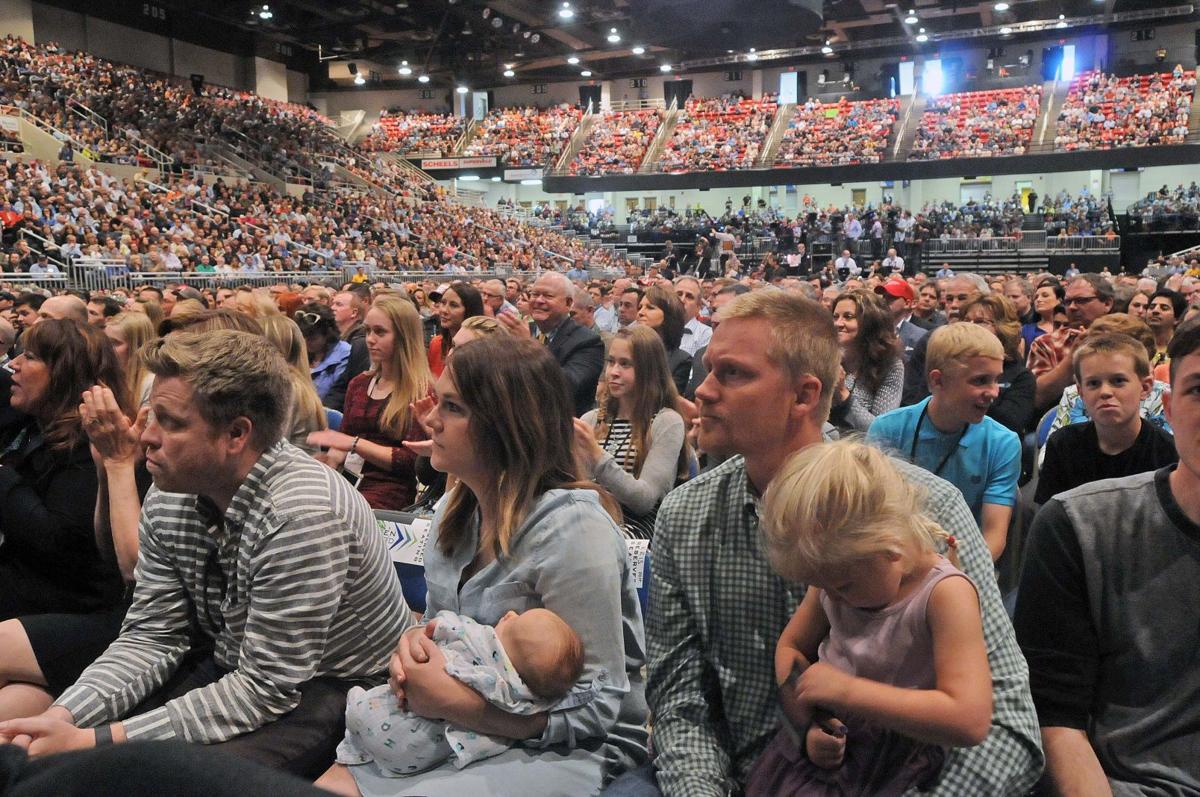 Donald Trump delivered big time Thursday at the Williston Basin Petroleum Conference in Bismarck. He told the enthusiastic crowd of 7,000 that he would eliminate regulations and do everything possible to promote the energy.
That's what the crowd of mostly oil industry officials and supporters wanted to hear. Clearly, the points he raised tremendously impact North Dakota. Besides easing regulations, Trump promised to support more pipelines, continue U.S. oil exports, work to overturn the Environmental Protection Agency's emissions rules targeting coal-fired power plants and blasted the EPA's Waters of the United States rule.
Trump offered his simple litmus test for deciding on regulations: "Is this regulation good for the American worker?"
Rep. Kevin Cramer's influence on Trump came through during the speech. The Republican representative has been tapped as an energy adviser to Trump and many of the key points in the speech reflect Cramer's positions. During a press conference before the speech Trump took time to introduce and thank Cramer.
Supporters praised Trump's speech for its details, but whoever is elected president will face challenges when developing an energy policy. Trump's positions are extremely different from those of President Barack Obama, Hilllary Clinton and Sen. Bernie Sanders of Vermont. For the last seven years the president and Congress have been battling over energy policy and there's no reason to expect that to change. The battle lines might be a little different under a new president, but Congress and the courts will continue to have a say.
It was a big boost for Bismarck and the state to have a leading contender for president deliver a major policy address in the capital city. He highlighted the important role the oil patch plays in the nation trying to achieve energy independence and the issues surrounding that quest. Even those who disagree with him should be pleased that he put energy issues to the forefront on the day he got enough delegates to win the GOP nomination.
We also want to be sure to note the clear distinction between the decorum posed by the protesters on both sides, which is in sharp contrast to what we've seen around the country where Trump appears. Hats off to our citizens who understand we can have differing opinions without violence attached.
The North Dakota Petroleum Council and the conference should be commended for bringing Trump to Bismarck. The last three weeks have been exciting for the city as Trump and Sanders visited. There's something special about seeing a presidential candidate in person. There are a lot of little things that can be observed as the candidate campaigns. Bismarck handled both visits well.
It will be interesting to see how involved Cramer remains in the campaign. Having a North Dakotan close to the man who may become the next president can only help the state. North Dakotans can be proud they have a role in this ongoing presidential campaign.