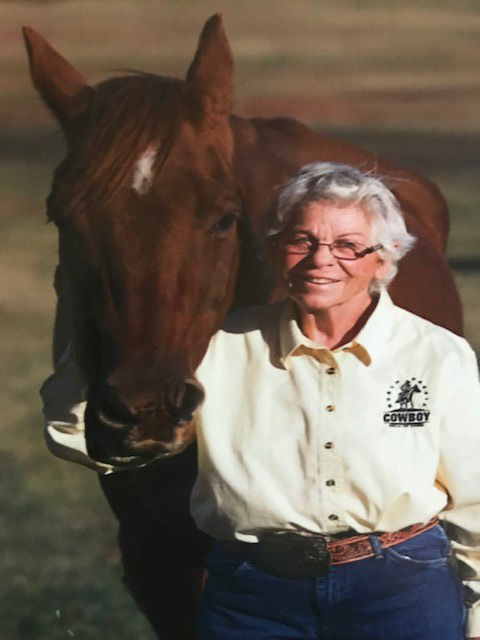 Virginia "Ginny" Eck, 80, Bismarck, passed away June 27, 2019.
A memorial service will be held at 10:30 a.m. Tuesday, July 23, at the Eagles Club, 313 N. 26th St., Bismarck.
Ginny was born on Jan. 5, 1939, in Bismarck, to Samuel and Enola (Lundin) Eck, and was one of six children. Ginny graduated from Bismarck Public Schools in 1957 and went on to receive her two-year teaching certificate from Valley City Teachers College. She had a life-long passion for educating first- and second-graders and started her career teaching one year in Tuttle and over 40 years in the Bismarck Public Schools.
From her earliest days, horses were the pride and joy of Ginny's life. She was a master of horses from day one, and at the age of 5, Ginny and her pony, "Honey," started competing in Bismarck Horse Club shows. She may have been small in stature, but her spit-fire spirit was larger than the horses she rode. She had a special way with horses and knew how to get the most out of them. Her knowledge of horse pedigrees was impressive and if you ever wanted to talk bloodlines, she could tell you which ones were making the money! Her accomplishments in the arena are many, including four North Dakota Rodeo Association barrel racing championships in the late 60's and early 70's. Ginny was also Miss Rodeo North Dakota in 1963.
Ginny had a servant heart and shared her talents with many as their "coach." She coached many barrel racers and queens on to success. Being involved in rodeo her whole life led her to be one of the charter members of the North Dakota Cowboy Hall of Fame (NDCHF), and she was honored with the NDCHF Legacy Award in 2015.
You have free articles remaining.
Ginny was not one to let grass grow under her feet, and at 80 years old she was still actively working with her horses and 30 head of cattle. Those who knew her well knew that she was not one to mince words and would always tell you exactly what was on her mind. She will be remembered for her passionate spirit, love of family and horses, and her ability to shoot straight.
Virginia is survived by her two sisters, Shirley Nelson and Enola "Babe" Cassel, of Bismarck; two brothers, Donavan, Bismarck, and Jim (Gerri), Grand Forks; and many nieces, nephews, great-nieces and -nephews, and many friends she called family.
She is preceded in death by her parents, Sam and Enola Eck; and brother, Dr. Charles Eck.
In lieu of flowers, contributions may be made to the North Dakota Cowboy Hall of Fame, PO Box 137, Medora, ND 58645
(Eastgate/Parkway Funeral Service, Bismarck)
To plant a tree in memory of Virginia Eck as a living tribute, please visit Tribute Store.